It was our first week on the road with our new trailer when my brother told me one important tip to remember when backing up. More than eleven years later, this simple suggestion still comes to mind every time we have to back into a tight spot. And there was no tighter spot, than getting onto the Haines Auto Ferry in Skagway, Alaska.
Backing Up a Trailer onto Haines Auto Ferry
Over the years I've had plenty of practice backing up, which made our trip on the auto ferry from Skagway to Haines a little less gut wrenching. Still, it was my most challenging back-in spot yet, topping that trailer tow ordeal from just a couple weeks before.
Fair warning, if you ever take this trip, be prepared. Yes, you back on to the ferry. First you must turn around on the small dock and back up the ramp into the ferry. Then you have to swing the trailer sharp and back up into a tight spot between many other vehicles and support posts.
Pay close attention to the guide, and remember this simple tip.
Number 1 Tip for Backing Up a Trailer
It's this simple: The way you turn the steering wheel, is opposite to the direction the rear of your trailer will go.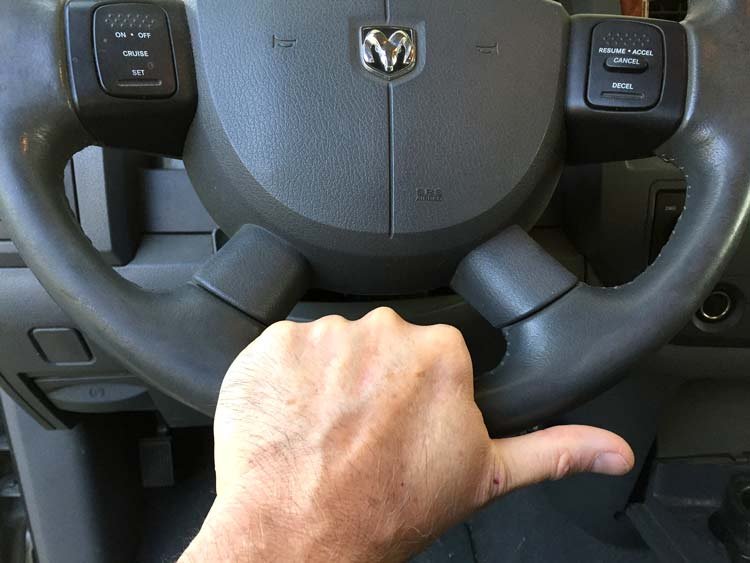 And here is the simple way to remember, every time:
1. Place your hand at the bottom of the steering wheel, and extend your thumb.
2. That is the way your trailer will turn, when you turn the wheel that way.
So, with your thumb pointing right, you will turn your wheel to the left, and your trailer will turn to the right.
Three More Easy Trailer Backing Tips:
There are a few other pointers that have helped me back up into some tight spots over the years.
Follow it in. Don't over-correct. Stop weaving the wheels back and forth. Once the trailer gets on target, loosen up on the steering and allow the truck to follow the trailer.
Stay on target. When backing up a long stretch, pick a point in your rear view mirror far in the distance next to the rear of your trailer. Keep an eye on that target and keep it aligned, without over-correcting too often. (See A.)
Don't panic. Take it easy. Take your time. Forget whatever audience you may have, and learn from your mistakes. With enough practice, you'll be ready for that ferry ride.
Any questions?
If you have additional tips for backing up a trailer, please share with a comment below!