Have you seen the KiraVan yet?
After learning that Bran Ferren and his KiraVan would be making an appearance at the 2015 SEMA Show while we were staying at Main Street Station for my birthday shenanigans on Fremont street, I finagled some free press passes and encouraged Rene to attend the show so we could get some pictures—knowing that she could write about various products we were sure to discover at the show. And, she's done just that. Stay tuned for my favorite finds.
[/unordered_list]
[box type="note" size="large" style="rounded" border="full" icon="https://www.liveworkdream.com/wp-content/themes/memorable/functions/images/ico-info.png"]Click photos to enlarge. Leave comments with links to other KiraVan articles![/box]
What is the KiraVan?
Don't get too excited. You're not going to see the KiraVan at RV dealers anytime soon. In fact, you never will. You may find certain features of the KiraVan Expedition Vehicle System implemented in RVs of the future, but those who hope they might buy a KiraVan someday just don't get it. The KiraVan didn't show up at SEMA because it hopes to make a splash in the off-road RV marketplace. It's called a system for a reason.
When I first met Bran, the creator of the KiraVan, I told him congratulations on his project. He confirmed that's exactly what it is. Bran explained that every time they develop some new technology at Applied Minds, it goes away. The KiraVan gives them a mobile research and development platform for all the different technologies it contains. And it contains plenty of technology and original developments, read on for my favorite features.
1. 6×6 Hydrodrive Tractor/Trailer
Since I've been hauling an Arctic Fox for nearly nine years now, it's no surprise that I was immediately impressed with this 2-axis articulated fifth wheel trailer and its composite rising-roof structure. When I peered underneath, however, I was blown away. Yes, that's a drive axle on the trailer!
A hydrostatic drive system provides power to the rear trailer axle for traction in extreme off road conditions. It works much like the PTO system drives equipment on the farm tractors I've operated while workamping at Vickers Ranch. The 6×6 operation is available at speeds up to 25mph, at which point the system automatically disengages allowing the trailer axle to freewheel. Just look at the pressure rating on those hydraulic hoses!
2. Custom Wheels and Tires
I was also quite impressed with the KiraVan's wheels and the tire pressure monitors integrated right into the rims. But those gauges are just one small analog component of the computerized CTIS—a Central Tire Inflation System that allows all six tires to be completely deflated or refilled in less than five minutes, while the vehicle is in motion. When I inquired about the gauges, Bran seemed more proud of the tires than the wheels his company designed.
The special service Michelin 395/85R20 XZL steel belted, all-terrain tires measure 46" across and weigh 300lbs each. Impressive, yeah. But Bran explained that the Achilles heel of any tire is the sidewall. That's why these have special Kevlar sidewall shields for protection against puncture from rocks, debris and rough terrain.
3. The SwingOut®
Another immediately noticeable feature of the KiraVan trailer—and one that might actually make it into an RV someday—is the SwingOut. No, not the slide-out. After recently adjusting our slide, I was particularly amused by Bran's response to my inquiry about why he developed a custom SwingOut instead of just implementing the typical RV slide-out.
"Slides are notoriously crappy," he said. Too many moving parts. The SwingOut module system in the KiraVan provides two expansions for the trailer, one for the bathroom/entryway and the other for the kitchen. The SwingOut rooms basically have one moving part since they pivot on one axis. Besides that, Bran added, "they are more aesthetically intriguing."
4. Incinerating Toilet
The Incinolet. The name says it all. I read that and immediately realized that I was looking at an incinerating toilet. What I later realized is that this means the KiraVan has no black tank. Since the only waste is a small pile of ashes, there's no need for one.
Rene already posted details about the Incinolet incinerating toilet for DIYRV, so all I really have to say is…How cool is that?
5. Glass Cockpit Implementation
Of all the different technologies, systems, and custom components he developed for the KiraVan, I asked Bran if there was anything in particular he was particularly proud of—"the glass cockpit," he said. He must have noticed the look on my face suggesting that I thought I knew what he was talking about. I was clearly wrong. He went on to explain that most modern fighter jets today implement the Glass Cockpit concept.
No, this doesn't suggest the tractor's driving compartment has lots of big windows, which it does. It basically means that most of the analog gauges, dials, and readouts are replaced by computer monitors, many of which have touch screen capability.
Bonus Feature: Situational Awareness Systems
One thing you will not likely find in any RV to be, is the Situational Awareness System found in the KiraVan. Or systems rather. Curious about all those masts?
No, the blimp in the photo is not part of the KiraVan SA systems, though I'm sure that's a possible surveillance option. The KiraVan features 22 day and night capable high definition video cameras, microwave and laser radar systems, in addition to ultrasonic rangefinders that continuously monitor the vehicle proximity to detect "objects of interest".
(Position, Navigation and Timing)
, and telemetry reception, as well as remotely-operated vehicle control.
Here is our Situational Awareness System: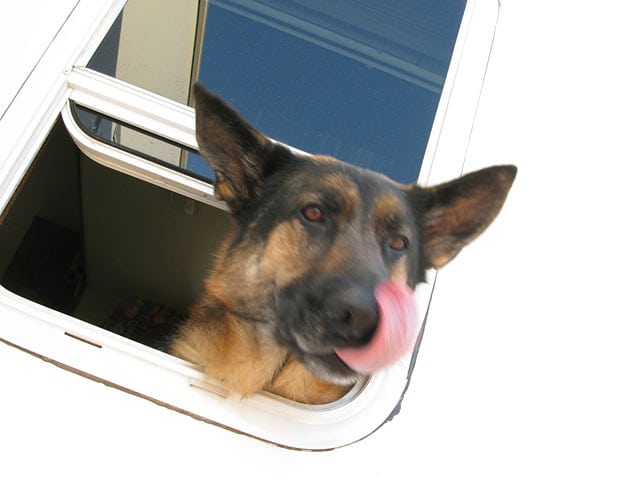 Conclusion
So, while the KiraVan is clearly one bad ass Expedition Vehicle, the key word here is System. It is an R&D platform for designing and testing various technologies with myriad applications—many of which I'm certain we would never learn without a nondisclosure agreement. Aside from that, it is a very expensive toy. One which Bran intends to put to full use when traveling the world in the KiraVan, with his daughter for which it was named.
Epilogue
The KiraVan has so many cool features, there is no way I could cover them all here. The KiraBike turbo-diesel motorcycle alone deserves a post of its own. And believe it or not, the interior design is quite stylish. Though I'm not sure anything is beyond belief with the KiraVan designers.
What are your favorite kiraVan features?
[box type="note" style="rounded" border="full" icon="https://www.liveworkdream.com/wp-content/themes/memorable/functions/images/ico-info.png"]See more KiraVan photos here![/box]