Quartzsite winter camping is an experience that every RVer needs to do at least once. Have you done it? If so, what did you think?
This is our second time here, and we've learned a few tips from the pros since arriving.
If you haven't been to this sprawling mecca of rubber roofs, fiberglass and windblown desert rats, here are a few suggestions to make your stay more enjoyable:
Unhook from the grid. You can stay in a RV park anywhere in the USA, but the Quartzsite experience means taking advantage of the thousands of acres of free boondocking in the finest scrub brush country that Arizona has to offer.
Save your money for the flea markets and vendor stands, get out there and boondock! The Chamber of Commerce website features this list of where to dry camp in Quartzsite.
Give your neighbor some elbow room. With so much free camping around Quartzsite, why do so many RVers set up camp within spitting distance of each other? I don't get it.
We woke up one morning to find this tenter camped in the bushes directly behind our rig, with his dog wandering around our campsite.
Remember; the desert is a big place and there are lots of places to camp far away from the hubbub.
Detach your toad  and drive down the dirt roads to locate a spot as far away from the next guy as you can get. Watch for loose gravel though, it can be as sticky as quicksand.
Watch for solar panels. When you're scanning the landscape for that perfect campsite, look up on the roof of RVs where you want to camp.
If you spot solar panels, but you're hauling a clackety old generator that rattles your fillings, please mind your desert boondocking manners and move! Chances are, your solar-powered neighbor hardly uses their generator and doesn't want to hear yours constantly running.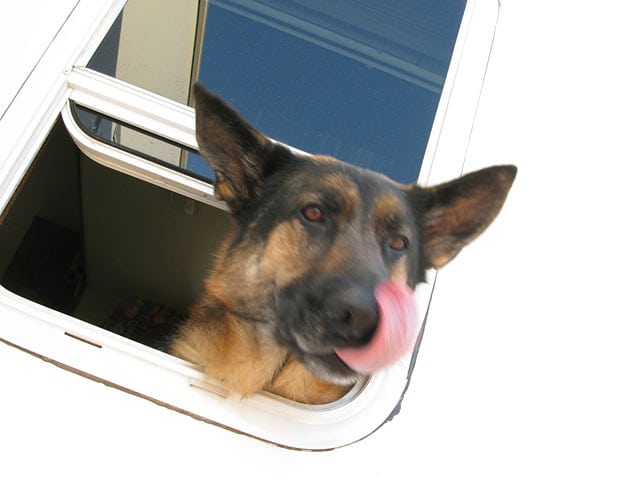 Keep your dogs close. Sure, you have the most obedient dog in the world, but that doesn't necessarily mean that mine is. My dog is a real cranky bastard, and if your off-leash dog decides to sneak up to my leashed Wyatt while he takes his evening pee (the way my neighbor's did the other night), don't get mad at me if my Shepherd eats your Weenie.
Lights out please. Porch lights are for the Motel 6, not for the desert. Turn your lights off at night so we can all watch the stars without interference.
Take your trash to town. The free BLM camping areas don't have a single dumpster, so you'll need to hang onto your trash and haul it to town. You'll find truck stops and gas stations with dumpsters; be kind and buy something there to help offset the costs of removing your trash.
Go eat free. Quartzsite is ground zero for cheap eats. From the free pancake breakfast and afternoon meal at La Mesa RV, to $1 tacos at Sweet Darlene's, every senior citizen here can tell you where to eat on the cheap. But beware; carnivores will have it made at the freebie stations, but vegetarians are gonna starve.
Dumping can be easy. We used to think dumping RV tanks in Quartzsite was a hassle, but not anymore. And no, I'm not talking about stealth greywater dumping!
Step 1: Take care of your first round of dumping and water fill-up when you arrive in town.
We like Rose RV Park, which had numerous filling stations for just $20 no matter what size rig you have.
Water was an extra $5 to fill our tank but if you only need a little, you'll find water station vending machines throughout town offering five gallons of water for just .25 cents.
Step 2: If you stay at the Long Term Visitor Area, your fees include a water and dump station. But if you camp in the 14-day areas like we did, you have to either go to town, or you can call a local septic service like All-Pro Toilets.
For $25, they'll empty your tanks (but they don't bring water). Just be sure to show them where your dump valves are or else they might miss one of your tanks, which happened to us.
Watch where you park. To the west of the big tent at the RV show you'll see a large parking area situated inside a gravel wash. It looks like a great place to park, but stay away from there unless you like getting stuck. We saw numerous vehicles dig themselves in, and our 4×4 almost didn't make it out.
Keep it under 10. A huge dust cloud lingers over the Quartzsite region because people like to speed through the desert. That dust will eventually end up in your rig, and inside your electronics. So slow down, darnit, what's your hurry?
The biggest thing to keep in mind when you come to Quartzsite is; be prepared for company.
This isn't the place to get away from civilization; it's one of the most crowded camping situations we've ever been in. It's the ideal place to come if you're with a large group and want to party, but if you're looking for solitude, this ain't it!
Jim and I tend to be hermits when we boondock, so Quartzsite as a destination doesn't really rock our world.
We're glad we stopped here for a few days, however, since even crowded desert camping is a nice way to prepare ourselves for our upcoming long-overdue family reunion in Los Angeles.
See you in the city!