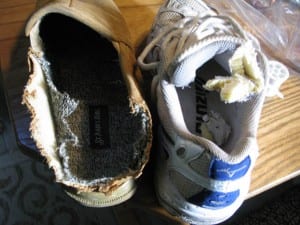 Ah, the joys of puppyhood.
We left our new home to go work at Vickers Ranch again, but just for hay season. Well, let me clarify: Jim came here to go buck hay after I volunteered him. I came to help out wherever I'm needed. The hay season went off without a hitch, and the guys finished in record time, just before the rain started this weekend.
We'll probably hang out here for just another few days, then return to our new digs. There's a certain puppy who needs some serious training that he can't get iright now, with so much activity and animals of every sort running around making him crazy.