The road less traveled keeps putting us in touch with amazing people we never would've met if we were stuck at home in a stick house. Here are just a few incredible people that we've hooked up with since January.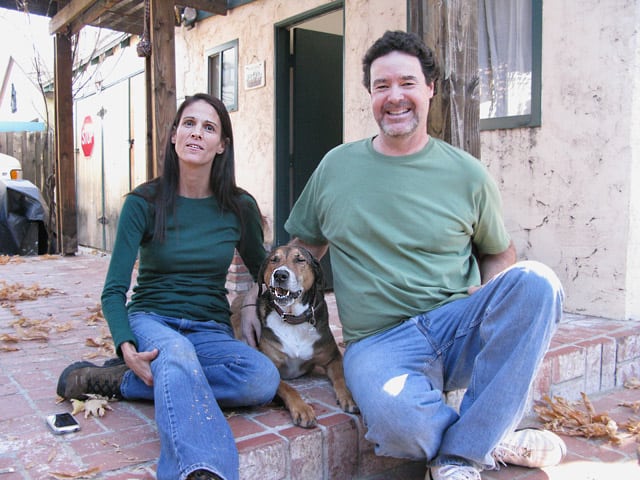 Rock on with Frankie, Kelly and Perry
This is Kelly and Perry, and Tripawd Frankie from North Hollywood. We met up with them to film Frankie for Jerry's Tripawds site. Frankie is an amazing eleven year old senior dog who's a perfect example of how age doesn't have to slow a good dog down, even a three legged one!
Kelly and Perry are part of a kick-ass blues band called Kelly's Lot. They tour all over the U.S. and Europe. If you get a chance, catch them live, or better yet, go buy their CDs now. If you like the blues and rockin' bar music, you'll love their band!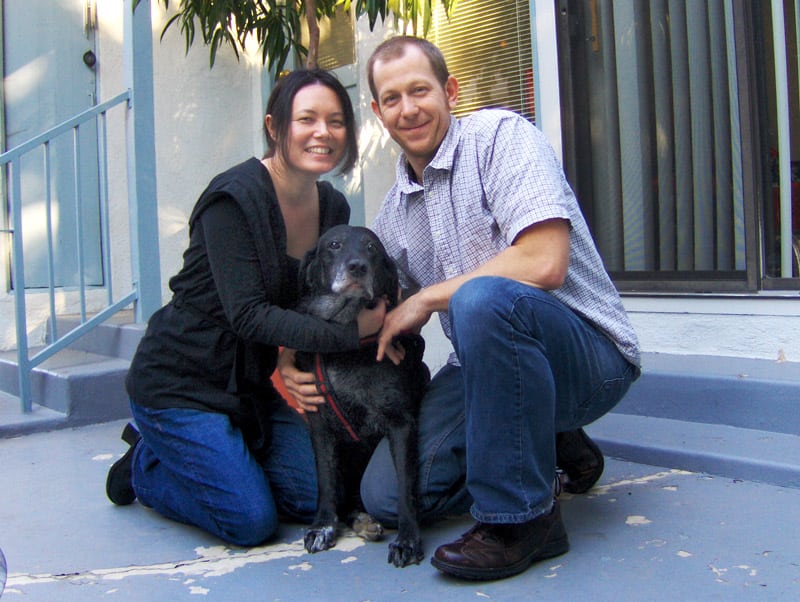 Michelle, Stephen and Sami: Creativity, Kindness and Hope
Michelle, Stephen and Sami live in Pasadena. We met them through Tripawds, and last year, we set up Sami and Jerry on a dog date. They are quite the creative family. Stephen is a landscape architect, and Michelle is an incredible artist whose work is sold on Etsy and Cafe Press. Buy her work now while it's affordable, before she gets discovered!
As for Sami, she's quite the Tripawd. She's about fifteen years old and for over a year has continued to thrive despite being diagnosed with osteosarcoma, and losing a leg. Whenever any questions whether their dog is too old to be a tripawd, we always refer them to Sami's story for inspawration and hope.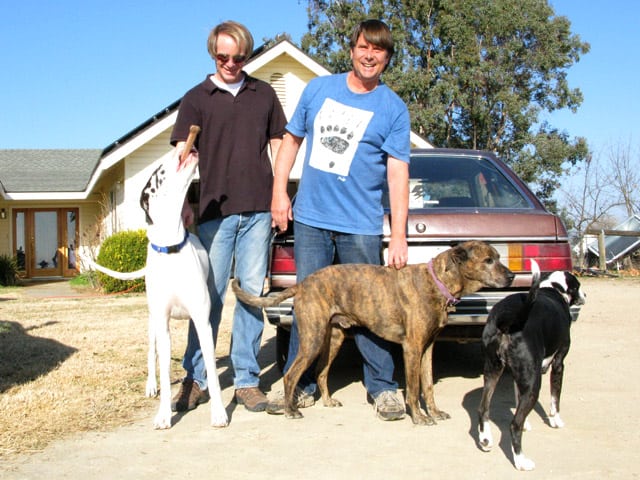 The Original Tripawd Heroes
Even though we'd never met them in person before, Ross and Joel are a big reason why our life is so different now. Back in 2006 when Jerry was diagnosed with cancer and our world was thrown into turmoil, it was their Great Dane Moose who convinced us that Jerry could have a great life on three legs. Joel had posted this YouTube video of Moose digging for gophers, and that's all it took to convince us that if their beloved Moose could thrive after osteosarcoma and amputation, so could Jerry.
Jerry and Moose traveled down the cancer road together, and throughout it all, Joel and Ross were incredibly supportive and helpful to us. And as bittersweet as it was that neither Jerry nor Moose were there when we finally met our heroes, in spirit, Jerry and Moose were all around us
Drinking in Conversation with Dave and Dorian
Coffeesister and Rhodester in Palm Springs. We had a reunion with them almost a year after we first pulled into Palm Springs with Jerry, in March 2008. Dave and Dorian are two of the best storytellers and conversationalists, who truly understand why it's more important to focus on the things that really matter in life…honesty, generosity, laughter and sincerity. They are two truly free souls, stuck in a world that demands too much from them.
Dave is a writer, actor and general comedian of sorts who writes one of the funniest blogs I know of. Dorian is also a writer whose thought-pondering, philosophical blog will inspire you to become a better human.
The Purcells on Wheels
Sean and Lisa Purcell and kids Ian and Caitlin, a homeschoolin', road-trippin family from Orlando Florida. Sean recently sold his share in a business he started, and they hit the road with their two kids in search of somewhere new to live. We talked online last year, met in person in Florida, and hooked up again recently at the Slabs.
Lisa hates trailer life, but she's being a great sport about it while they make their way to the Pacific Northwest, where they think they want to live. We met up with them at the Slabs, which was a bold move for them, since 1) they'd never boondocked before, and 2), they are as far removed from the Slab City lifestyle as anyone can get. Still, they stayed an impressive four days and seemed to be quite relaxed by the time they left. See for yourself at Purcells On Wheels.
Ramblin' with The Bayfield Bunch
Kelly and Al, from Bayfield, Ontario Canada. These Canuks welcomed us with open arms on the beautiful ranch they are caretaking near Tombstone, Arizona. We originally "met" them online, after working with Kelly's sister Becky while at Riverbend Hot Springs Resort, last year in New Mexico.
Kelly's an American and Al's a Canuk who've been part-time full-timers for a number of years now. They are quite the adventurous boondocking RVing couple who take their rig to some of the most remote parts of the Southwest, chasing down ghost towns and off-the-beaten-path attractions. They have a killer solar system on their rig (done by Solar Mike of Slab City), that we are super envious of. Check out their great blog with fantastic photos of their adventures at Bayfield Bunch.com.
Get on the Bus with Skinny Chef and Flux
Last but not least, Skinny Chef and Flux Rostrum, two free thinking, independent media activists traveling North America in a veggie-oil powered Skoolie. Moving from political events to festivals to parades, Chef and Flux go about the world filming vignettes of America and seeking out the truth.
Our friend Gordon introduced them to us last year in New Orleans, and we've watched these two as they boldly traveled around the country covering everthing from the election to the Doo Dah Parade. We caught up with them at the Slabs, where Chef introduced me to the local vernacular, phrases like "gopher holes" and "shit tickets", stuff I was completely naieve about. We'll be hooking up with them again in March, when Chef returns to her home in Austin, and lets us park in her driveway so we can catch South By Southwest. Is that generous of her or what?