We recently had the honor of adding the ultimate National Parks RVing Guide to our portfolio of publications. This Essential RVing Guide to the National Parks is published by National Parks Traveler. Rene frequently writes for the Traveler and put exhaustive work into researching all national park RV campgrounds. With direction from Publisher Kurt Repanshek, she located all RV-friendly campgrounds – in every National Park. Together we identified the amenities important to most RVers. She then compiled a comprehensive directory, listing all the national park RV campgrounds. I then designed the publication, as both an interactive PDF and Kindle edition e-book.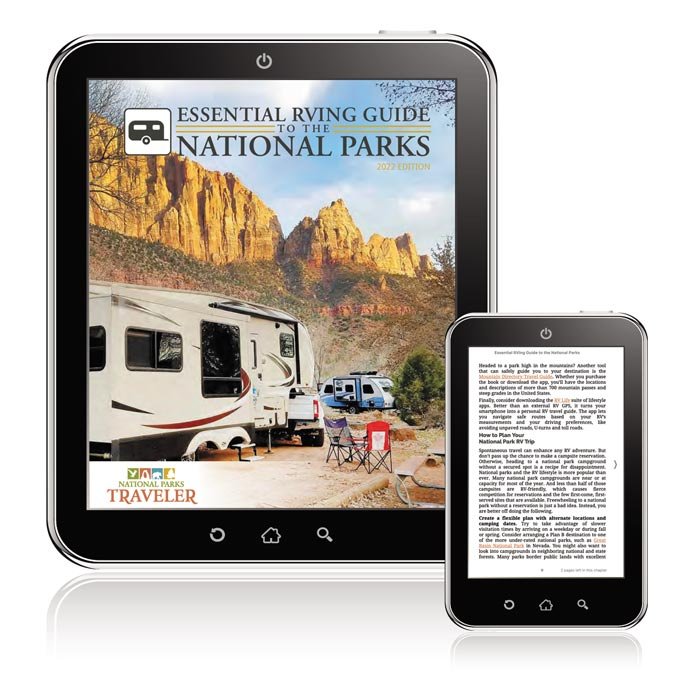 With this comprehensive resource, you can now easily find all national park RV campgrounds. The directory is divided into the eight regions identified by the National Parks System. I used the Passport To Your National Parks as a guide for the color scheme and region maps.
Get Your National Parks Passport Stamped
On a side note, the passport is a must have for anyone planning to visit the national parks. All national park welcome centers have a station where you can stamp the date in your passport. The booklet includes all the region maps, and interpretive information about each park. And, space provided allows you to stamp the book or add stickers to record your visit.
Our National Parks Passport is filled with stamps, stickers, and fond memories. It also helps us resolve arguments about when we visited.
But I digress, this is about the new National Parks RVing Guide we helped publish!
National Parks RVing Guide Now Available on Amazon
The version of the Essential National Parks RVing Guide available on Amazon is compatible with Kindle e-book readers, and Apple Books, and the Kindle app on any mobile device. The information has typically only been available through painstaking searches through each of the individual national park websites. For the Traveler, we've assembled it all into one portable and easily searchable document.
To help RVers explore these lands and destinations, the National Parks Traveler editors and writers have sifted through the National Park System and come away with the definitive RVing guide to the parks. This Essential Guide To RVing In The National Park System presents RV enthusiasts with a rich collection of articles exploring the park system by RV, camper, or trailer that is supported by a directory packed with RVing specific details on more than 250 campgrounds in more than 70 parks.

— NATIONAL PARKS TRAVELER
Along with detailing all National Park RV campgrounds and their amenities, this 282-page Essential Guide contains additonal information important tor RVers visiting the parks. Valuable content addresses topics such as pre-planning basics, and top tips for RVing newbies. in addition, Rene wrote about what to expect in a national park campground, and the best tips for national park RVing.
If you're a Kindle fan, or want a simple searchable EPUB for your mobile device, you can now get the guide on Amazon.
Better yet, support the National Parks Traveler directly and get the complete interactive PDF version!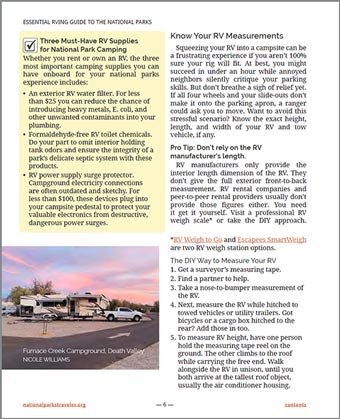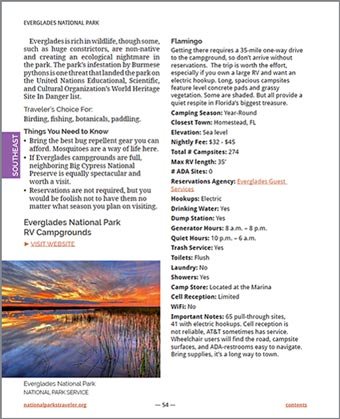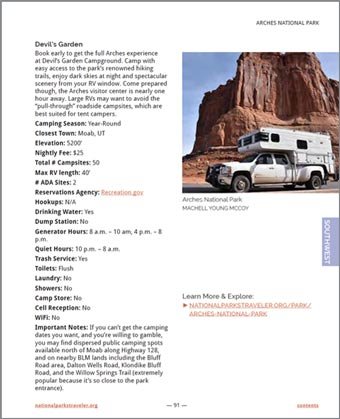 Easily Find All National Park RV Campgrounds & Amenities
To get the most out of your National Parks RVing Guide, download the interactive PDF from the National Parks Traveler website. The EPUB edition is also available for purchase there. As a result, you're supporting the Traveler directly which earns greater profit than Amazon provides. In addition, with the PDF version you get much more than the Kindle version can provide. To reduce file size and meet Amazon requirements, the EPUB is a text only reflowable format.
The interactive PDF edition of the National Parks RVing Guide is packed with beautiful photography and value added content. For starters, you'll benefit from having a Parks At A Glance grid at the beginning of every regional section. These charts easily identify the parks you may want to visit – or avoid – in your RV. Having traveled to many national parks over the past 15+ years, we know many of them are not very RV friendly. With these grids, you can easily find National Park RV Campgrounds that fit your rig, and meet your needs.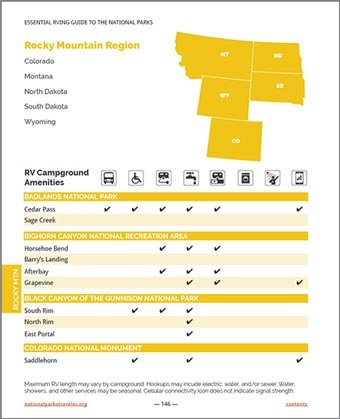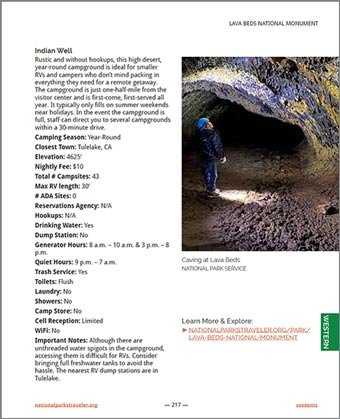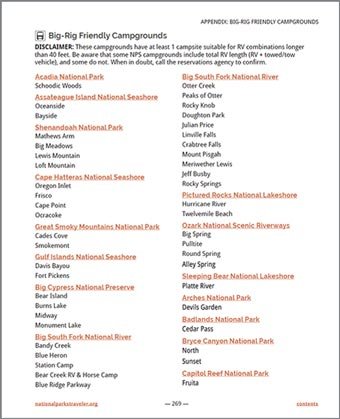 Rene just wrote about our recent visit to Lava Beds National Monument. There we had a chance to confirm the research she did for those national park RV campgrounds. The monument is so large, we were only able to drive through a couple – without the trailer. As a result, she summarized her feedback in that post about Our Lava Beds RV Bucket List Experience. As with all the other RV campground listings in the National Parks RVing Guide, you will find the following details for each location.
National Park RV Campground Amenities
Camping Season
Closest Town
Elevation
Nightly Fee
Total # Campsites
Max RV length
Number of ADA Sites
Reservations Agency (with link)
Hookups
Drinking Water
Dump Station
Generator Hours
Quiet Hours
Trash Service
Toilets
Laundry
Showers
Camp Store
Cell Reception
WiFi
Important Notes
What Are Readers Saying about National Parks RVing Guide
To say this National Parks RVing Guide was a major undertaking, is a minor understatement. It was months in the making. But we believe it is indeed an essential resource for any RVer planning to enjoy the National Parks system. Refer to this guide before visiting National Park RV Campgrounds to avoid surprises when you get there!
I must say, your guide is filled with comprehensive information that we find very useful, especially since we are new to the RV world. Thank you very much for a great information source.

— B. Mendoza
Related RVing Guide Reviews:
National Parks Traveler: The Essential RVing Guide To The National Parks
RV Life: Non-Profit 'National Parks Traveler' Offers Digital Guide for RVers
Amazon: More Reader Reviews