I first promised to tell the difference between woodcutting and cutting trees here while we were workamping at Vickers Ranch this past summer. I also promised to produce some movies from all that video we shot. Yeah, that's been a few months ago now. But good things come to those who wait, eh.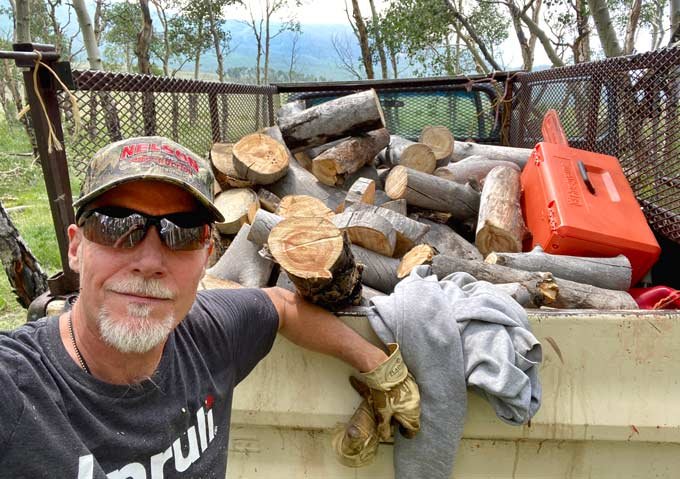 I figured even better than telling, is showing the difference between woodcutting and cutting trees. So, I finally present to you our latest Live Work Dream Movies illustrating the difference between woodcutting and cutting trees.
New Videos: Woodcutting vs Cutting Trees
One of the reasons I enjoy workamping at Vickers is the variety of ranch workamping duties. And one of my favorite duties is tuning up the big ol' Husqvarna, sharpening the chain, and heading up the mountain to cut some wood. I'll never quite understand the need for fires in the middle of a dry summer. But ya can't beat the smell of fresh sawdust mixed with 2-stroke smoke, and the whine of a small engine. So I made a song about it. Introducing, my Woodcutter's Anthem…
To be straight, this is cutting wood. And there is a difference between woodcutting and cutting trees. A big difference… Woodcutting usually entails cutting up dead or downed trees. It only takes a sharp saw, some well-mixed gas, and a bit of brawn. It helps when you have a beautiful view and loud playlist. Cutting trees is altogether different. For starters, you get to use bigger equipment. Often much bigger.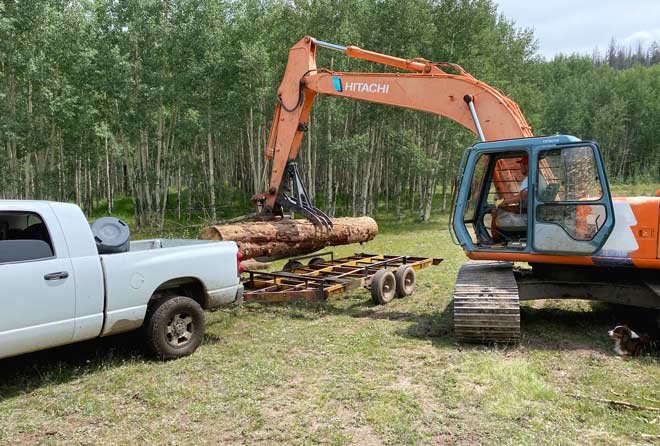 At Vickers Ranch the job usually begins with Larry scouting about to find the biggest best trees standing. Oftentimes, those are also the hardest to get to. But they're always dead and dry. And there's plenty of those to be found all around the upper ranch – thanks to a certain little beetle, and climate change if you ask Rene. But back to those trees. One morning while wondering what we'll be doing around the ranch, Larry will say, "Let's go get some trees!"
Notice the difference between woodcutting and cutting trees here. When felling trees, you leave the logs as long as possible. This year, as you can see, we had a few really long trees. They're only called tall trees when their still standing. We also hauled some rather monster logs down the hill.
Once on the ground, we'll cut them to a length that will fit on the mill. Larry will then bring the tractor, and we'll tie up the log with a choker cable. Of course, ya need to strip off all the branches before milling the logs. And the best way to do that is drag them down the hill. It strips the log, and grades the road at the same time!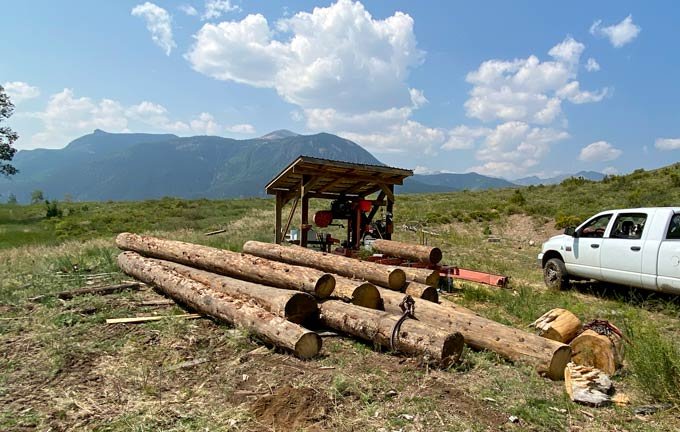 So if you want to know the best way to learn the difference between woodcutting and cutting trees, get yourself a ranch workamping job. We found ours in Workamper News, and have been going back nearly ever summer since 2008.
Another Difference Between Woodcutting and Cutting Trees
So, I did have time to share this short little video about cutting trees in the Workampers Facebook group while we were still at the ranch. Aside from the use of tractors, and dragging big logs down the hill, it shows one more thing.
It shows that when cutting trees – not wood – just getting to the logging site is often half the job!
Subscribe to the Live Work Dream Youtube channel for more movies from our many nomadic adventures. And stay tuned for details (and videos) from the various other ranch workamping duties I enjoyed last summer.