We just enjoyed our first national park (err, monument) RV camping pandemic experience since this whole stinkin' COVID situation started.
A week of boondocking at Dinosaur National Monument
This is a place we've always wanted to visit and as you can see, it's amazing.
It's a National Monument, run by the National Park Service. But it feels as loose, rustic and wide open as BLM land. More dog-friendly than most NPS units, it's a great place to visit in cool weather if you have fur kids.
We loved the hiking and the mellow Green River Campground experience. Completely off-grid with good weather and dark, starry nights, it was well worth the effort to get there (even if cellular broadband connectivity sucked – Thank Dog for our Skyroam). And I have to admit, that full-timing without pets right now made it super easy to make the most of our visit.
RVing in a public campground was something we hadn't done in a while
It's been since Fall, 2019 when we stayed at a national park campground, Great Basin National Park. I'm not even sure we've been to a public campground since then. As much as we prefer boondocking, I realized I've missed that experience of being around others in an organized setting. In the Before Times, being around others would bring out the Chatty Kathy in me. I always enjoyed meeting campers and hearing their stories.
But this time, I was reluctant to do anything more than wave. Or, pet someone's dog if they had 'em on a 6-foot leash. And it made me hella sad. As a wordsmith who enjoys writing about this lifestyle, I know there are tons of great stories I'm missing out on.
Last week I chatted with a friend about our fun, but cautious pandemic camping experience. She and her husband bought their first RV just before everything hit the fan. They've used it a few times, but not since the Delta variant went wild. Although she's vaccinated, she is an immunocompromised person. She's bummed they haven't gone out as much as they had envisioned.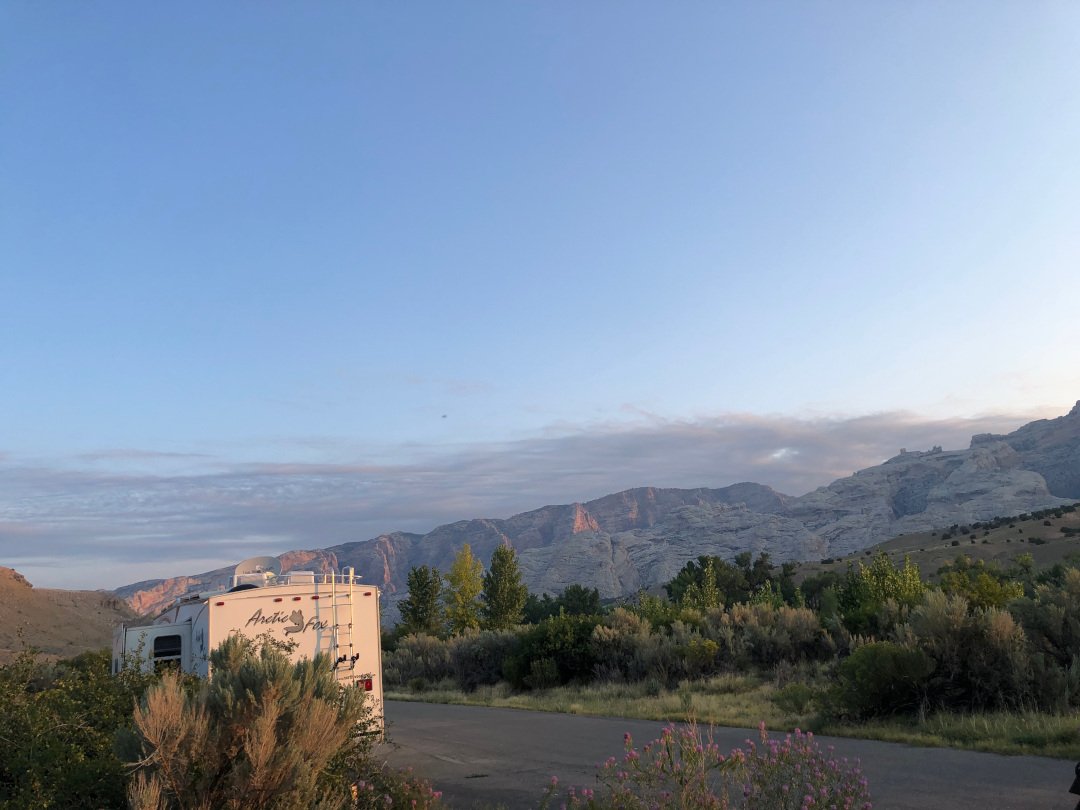 The Pros and Cons of a Pandemic Camping Experience
I told my friend that sure, it's safe to RV right now–to a point. The experience is so different! In general, RVing during a pandemic means living with a level of anxiety that in our opinion, detracts from the overall experience. RVing is still fun and we're not giving it up. But that feeling of living free and wild doesn't exist anymore, at least for us.
We are vaccinated, but every interaction with others is filled with an underlying anxiety that's almost as bad as pre-vaccine days. That low, steady anxious hum of "Should I or shouldn't I?" when encountering others is always there when you run into someone. Wondering "Is this decision going to kill me?" is like the static buzz of EMFs permeating our environment. You can't see, touch, or feel EMFs, but they are undeniably running through us.
Right now, Jim and I don't want to sit around a campfire with others, we don't want to go to a potluck, or do anything with other people even if we are outside. Even if they are vaccinated. To paraphrase what I just heard on The Osterholm Update, people can forget what was previously known about COVID virus transmissibility. The vaccines are protective, to a point. The data on variants is weak right now, and what was true for COVID-19 is not necessarily true for the current strains. Continuing with COVID precautions is as important as ever.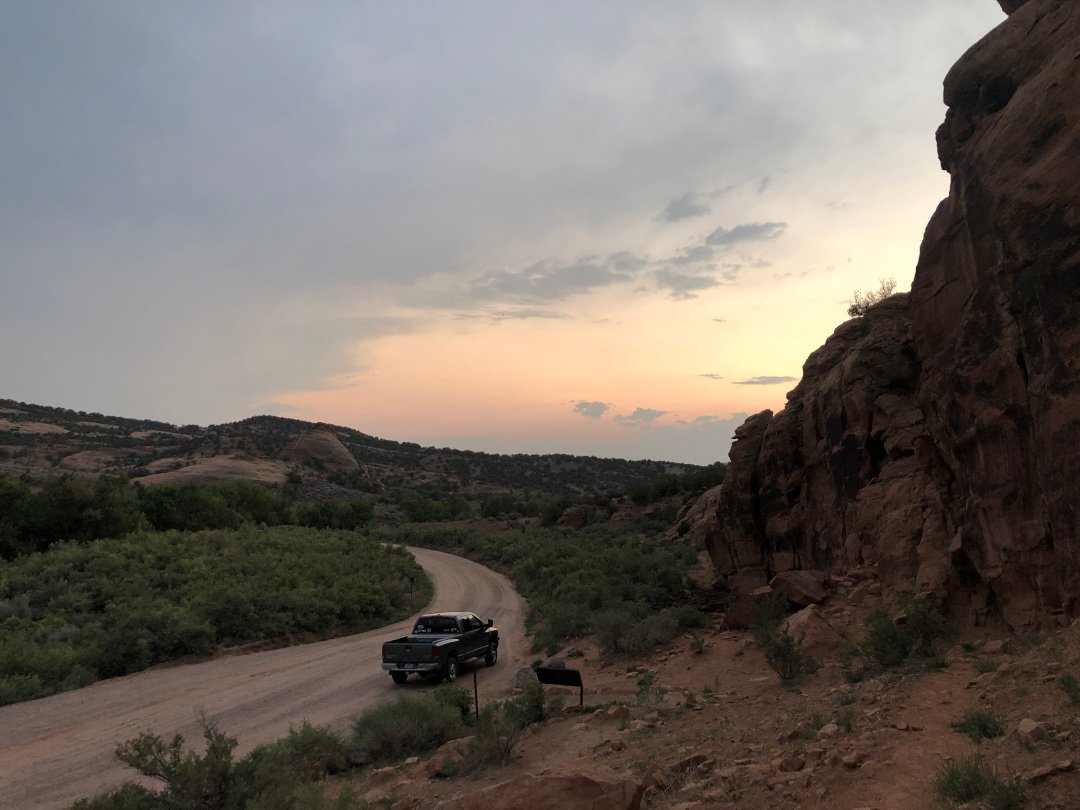 RVing during a pandemic feels anything but free when your life is at risk
But every time I see pictures of people getting together, jammed into concerts and events, it's hard to believe that we are still in a pandemic. Humans are so good at living in denial and doing nothing about an impending catastrophe. The current media catch phrase, "Adapting to climate change" instead of "Ending climate change" is a good example. But as Jim likes to say, I digress. . .
"You can still go out and boondock and have fun," I told my friend. "We did. Dinosaur was great. But you have to make more choices than before. 'Do I wear a mask in the public restroom, even though nobody else is in there? Is that person standing too close? Should I shake a stranger's hand?'" These anxiety-laden decisions are a real drag on a lifestyle that normally leaves you feeling free and wild.
Earlier this year, my friend and I had plans for a Fall get-together. We haven't seen each other in almost two years now, and I miss her! But we're not going to circle the wagons and meet up on a whim right now, or anytime soon. "Let's just take things week by week, and see how it goes next month," we agreed.
RVing during a pandemic takes more planning and thought than ever before.
This sucks balls. But we are staying hopeful. Aside from taking COVID precautions, what else can you do? In time, we can fully resume our nomadic life. And as always, this is a good reminder that like anything, the situation is the boss. Go with the flow and be safe out there.