The center of the Universe collapsed upon itself a few weeks ago. The Pie-O-Neer, a Pie Town, New Mexico landmark has closed. It's a sad day for road trippers of America.
Our All American Road Trip to the Center of the Universe
I'll never forget the day we made a beeline to this Pie Town, New Mexico landmark. On a sunny afternoon in March, 2008, we played space tourist with Jerry. We trekked away from our workamping job in Truth or Consequences to check out the Trinity Atomic Bomb Test Site on it's bi-annual open house day.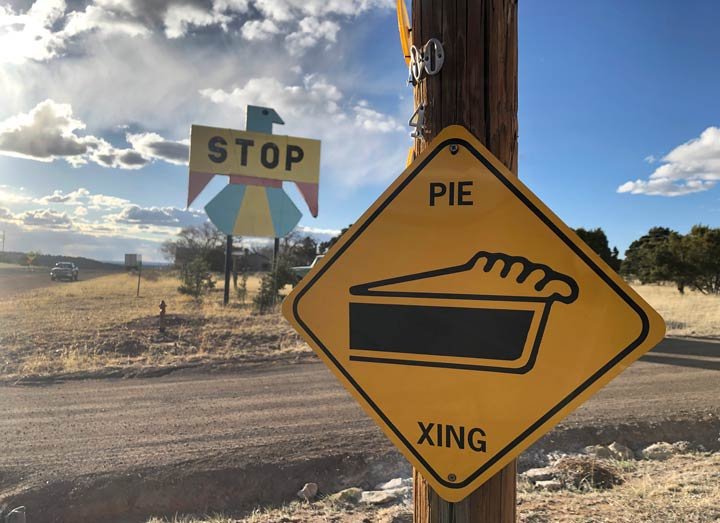 Of course it made sense to drive a few miles west to the Very Large Array (VLA), and end our adventure at the Pie-O-Neer Cafe, a funky little love shack on Pieway 60 in Pie Town, New Mexico. We didn't really know anything about the place, other than it had a great name. Why wouldn't you go somewhere named Pie Town?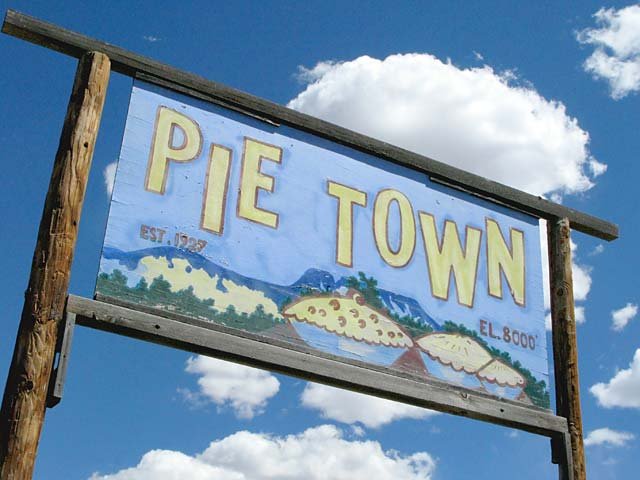 We shared our discovery in "Be More Dog," . . .
By the time they arrived, warm sunset rays beamed on the weathered Native American Thunderbird sign that watches over the cafe. On a mission for pie, Jim and Jerry ran to the old wooden porch. "Uh oh." He knew it didn't look promising. The door was shut. The only car out front was a well-loved white Subaru with a license plate that simply read PIELADY.

Nobody can bake pies like Kathy Knapp.

Rene caught up and ran up the creaky wooden planks of the old, wind-worn building. One by one she peered inside each window while Jerry and Jim waited under the tattered pie-shaped sign that simply read PIES. Looking like lost, forlorn puppies, they finally spotted the "Closed" sign in the window.

"Well, damn! No pie for Jim tonight." Rene leaned over to give Jerry some water when a woman came to the door.

The Pie-O-Neer, a one-of-a-kind national treasure.

"Sorry, we're closed," she said through the window. She wore an apron speckled with flour. Her long, blonde-and-silver hair was tousled under her tie-dyed bandana. It was the end of another busy day at Pie- O-Neer Pies, and the Pie Lady was ready to go home.

"Awww…" Jim gave her his best sad face and turned his head down, intentionally looking at Jerry. "Sorry, buddy, we aren't going to eat tonight."

The Pie Lady smiled and opened the door. "Oh, geez. Come on in. But we can't allow dogs inside. Okay?" As she opened the door, she looked up and down the road for any onlookers. Pie Town was mostly deserted, with nothing but an old, abandoned gas station next door.

The closest gas is 60 miles away from Pie Town. Now that's remote!

"Whoa! I didn't even notice he was missing a leg." Her smile lit up as she stooped to greet Jerry.

"Shhh…" Jim held his finger to his lips. "Don't tell him, he doesn't know."

"Ha! All right, come on, dog. I'm a sucker for animals. Just don't tell anyone." She held the door, looking up and down the street as all three of them entered.

Kathy always made everyone feel like family.

Rene and Jim were so hungry they didn't even care what kind of pie was left over from the crowds, but the kitchen's lingering aroma told them anything would be delicious. The Pie Lady brought one slice of cherry pie and one apple to their table.

"Mind if I join you?" Exhausted from her twelve-hour shift, she put her feet up on an empty chair and enthusiastically quizzed her last customers of the day. "Where are you guys from?"

Rene and Jim looked at each other and giggled. "It's hard to say. And it's all this guy's fault," Jim offered. The Pie Lady patted Jerry on the head and listened attentively. They never had much of a story to tell before Jerry got sick. But now, they had a good one. People seemed to enjoy hearing about how a dog turned their life upside down for the better, and the Pie Lady of Pie Town was no exception. She was smitten by the three-legged guest and his giddy traveling people.

No other pies will ever live up to the Pie-O-Neer's.

Jerry sat quietly at their feet, on his best behavior while wearing his red harness. He watched them enjoy the best pie they ever tasted, with one of the kindest people they had met since hitting the road.

"It's funny, really." The Pie Lady stared into her coffee cup, now nearly empty. "My mom used to give me a hard time whenever I'd bring home any boys she didn't approve of." She smiled, remembering how she thought her mom was crazy for suggesting they purchase the Pie-O-Neer together a few years before she passed away. "She would look at me with disapproval and shake her head. Then with her eyebrow raised up like this, she'd say, 'You don't have to bring home every three-legged dog you find!' And, here you are, Jerry." She reached down to caress his velvety ears.

If it wasn't for this guy, we never would have stepped inside the center of the Universe.
It was about so much more than pie.
That day marked the first of many visits to the Pie-O-Neer. We could never get enough of the warm welcome, interesting people and the love that flowed in, out and around that creaky wooden building.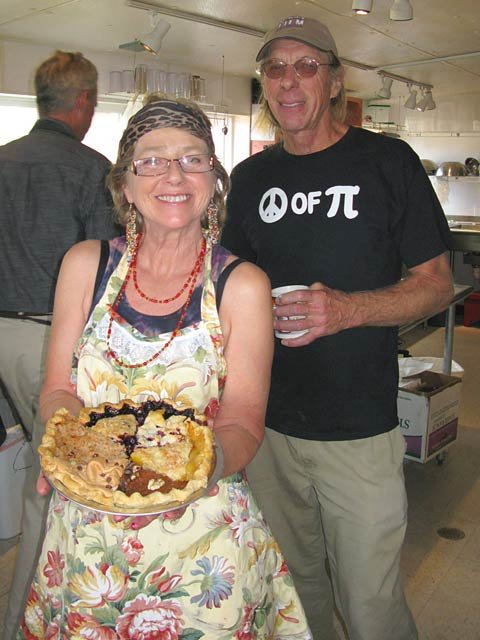 The Pieoneer was about so much more than the world's best pie. It was about community, friendship and fun. Every. Single. Time.
Proprietors Kathy and Stanley always made us feel like old friends whenever we visited. Eventually, Jim cooked up a new website for the cafe. And once the Pie-O-Neer was featured on CBS This Morning, business exploded.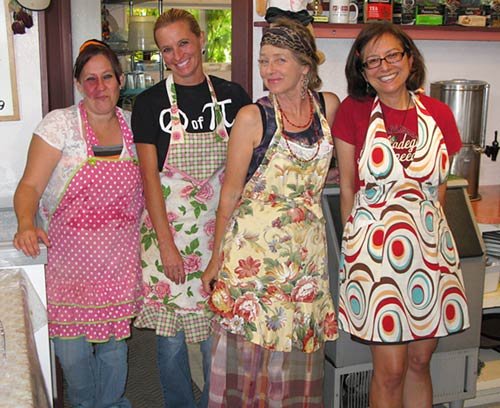 For about 26 years, that tiny little pie cafe in the middle of nowhere brought in customers from all over the world. Some were snooty pie critics, some were just wanderers like us, but everyone came for the pie, which never disappointed. And no matter how busy things got, everyone was made to feel like long lost family.
And then the Pandemic happened.
Kathy and Stanley want to retire soon, and had started making plans to market the Pie-O-Neer Cafe for sale. Then the pandemic hit. Running this little dream cafe in one of the most remote parts of New Mexico became an impossible endeavor. There's no such thing as curbside pickup in Pie Town.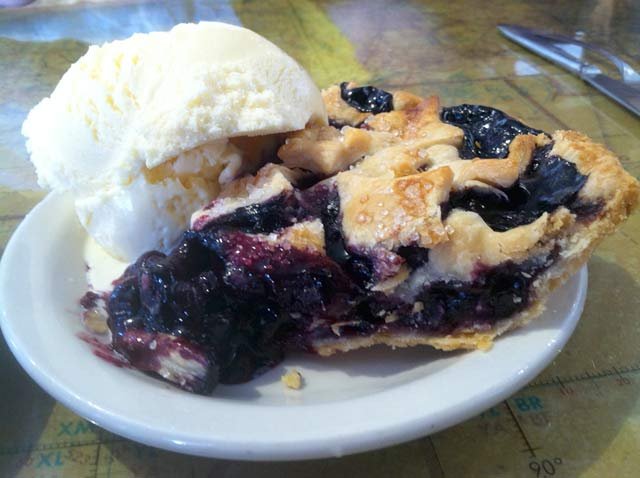 This Magical New Mexico Landmark is For Sale!
Kathy explains here in an Albuquerque news story:
For a longer explanation of why running the cafe makes no sense during this crazy time, check out Katy and Stanley's interview with Chicken Man on the Run. The Chicken Man is currently motorcycling around the USA, documenting how the pandemic is affecting small businesses like the Pie-O-Neer.
Gone We Knew It, But Never Forgotten
Kathy and Stanley are now focusing their efforts on a new version of the Silver Creek Inn, an historic hotel that Stanley owns in nearby Mogollon. You'll have to watch the entire video with the Chicken Man to learn more about why they would be so crazy to operate a tourist lodge during these crazy times. It sounds nuts, but remember, people thought Kathy was crazy way back when she purchased the Pie-O-Neer. We know that this venture promises to be just as unforgettable. We just hope that like the Pie-O-Neer, they have RV parking across the street.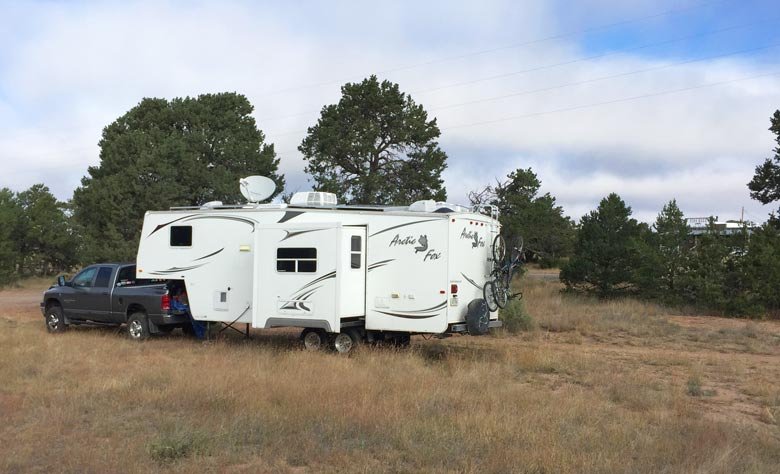 Thanks for all the good times, Kathy, Stanley, and everyone who ever walked through the doors of the Pie-O-Neer. We're going to miss making more magical pie memories.