Where do you begin if you want to start RVing full-time? Spend much time on Facebook, and you'll hear plenty of, "Just do it. You'll love it!" The latter may be true. But you're much more likely to love the nomadic lifestyle, if you're prepared before you just do it. So, how does one prepare to become a full-time RVer?
It's been a few years now since we compiled our two-part series about How to Plan and Pay for the Full-Time RV Lifestyle. And a lot has changed since then. A simple Google search about the RV lifestyle will send you deep down a rabbit hole filled with numerous bloggers, influencers, and Youtubers competing to tell you the top ten things you need to know about full-time RVing. Thankfully, there is a new resource packed with valuable information from respected leaders in the industry.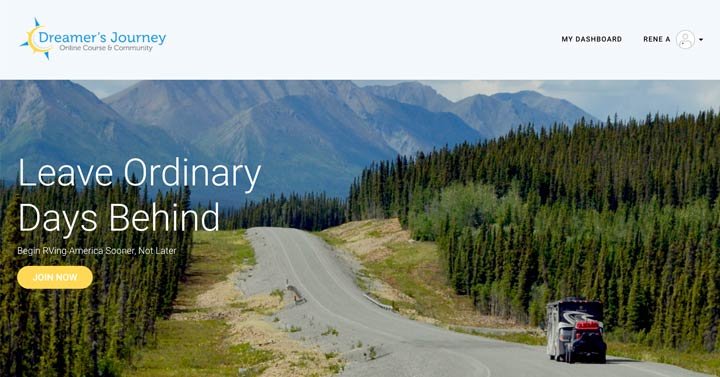 First of all: I'm not pitching any sort of affiliate program here. Rene and I have been happy subscribers to Workamper News for years. It's where we've found all our best workamping jobs. Their site offers a vast amount of information helpful for anyone considering workamping to support their RV lifestyle, and we are proud to provide complete details and a Workamper promo code here.
With The Dreamer's Journey, the team at Workamper provides original content specifically about transitioning to the RV lifestyle in getting started as a full-time RVer. If this platform was available when we started planning our nomadic lifestyle, it would have saved us a lot of time, effort, and money spent on books, when we were doing our homework to just do it.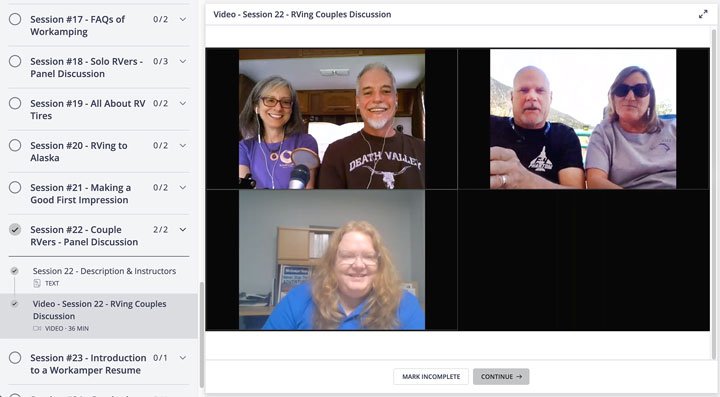 We discovered The Dreamer's Journey when asked to participate in a live webinar recorded for subscribers. Workamper News Social Media Manager Robyn Jinkins moderated the panel discussion for the "Dreamers Bonus" series of live videos. We joined James and Stacy, another couple actively workamping to discuss working together and RVing as a couple.
Starting Full-time RVing – Where to Begin?
If you're getting started researching the RV lifestyle in general, or even just considering it, my new best recommendation is to check out the The Dreamer's Journey.
"Dreamers" is the term Workamper News has always used for those new to the RV lifestyle – or still researching a nomadic life – who want to learn more about workamping. The Dreamer's Journey platform takes this to the next level, and beyond, by offering a wealth of information not only about workamping, but full-time RVing in general. This simple to follow lesson plan will help you decide if the RV lifestyle is right for you, and make the most of it once you hit the road.
Dreamer's Journey is the best place to start for any RVing beginner or wannabe RVer. You will find presentations that cover all the basics – from finding your "Why" to learning the nuts and bolts of How and What you'll need to start enjoying life on the road.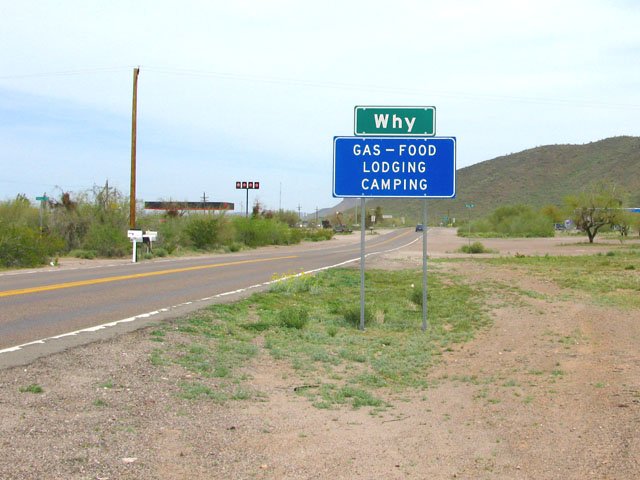 Transitioning to any new lifestyle can be overwhelming. By following along with the Dreamer's Journey online courses, you'll be able to start your new RV lifestyle sooner and with more confidence. If you are not yet certain if RVing is right for you, watching the videos and reading the articles will give your the knowledge to make an informed decision about taking your dream to the next level. Or, it will help you decide RVing may not be right for you – without any major investment.
So, what's it cost? A single payment of $29.95 provides 90 days of unlimited access to 9 live webinars each month, past webinar recordings, and all supporting content. Renew your subscription after three months to continue watching live webinars, or cancel anytime.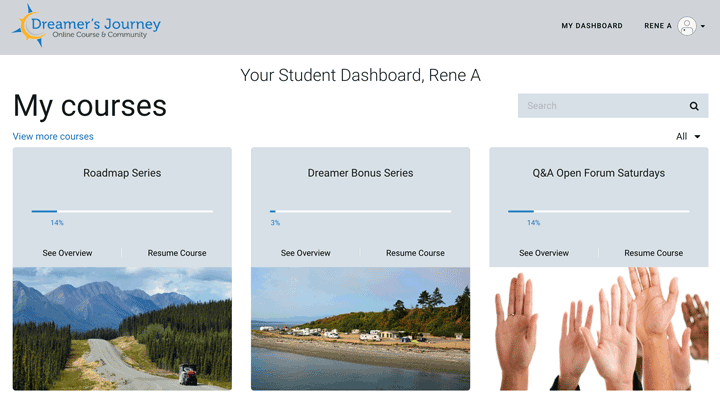 The Dreamer's Journey RV Lifestyle Course
What do you get? Access to The Dreamers Journey dashboard reveals three sections filled with articles, presentations, and live webinar recordings.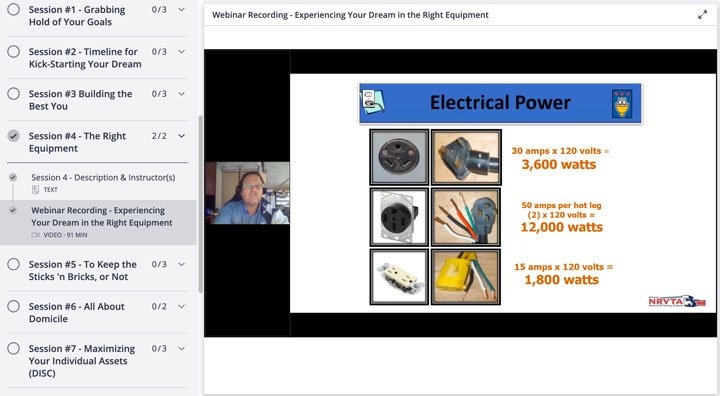 The Roadmap Series is the mainstay series of The Dreamer's Journey program. This series of live webinars and video presentations spans 12 weeks. Then it starts all over again. So even if you don't begin with week one, you'll always have the opportunity to attend each session live!
Example Roadmap Series Topics:
Timeline for Kick-Starting Your Dream
Building the Best You for Your Dreamer Journey
Experiencing Your Dream in the Right Equipment
Where to Call Home – All About Domicile
Options for Funding Your RV Lifestyle
The Freedom Operating a Small Business on the Road Can Bring
The Dreamers Bonus Series is a selection of bonus videos featuring interviews with special guests and panel discussions. Each live webinar is produced once, with plenty of topics to cover.
Example Bonus Content:
Funding Your Dream Budget
How to Take Care of Your Home on Wheels
Volts, Amps, & Purple Monkeys
Handling Mail as an RVer
12 Steps for Finding a Workamping Job
Discussion Panels with Current RVers/Workampers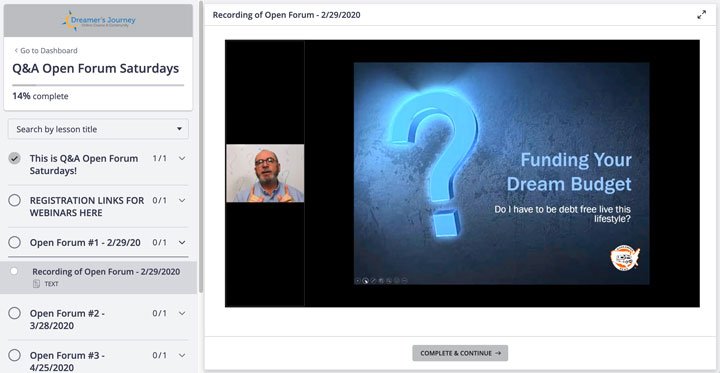 An Open Forum Q & A is also hosted once a month by Dreamer's Journey creator, Steve Anderson. These live webinars answer all your questions about the RV Lifestyle.
Have you ever considered leaving the default life behind? Are you a new nomad, wondering how to make the most out of RVing? Check out The Dreamer's Journey. At less than thirty bucks, it may be the best investment you ever make in your new lifestyle. And no, we don't make anything by sending you there, we are just happy to share this resource as Happy Workampers.