One of the things I love about this lifestyle is the ability to chase our dreams wherever they happen to be located. Two weeks ago I chased them down at the Tucson Gem Show.
Recovering from the Tucson Gem Germ Show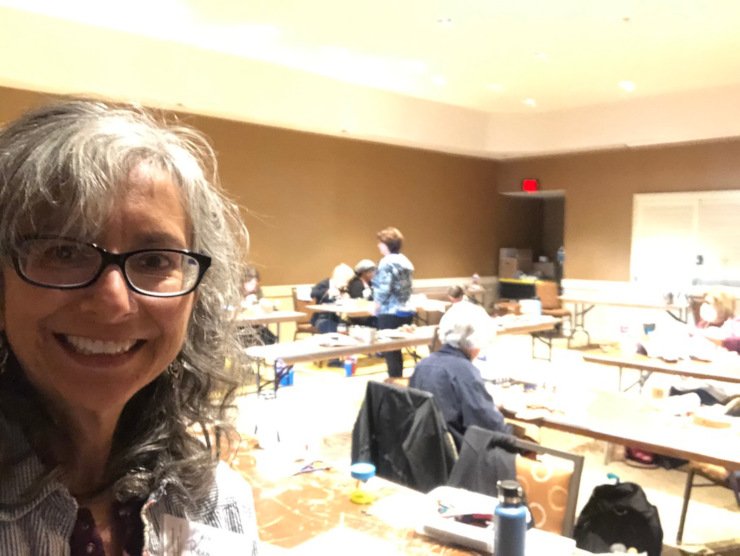 You probably didn't miss my Monday post, but I did. Last night I decided to give up posting on Mondays because I just can't swing it anymore. My writing clients are booming (YAY!) and between those assignments, the Tripawds content I publish four times a week, and my burning desire to hammer on metal, something had to give. I may or may not do Mondays occasionally but for now, I set that commitment free.
Meanwhile, I made a full recovery from the Tucson Germ Show. Yeah, I got a nice little gem of a cold and brought it back to Jim, who proceeded to catch it too. In this age of Coronavirus I was a little apprehensive to go to the show in the first place. After all, people from all over the world attend. Wherever you go, you're in close quarters with them. And despite my best attempts to hand sanitize and stay away from hacking, sniffling people, I got sick. Scary, but at least it was only a cold.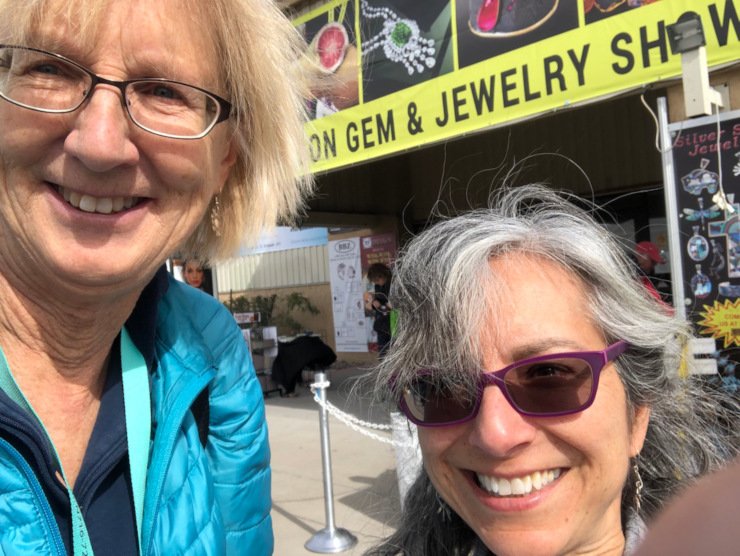 This year I drove out solo and left Jim and Wyatt at home, to meet up with my fellow jewelry-making friend Kim Muller of Burro Mountain Arts. We've known each other for over a decade now (hard to believe!), after meeting on the road when she and her husband were also full-time RVers. Today they live in Silver City and her thriving jewelry business is something I aspire to doing. She arranged a cute little AirB&B for us, not too far from the Vivi Magoo metalsmithing classes we took.
Taking Time for the Craft
To me, there is nothing better than spending an entire week diving into the craft, talking about it, and meeting incredible artists like James Fendenheim. I never would have done something like this in our old life.
We met James and watched him create an amazing silver necklace in the new lab at my favorite Tucson silver supplier, Starr Gems.
I learned some awesome tips from him to make soldering easier. Starr Gems has a new lab and is about to start teaching students. Guess where you'll find me when they do?
The finished work of art, 100% handmade.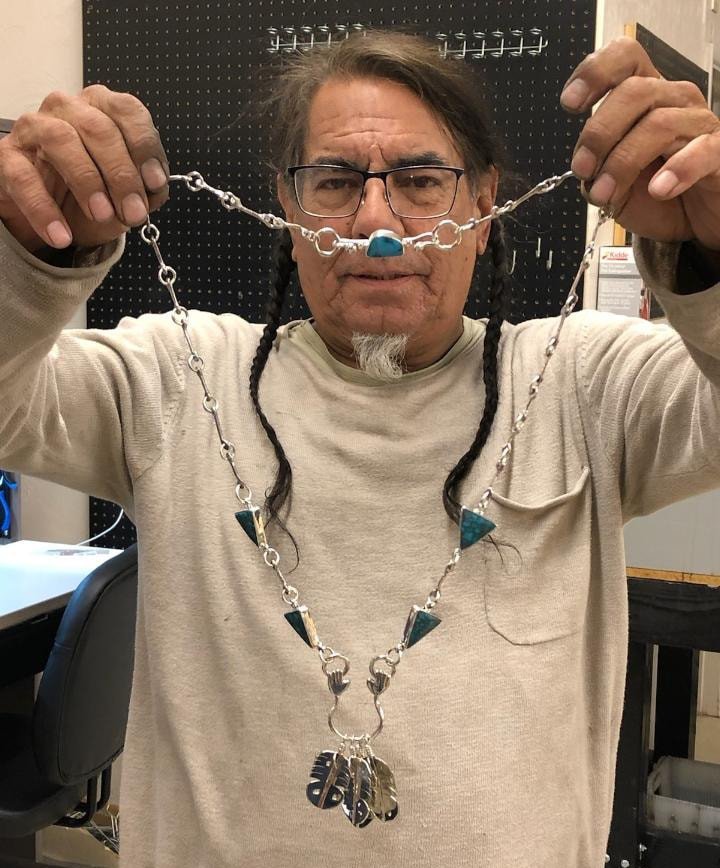 My stay wasn't long enough. I only had a few days but I made the most of it. From Eva Sherman's Fidget Ring I learned how to make in just three hours, to the all-day silversmithing class with Twisp WA metalsmith Nicole Ringgold, I am so grateful for the opportunity to interact with such talented people,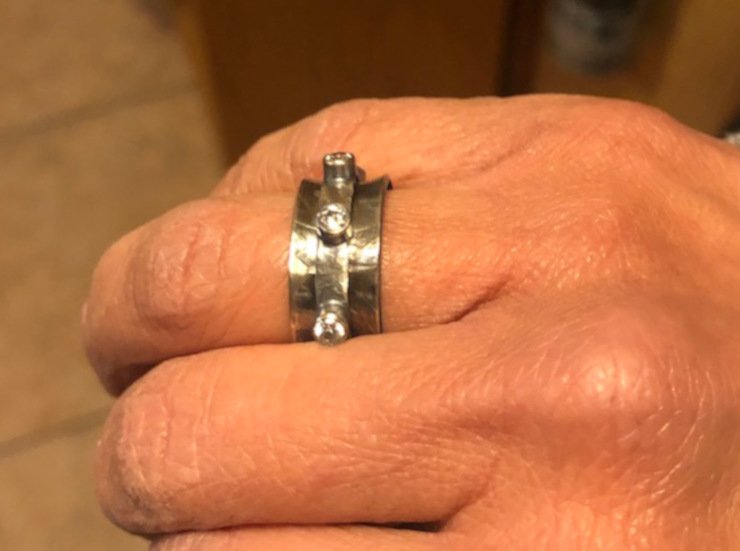 We had a blast shopping for supplies at some of the major shows. The Tucson Gem Show exhibitors aren't as much a resource for me as they are for Kim. She specializes in working with natural gemstones, and gets all her supplies in Tucson. I still had fun browsing. Sorry I don't have any photos from inside the shows because taking photos will get you blacklisted.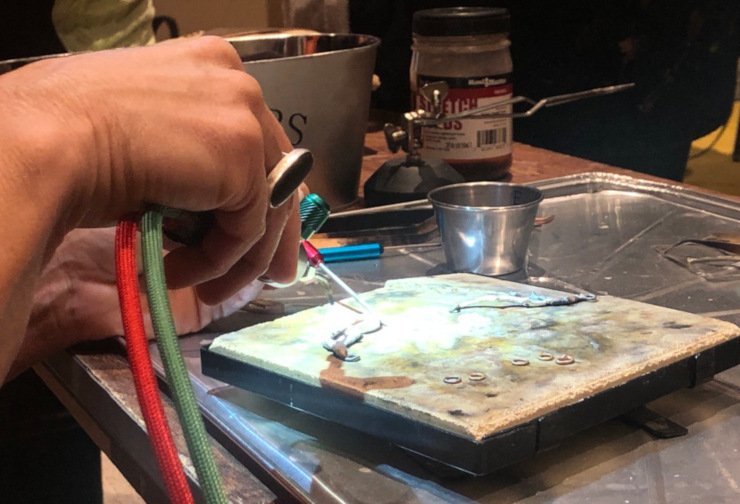 The Real Cost of Metalsmithing
Aside from my Coronavirus paranoia, one thing that weighed heavy on my mind was the environmental and human toll of the gem and jewelry industry. This is a VERY dirty business, and we all know it. Gems and metals extract tons of natural and human resources from the planet.
As always, nobody except Ethical Metalsmiths was talking about this issue at the show. People love looking the other way when a shiny object is dangled in front of them. It's kind of like calling the weather "strange" when we know that climate change is killing the planet.
I'm glad that at least a group like Ethical Metalsmiths exists to educate makers on minimizing our footprint on the planet. Meanwhile, I grapple with how to create long-lasting, metal jewelry that doesn't look like it came from the recycle bin, but is kind to the planet. Any ideas? Send them my way!
Now, I need to make use of my new skills and supplies for my own jewelry business. If I could do this all day long, and have it pay the bills right now, I would. I'm not there, but am headed in that direction while trying to be patient and remembering what my mentor Lena West says:
Alignment is not an event, it's a process. –– Lena West