I loved our original RVQ. When we purchased our first Arctic Fox, we opted in for just about every option the salesman pushed on us. The best one, by far, was that original RVQ grill. It was small enough to fit through our tiny exterior storage compartment door, yet well built and hot enough to cook up many meals to perfection. Even back when I was still grilling steaks and burgers. The lack of RVQ replacement parts, however, finally led us to find a new replacement grill that meets our demands.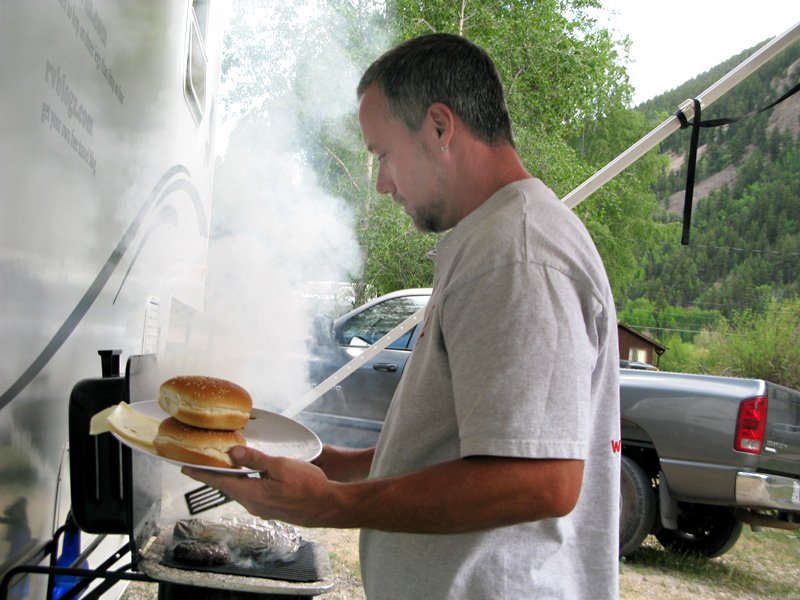 Granted, that original RVQ was twelve years old. Long ago, I had already replaced the RVQ flame spreader once. I should have bought two at the time, because it has become impossible to find original RVQ replacement parts.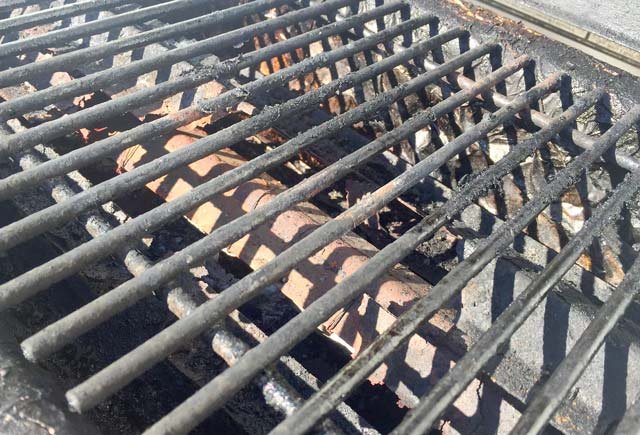 The dimensions of the new RVQ II, may have worked for us. But honestly, the shopping experience there immediately turned me off. The website looks like my nephew built it fifteen years ago, and they offer no returns. So I spent hours searching for the best compact RV grills with the most positive reviews.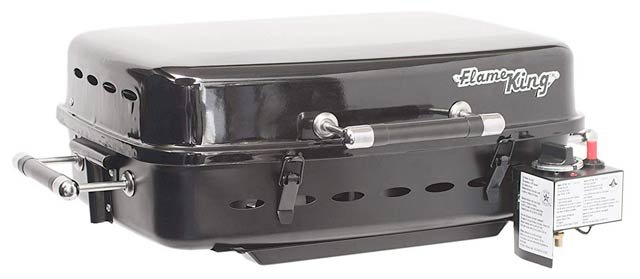 Best RVQ Replacement RV Grill
There are many portable BBQ grills to choose from, but we have pretty particular requirements. Primarily, we have very little storage space. Our 27′ fifth wheel does not have a "basement" and the door to our one exterior compartment where we could store a portable grill is only nine inches tall. We also wanted to utilize the original RVQ mounting rail on the side of our rig, and the built-in propane gas connection.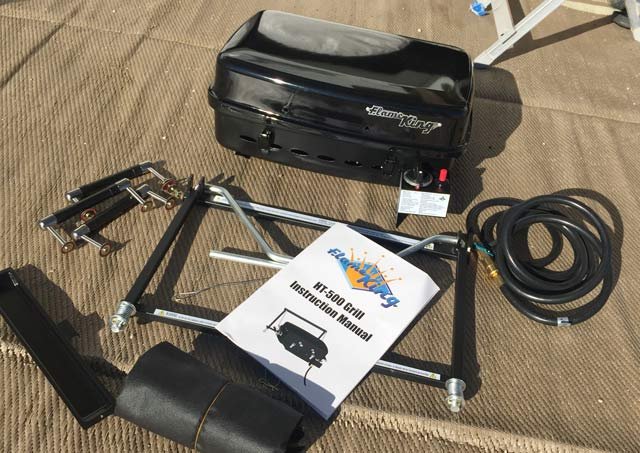 I finally decided upon the Flame King RV-Mounted BBQ Grill. The first determining factor in my decision was the size of the stowed grill. It needed to fit in our storage compartment, specifically through the small compartment door. The right replacement grill needed to connect to our RV propane system, and mount on the existing rail attached to our rig. Finally, customer reviews made up my mind. There are currently 180 Flame King RV grill reviews on Amazon, with an average rating of 4.2 stars. The few negative reviews seemed due to flukes, or promptly addressed by the manufacturer.
There is no propane hose included with the Flame King Grill, though it does include a durable storage bag. We already had a 3′ flexible propane line for the original RVQ, but it barely reached our connection. I could tell from the placement of the built-in regulator on the Flame King grill that I would need a new quick connect propane hose. A 5′ hose would have been perfect, but I could only find another 3′ hose or the 10′ quick connect propane hose that I decided to purchase – rather than connect two short hoses together. The longer hose could come in handy, since an optional Bumper Grill Arm Assembly is available for mounting the grill to an RV or trailer bumper. The included mounting bracket can also be connected as legs to use the Flame King as a free-standing grill.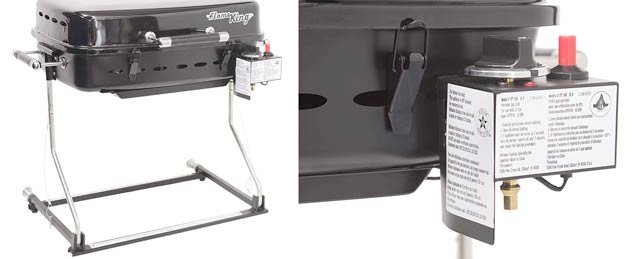 The Flame King is lightweight yet sturdy and well built. It fit perfectly on the RV grill mounting rail. The flame adjustment is much more variable than our old RVQ had become – off, or hot. The Flame King RV grill connect to the RV propane, and it has a built-in piezo-electric push-start flame ignitor. I lined ours with extra-wide heavy duty aluminum foil, with the hope that it may last as long as our original RVQ did.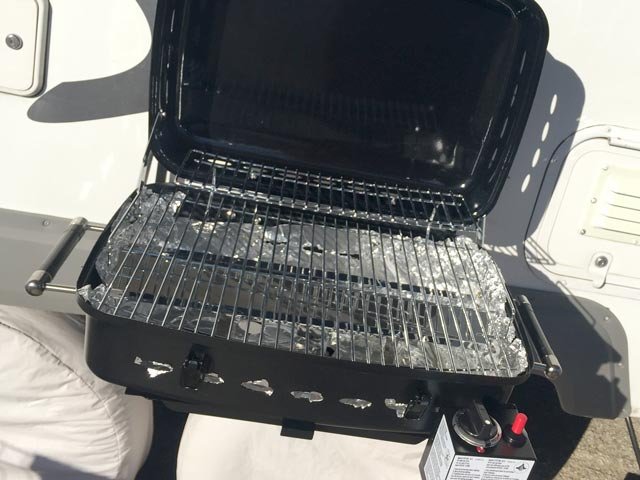 Customer service means a lot to me, and after receiving our new Flame King grill I got to test that too. The package arrived intact, but the ignition wire connecting the ignitor was bent at the bottom. The first few attempts to light the grill using the spark failed. Flame King was very responsive. The company, however, also does not offer grill replacement parts. They offered to send me an entire new grill. But they also required me to send ours back first. Such a hassle for such a simple part replacement – so ridiculous.
Having recently heard a report about so many product returns going to landfills, I refused to have any part in that. So instead of shipping me a thirty cent part, they refunded me $20 off my purchase. A fair deal for both of us, considering they were going to send another completely new $70 RV grill – and likely throw out the (nearly) perfectly good one I'd have to return.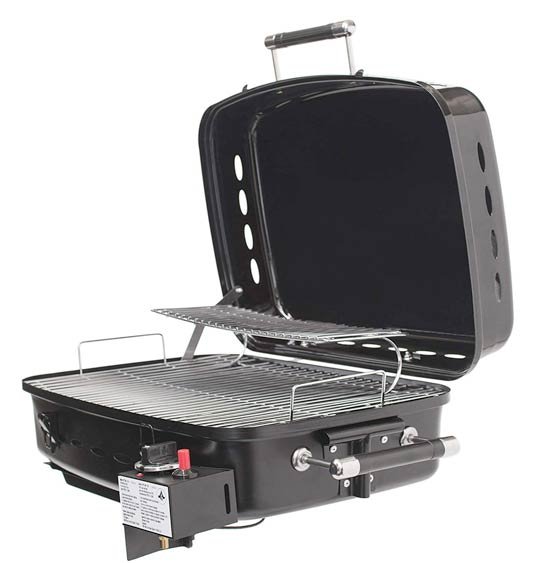 Good news! After fiddling with the ignitor wire, our new Flame King RV Mounted Grill sparks up every time at the push of a button. Even if it didn't, the grill easily lights with a BBQ lighter, and provides a much better cooking experience than that original RVQ I loved so much…if only I could find RVQ replacement parts, it too may not have ended up in the landfill.