On Christmas Day I felt as fat as a stuffed tamale and as boozy as a Blue Nun. While Jim and I sipped our cocktails at the dive bar, he asked unenthusiastically "So, are we going to do the Dryuary Challenge again?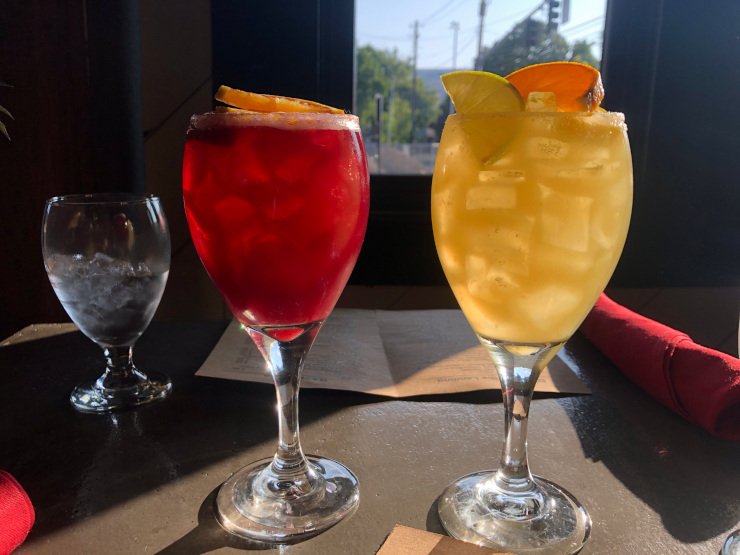 At first I said no way. "I've done it. I know I can stop anytime. Besides, we're not officially in peak marathon training season yet. And we decided to not drink for the month before the marathons. We can do it then." Basically I thought of every excuse not to cut myself off from the sauce.
But by New Year's Eve, I caved. "Dryuary is good for us. It's smart to take a break from booze," I figured. Maybe some of the tamale rolls I acquired will melt away too.
"We're in. Let's do it," I told him.
"Oh. Great."
What's one month right?
This time around, sobriety is extra challenging. That's because we have a nice little bar going on, stocked with our favorite adult beverage fixings. Last Dryuary, we got rid of everything before going dry. This year we've got the extra hurdle of having this stuff in the house and not drinking it. Nothing like having the devil hiding behind a cabinet to tease us for the rest of the month.
Each time we stop drinking for the challenge, I get that much closer to seeing how unnecessary alcohol is to living a happy life. This year, we'll be doing at least two marathons and a trail race, which means three more month-long abstinence challenges. I know I can handle each of those 30 day tests. Will I miss our happy hour cocktails? You bet!
Each Dryuary challenge and no-booze training month pushes me that much closer to total sobriety. But I'm not there yet. I don't know if I ever will be. How about you?