Enjoying Every Day to the Fullest on the Road to Happiness
If you have followed this blog since we hit the road in 2007, you know how it was Jerry who led us around the country for those first two years. During that time our three legged co-pilot taught us many insightful lessons…among other things: how to persevere when the going gets tough, to never give up, and that every day is a great day, no matter what life throws your way.
Basically, he taught us how to Be More Dog.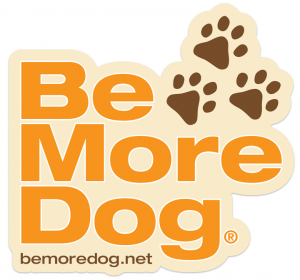 It has taken us years to put together words that do his story justice. In fact, it is a story more than 20 years in the making, considering it was that long ago that Jerry G. Dawg became the first Chief Fun Officer of Agreda Communications.
Introducing…
Be More Dog – Living in the Now
Now, however, the time has come for the Be More Dog story to be told. And Now, we are happy to announce the upcoming release of our first book: Be More Dog – Learning to live in the Now.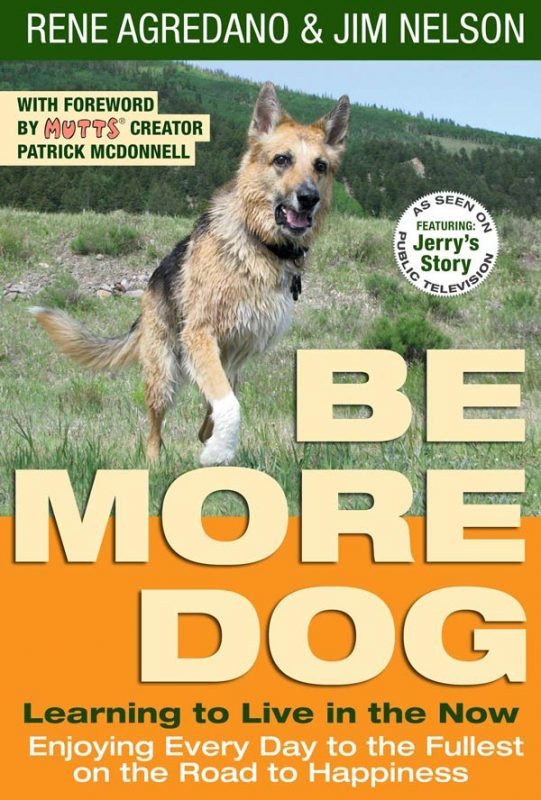 We recently published a more detailed Be More Dog announcement in the Tripawds News blog. Suffice it to say, this major undertaking has been a long time in the making, and you will here much more about it as soon as we launch the Be More Dog website. Can't wait? Here's a quick tease from the back cover…
When their heart and soul dog Jerry lost a leg to cancer, Jim Nelson and Rene Agredano sold their home, their business, and nearly everything they owned to enjoy their final days traveling together as a pack in a new RV. Given just months to live, Jerry led his people around the country for two years.

"Be More Dog" is more than a memoir about a three-legged dog on an epic road trip. It is a mantra to live by, and this book is the guide. This heartwarming taleis filled with deep meaning. Through his actions and attitude in the face of adversity, Jerry shows Jim and Rene how important it is to live in the now—to persevere when the going gets tough, to never give up, and that every day is a great day, no matter what life throws your way.

Includes Foreword and original artwork by MUTTS creator Patrick McDonnell.
Yesh! Did you catch that last bit?
The creator of our favorite comic strip – MUTTS – has prepared a beautiful foreword to the book, complete with original artwork that truly does our CFO justice. Just how did that happen? You'll just have to wait and see…
For now, the Be More Dog e-book is available for pre-sale on Amazon. Once the Be More Dog Shop is open for business, we'll announce various formats, and a special gift edition, in addition to lots of fun Be More Dog apparel and gifts!