Whenever exploring small-town America, we like to get a real taste for the town. We did exactly that before enjoying the Corb Lund show during the 2019 NIC Fest in Casper, Wyoming. Literally…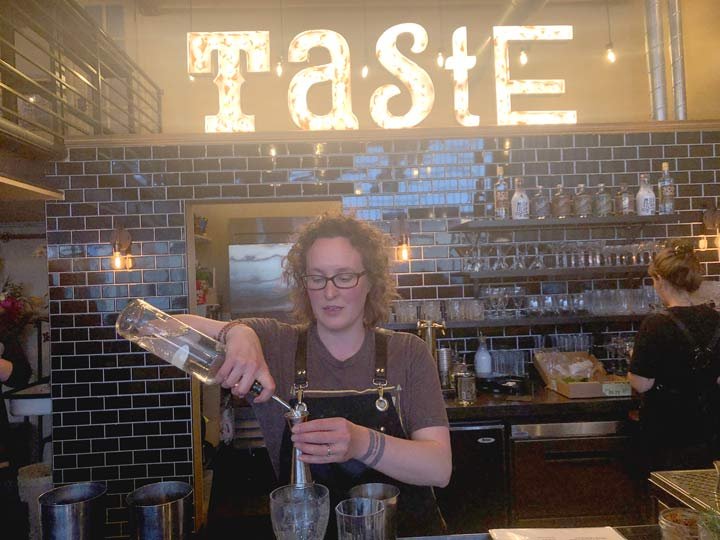 Another favorite exploration we've come to enjoy throughout our travels, has been discovering local craft distilleries. Being World Gin Day, we were happy to discover the new Backwards Distilling Company tasting room on Old Town Casper.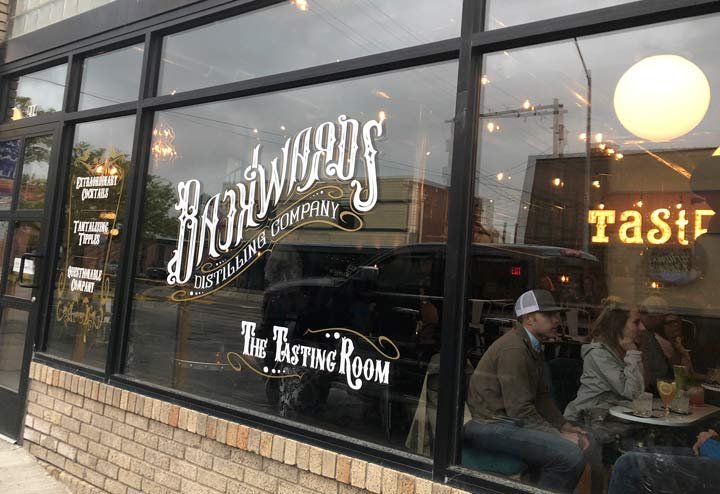 I was immediately impressed by the Backwards branding, and their tasting room decor. Their repertoire of spirits is a lineup of circus performers and side show freaks with classic graphics to match.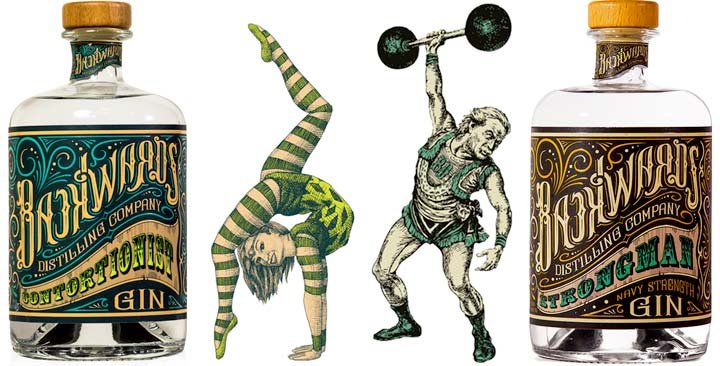 Velvet wallpaper adorned the walls of the comfortable private seating areas in the new Backwards location. Apparently, the Mills-based distillers worked hard to have the city council amend Caper's alcohol ordinance to allow the opening of their satellite tasting rooms.
The atmosphere was lively, and the place was packed. Honestly, we were pleasantly surprised to discover the clientele and staff were both colorful and diverse – albeit rather white. After all, this is Wyoming, but perhaps the Pride festival and parade earlier that day had something to do with creating the festive environment.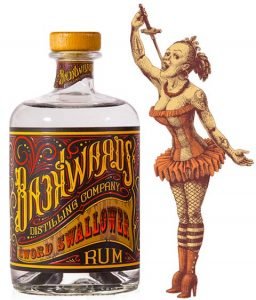 Or, maybe it was the gin.
Clad in steampunk style aprons, the staff knew their stuff. We tasted the Ringleader Vodka and both styles of Gin: Contortionist, and Strongman – a true Navy Gin at 104 proof, weighing in at 57% ALC/VOL.
We didn't get to try the Sword Swallower Rum, though that did bring back fond memories of our sword-swallowing friends.
FYI: Navy Strength Gin dates back to the 18th century, when British Sailors would only stock 100° British Proof, or 57% ABV. Often referred to as Gunpowder Proof, Navy Gin could be "proved" by dousing gunpowder in it, then testing to see if the gunpowder would still ignite.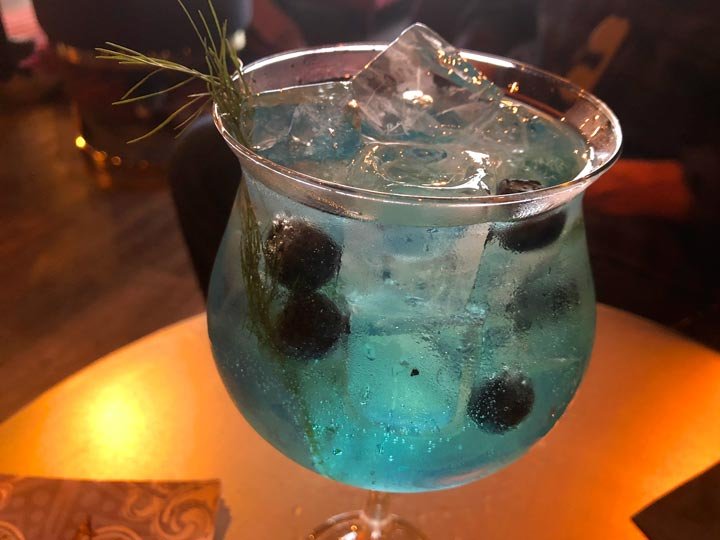 I like to keep it simple, and I like Navy Gin. So I opted for the Augmented Aquarium, a Spanish style G&T – with lots of gin, really good tonic, and select accent ingredients. In this case, blueberries, fennel and a splash of Curacao. I upgraded with Strongman, and was quite pleased indeed.
Not one to be one-upped, Rene chose the Strongman infused Zenobia – a frozen gin smash blended smooth with blackberries, lime, and rosemary. Despite the throwback atmosphere, these aren't the typical college cocktails of yesteryear.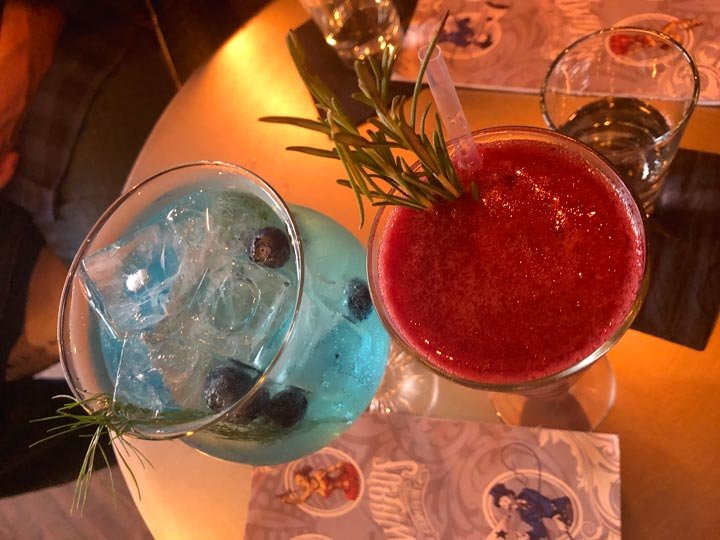 I would have gladly stayed for another round, but then we may never had made it to the show. As it was, we had just enough time to check out the few booths still open at the arts festival put on by Casper's Nicolaysan Arts Museum.
Myriad crafters were selling their wares, wearables, and upcycled artwork. But I was most impressed with the antique letterpress on display, and the knowledgeable pressman from Prairie Printing.
This Wyoming nonprofit is dedicated to preserving old printing press equipment, and teaching the art of letterpress printing. Rene had the pleasure of inking a small late and operating the hand-cranked letterpress to print a calling card for the organization.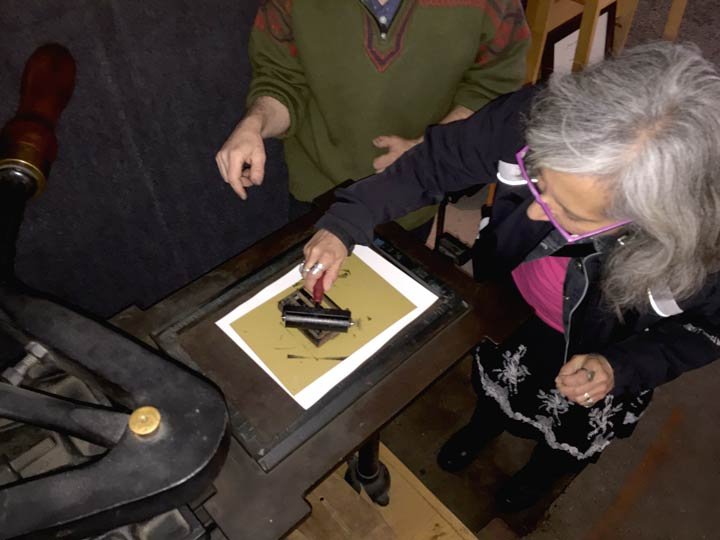 You'll never know what you might find by taking the time to explore small town America. I look forward to finding our next funky old town, and another favorite craft distillery.