Every year there's some new RV kitchen appliance that's all the rage. But in our rig, the best RV kitchen appliances are low-tech and old school.
A while back everyone we knew was getting a Soda Stream. And last year it was the Instant Pot pressure cooker. Good thing our galley is small and prep space on the counter is precious, or I might want one too. So when a trendy new appliance comes out, we usually skip it. Most of our cookwear is old-school, like our trusty Griswold cast iron skillet.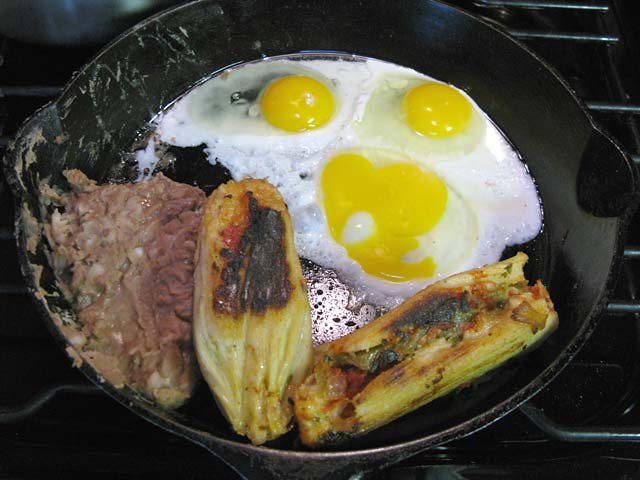 I once had a case of RV appliance envy when those fantastic Keurig machines appeared in many RV kitchens. But again, reality hit. The thing is just too big. And even if it did fit in our kitchen, would I feel good about owning it? Probably not.
Sure, Keurig coffee machines and the like make a darn good cuppa Joe. But oh the plastic waste they generate is atrocious! And although it's possible to buy reusable K-cups for any of these one-cup brewing machines, cleaning out those K-cups when you're boondocking wastes water. I own reusable tea baskets and speak from experience.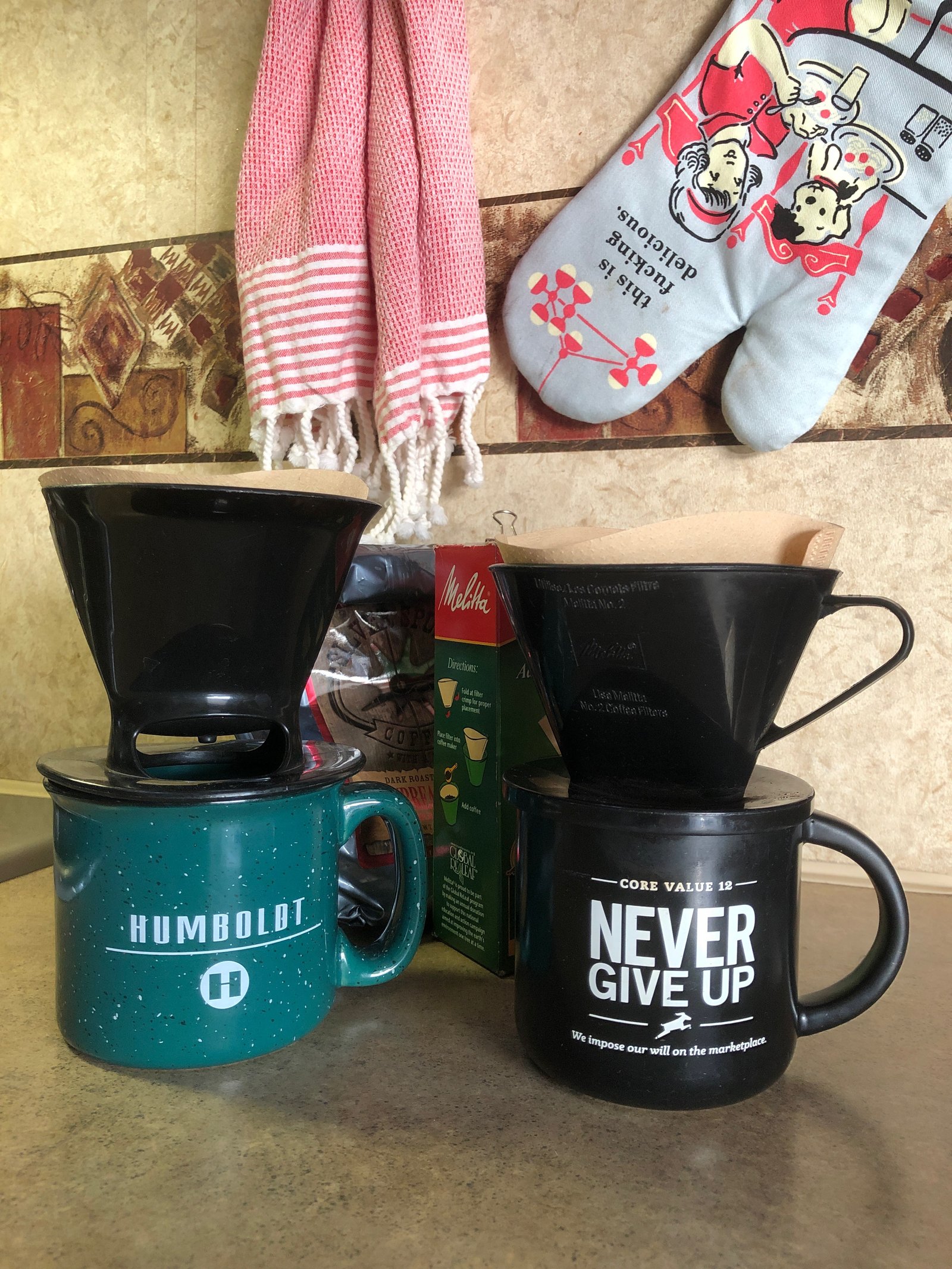 Ultimately, nothing can beat our our old-school single serve coffee brewers: Melita pour over coffee makers. They are inexpensive and clean up is as easy as tossing one recycled paper coffee filter away, which I believe probably uses less resources than K-cups.
I've noticed that if an appliance gets popular, manufacturers will start coming up with knock-offs. For example, the Soda Stream led to the Fizzini, which we bought because it fits in a drawer and doesn't sit on our counter top.
After we wore out the Fizzini Carbonated Soda Maker, we invested in an iSi European-made old-school seltzer bottle which has worked like a dream for years.
Getting back to the Instant Pot pressure cooker craze, we have a cooktop Fagor Pressure cooker instead. I love that it doesn't require electricity the way the Instant Pot does.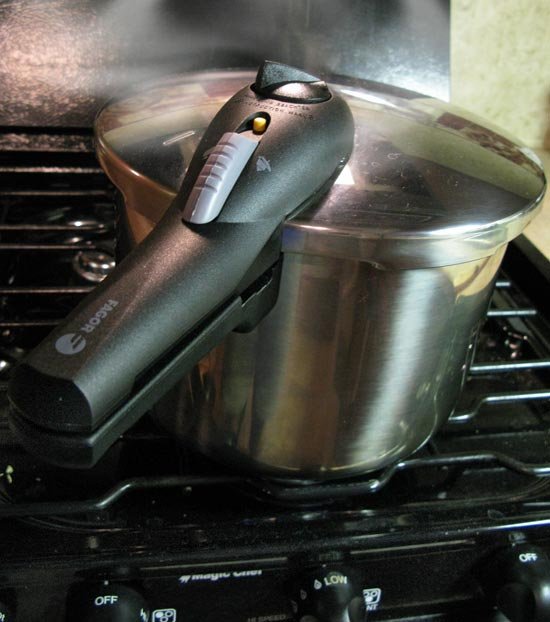 Cleaning our little kitchen requires a carefully orchestrated dance. One of us cleans up the mess, the other washes and dries dishes. And we both try to avoid elbowing each other in the eye. You'd think there would be enough room for one of those fancy schmancy collapsible dish drying racks for dish drying, but there's not.
Instead, we use an alternative: a microfiber dish drying mat. It weighs nothing, and I keep it out of the way by hanging it on the oven handle when we're done using it.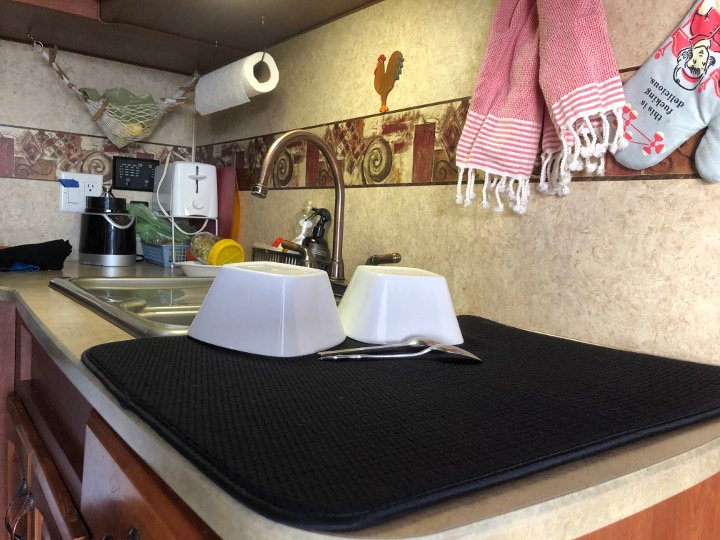 For many years I talked about how one day when we're ancient and old, we would upgrade to a giant Prevost and carry whatever the hell we wanted. But the more I think about that, the more I realize that the cost of maintaining one would probably force us to always stay in Walmart parking lots, like this broke bastard.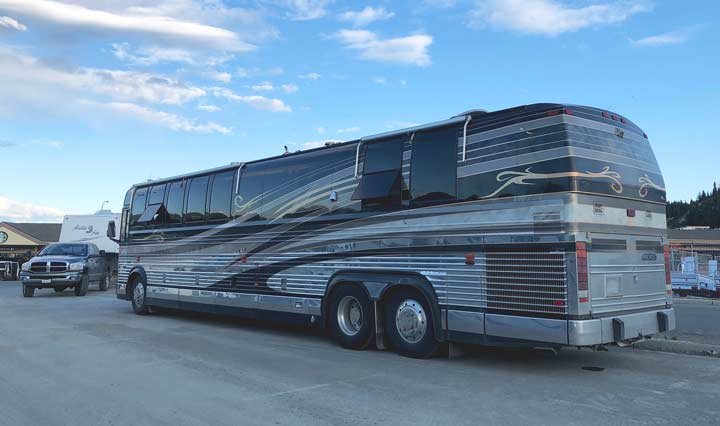 Plus I know in my heart that a large rig would just feed the Consumer Monster within me. Since I don't want to return to those days of being a shopping addict, and we can't afford to do it anyways, sticking with a rig that curtails our ability to acquire excess stuff is the way I want to keep rolling.
Oh hey, wait . . . you've probably guessed that the things I'm mentioning here have Amazon affiliate links. I knew you were smart! Of course, if you buy something through one of them, we get a small commission, so thanks.