Jim's year-end Friday finale pretty much covered what I wanted to say about putting our 11th full-time RVing year in the history books. So today I want to end 2018 with something different: a Govee Hygrometer Giveaway! Read on for details.
You may recall I previously reviewed the Govee Hygrometer. As a metalsmith, I don't know how we ever lived without it. The simple but powerful gadget helps me manage RV moisture levels by showing the current temperature and humidity levels in our rig.
Something cool that's happened since I wrote the original review is that the Govee has been updated with a WiFi enabled feature (5G WiFi support is coming soon). Now you can monitor the humidity of your RV when you're away from home, provided that your WiFi connection is always on.
To celebrate the new Govee Hygrometer WiFi feature, the company is discounting the product through January 5th.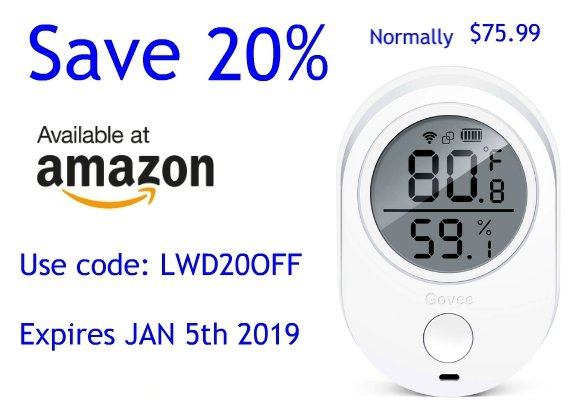 Other Cool Govee features include:
LCD screen showing current temperature and humidity. You can also monitor hourly, daily, monthly, and yearly records of both temperature and humidity. Batteries last more than half a year.
Swiss-made SHT30 sensing component measuring temperature ranges from -20°C to 60°C /-68°F – 140°F with accuracy ±0.3°C .
Its measuring range of humidity is 0%-99% with accuracy ±3%. User calibration is available.
Support multiple devices and share the same data. Export to CSV without any extra charge.
You can also get alerts if the readings are outside your desired limits.
Enter the Govee Hygrometer Giveaway
Because you're such an awesome reader, I'm going to make this easy on you to win the new Govee Hygrometer with Wifi. This is for the review model that Govee sent me to check out, and it can be yours in a snap! Just follow the prompts below.
The contest ends on Friday January 5th at midnight Eastern time. One U.S.-based winner will be chosen at random. Good luck and happy 2019!