What a relief to be parked in the wide open Nevada desert. After nine days of Las Vegas madness for Jim's birthday and the SEMA show, we said goodbye to the debauchery and chaos. . .
and hello to tranquility.
Boondocking is how we roll. We prefer the unplugged life over one of those predictable paved RV sites and the all-too common "Ten Year Rule" banning RVs 10 years and older. Occasionally we splurge for a resort-style park, like next month when we'll stay at Fountain of Youth in Niland, near the Slabs. But even that park isn't your usual predictable 'resort', it's much quirkier than that. Come visit us in December to find out for yourself!
Meanwhile, when we travel from Point A to Point B, we're always looking for better boondocking spots than a WallyWorld or casino. That's where Boondockers Welcome comes in.
The Original Discount Camping Club for Frugal RVers
Boondockers Welcome is the biggest and best discount camping club for frugal-minded RVers. Others try to imitate it, but don't be fooled: those copycat "frugal boondocking" websites are usually charging members an overnight boondocking fee — sometimes at least as much as any Passport America campground. And without full hookups!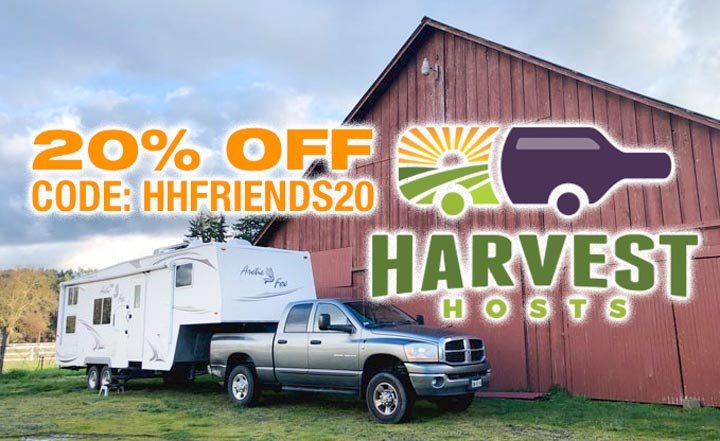 Boondockers Welcome is totally different. Founded by boondocking guru Marianne Edwards (author of The Frugal Shunpikers Guides, a helpful series of free RV camping travel e-books), the club is in the true spirit of RVing: frugal fun and community. It simply connects property-owning RVers who have parking space with traveling RVers in their area.
Unlike copycat "boondocking club" websites, Boondockers Welcome hosts are not compensated for guests. Members are more interested in keeping RVing affordable than making a buck.
Join Frugal Fun with a Community Spirit
Add this discount camping club to your RV discount club tool kit now. Here's why:
Host Memberships are just $19.95 a year.* If you have property that allows you to host other RVers, you're in for a treat.
You can get a free membership — forever! Enjoy one free year for every three guest reviews you receive. You can rack up points continuously and enjoy a free membership forever. If you'll be full-timing in a few years and selling your sticks and bricks, this is a great reason to join.
Even if you aren't RVing yet (if ever), but you want to host others at your property, you can still get a free Host Membership and be part of the host rewards program mentioned above. Just contact Boondockers Welcome to let them know.
Guest-Only members without property can join at $24.95 a year.* That's pretty cheap for a year of unlimited free boondocking campsites.
Bonuses everyone gets include:
One free month for referring new members.
A free copy of the Frugal Shunpiker's Guide to RV Boondocking in New Mexico ($17.00 value.)
$5.00 Harvest Hosts discount.
$10 off ads placed with RVTrader
$5 discount off Boondockers Welcome membership for AAA members. Here's a scoop: Marianne is setting up partnerships with AAA districts around the country, with the first one being the Mountain West District states of Alaska, Montana and Wyoming. If you live in any of those states, you'll save $5 off Boondockers Welcome.
and of course, you get to be part of the most tight-knit boondocking community on the planet!
I can't say enough good things about this club. And no, it's not just because we get a small commission if you join Boondockers Welcome (and yes, you can be an affiliate too if you become a member). Whenever I see imitators pop up I just laugh, because I know that their motivation isn't coming from the same place as Marianne's (and her daughter and collaborator Anna). These women are keeping RVing frugal, fun and community-minded — three big reasons why this lifestyle is so fabulous.

Join Boondockers Welcome and Save! Or find host locations near you.
*Prices, offers and terms subject to change
Save
Save
Save
Save
Save
Save