Quartzsite is a mysterious place to anyone cruising past on I-10. If you're not a snowbird or an off-roader, you just have to ask yourself, "What's the attraction?"
"quoz" is a noun "referring to anything strange, incongruous, or peculiar; at its heart is the unknown, the mysterious."
The Wall Street Journal: On the Road Again
Well, for us, it's not the big RV show or the flea markets. It's the wide open space.
We think there's no better feeling than getting out to the desert and putting the crowded RV parks east of the Mississippi behind us.
Out here, we can untie ourselves from the umbilical cord of the grid and get back to some real camping. Almost like the kind we used to do when we were backpackers who liked to bash on bourgeois RVers. Almost (not!).
We haven't been here in Quartzsite since the NuRVers Gathering two years ago. This time instead of staying at the LTVA parking closer to town, which is really crowded with long-termers, we're out at the Dome Rock 14-day area.
If you like getting away from crowds, this is the place. Although the dust was swirling all around when we arrived (what else is new?), there's a lot less of it on this side because there's just not as many people driving around. On my walk this morning, I didn't see another person out.
Wyatt is especially happy in the desert, because out he gets to let his inner wild boy come out. Leash? What's that?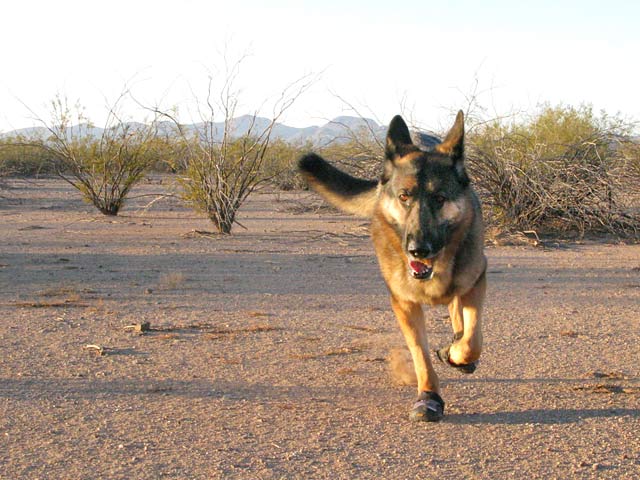 We'll be here for about a week, catching up on work and getting to meet up with some friendly Escapees who we met at Livingston. The annual Escapees Happy Hour is also happening next week, so we'll be there too. Oh and there's the RV show too, and a few NuRvers who will also roll in soon. Hmm. now that I think about it I'm not sure how much work we're going to be getting done. Oops!