The rambling life takes some funny turns when you least expect it to, but less than two weeks after teaching dog lovers how to "Be More Dog" in the face of canine cancer, we're now trying to take our own medicine.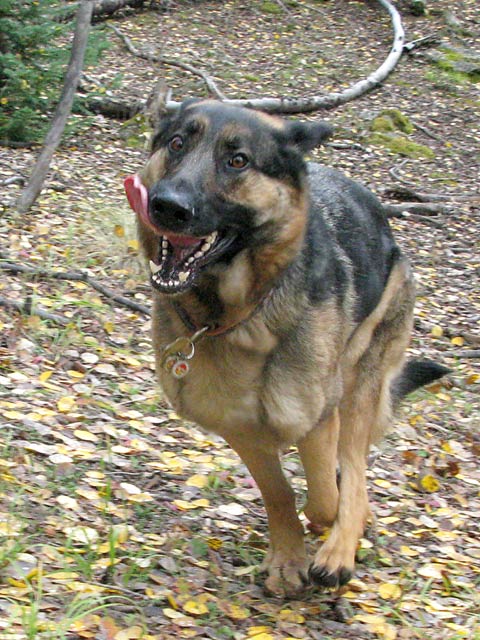 Last week started out like any other in our full-time RVing lifestyle. We were wrapping up visits with family in Atlanta, Georgia, while preparing for a meandering trip out west for winter. But life had other plans
Thursday night, November 16 we noticed a golf ball-sized lump on Tripawds Spokesdog Wyatt Ray's rear end. The lump seemingly appeared from nowhere, and it wasn't bothering him at all. We pondered all of the potential things it could be; fatty tumor, impacted anal sac, ingrown hair follicle, while beating ourselves up for not seeing it sooner.
By the next morning, it was clear that Wyatt needed to see a vet; the lump doubled in size. On Friday morning, November 17, we found an excellent AAHA-accredited veterinary clinic near our RV park, Cumming Veterinary Clinic and were lucky enough to get an appointment at 8:30 am.
Full-Timers TIP: When you're on the road with your pet and need a vet, always use an AAHA-accredited veterinary clinic; these practices continuously meet rigorous standards for hospital protocols, technology, cleanliness, etc. 
Preparing for the Worst, Hoping for the Best
The word "cancer" never even crossed our minds as we drove to the clinic, but after some poking and prodding by the excellent Dr. Heather Harkins-Barroso, a fine needle aspirate brought our deepest fears to light;
"Abnormal cells detected."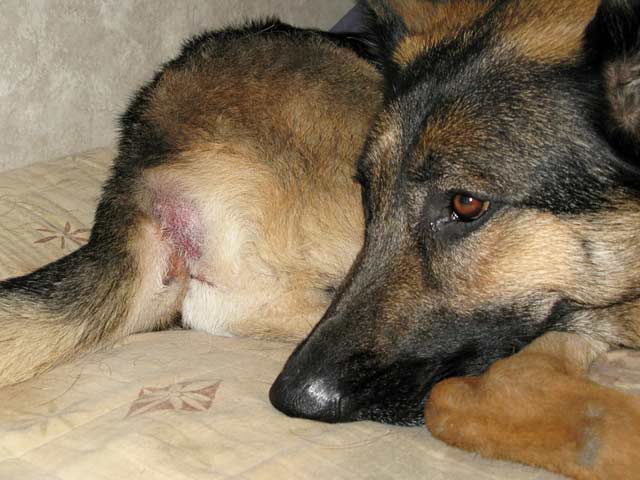 As just 3.5 years old, it seems impossible that our Wyatt could be in for the fight of his life.
We're holding out hope that the tumor is non-cancerous, but preparing for the worst; perianal carcinoma, which isn't one of the easier dog cancers to face for both dog and human.
He's young for this type of cancer, but as we've learned at Tripawds, cancer doesn't always play by the rules, and even dogs as young as 18 months have been diagnosed with cruel cancers that typically only hit older dogs, like osteosarcoma.
The good news is, thanks to our nomadic lifestyle, we made an immediate beeline from Atlanta to Texas, where Wyatt can be seen by specialists at one of the best veterinary teaching hospitals in the nation, Texas A&M. Thankfully, the Aggies are within reasonable driving distance of Escapees headquarters in Livingston, so we're back at our Rainbow Drive address for the foreseeable future, until we know what we're dealing with.
With Experience Comes Strength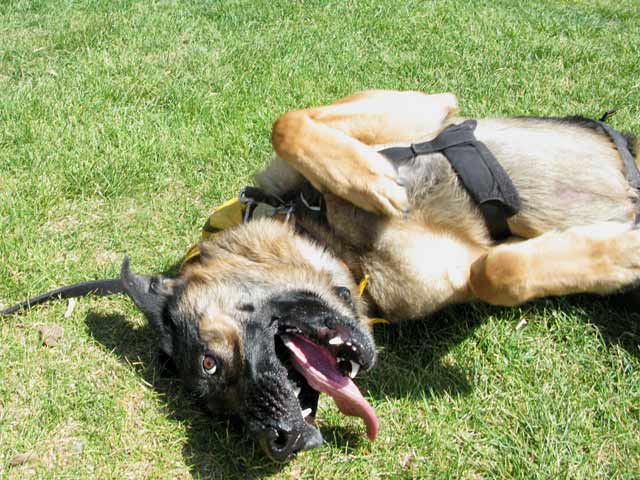 It's eerie that almost six years to the exact day that our beloved Jerry G. Dawg was diagnosed with osteosarcoma, we might be facing canine cancer again. We  are trying our hardest to stay strong until his A&M hospital visit next Monday.
It's easy to stay strong when we look into Wyatt's intense German Shepherd eyes. That's when we stop the pity party and remember that Wyatt is still Wyatt; he's living life as best as he knows how; barking at strangers, calling out to dogs and taking account of anything that moves within his domain.
We are doing our best to stop humanizing him; Wyatt didn't read his vet's report, he doesn't know what we know, he doesn't care that a golf ball-sized lump on his body is getting worse by the day. He's living life to the fullest, and doing what we need to do whether facing cancer or just living life. Wyatt is Being More Dog.