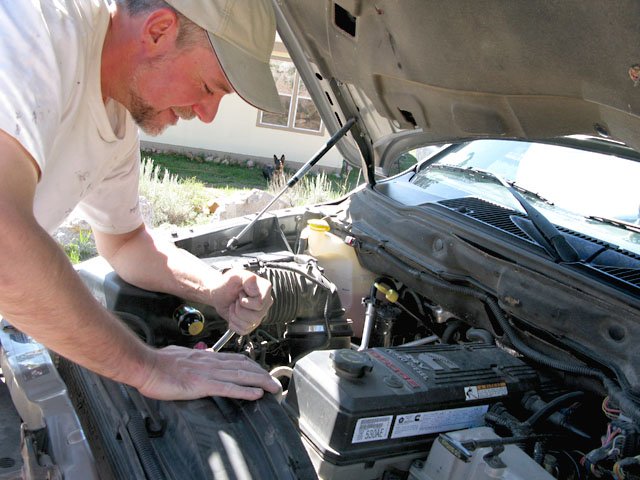 Rene mentioned in this post a while back – quite a while back, now – that I would eventually write about what happened to our truck, "stranding us" on the mountain.
Well, we didn't exactly have to resort to cannibalism, which is  a good thing considering Wyatt is already missing one leg, but I digress…
Now that I've finally produced the silly little DIY video below describing how to replace the alternator on our Dodge Ram 2500, that time has come. But let's take a step back, with the hope of actually making this post helpful for someone.
Symptoms of an Alternator Gone Bad
After putting more than 50,000 miles on our 2006 Dodge Ram 2500 pickup truck, we experienced our first major mechanical issue. With a little deductive reasoning, and the right tools, it turned out to be not that major at all.
We never once noticed the voltage gauge acting abnormally. Well, at least I didn't. And we never noticed the truck having a hard time starting. Again, I didn't. Until of course, the morning we needed to be somewhere and  were heading out in a hurry at the crack of dawn.
The first indicator of our bad alternator was a dead battery, or batteries in our case. Upon turning the key, the engine attempted to turn over and abruptly ground to a halt. Determined to make it to Wyatt's class, I quickly disconnected one of the batteries from our fifth wheel and was able to jump start the truck.
Second indicator of an alternator gone bad: it got really hot! As we drove off, I realized that extra battery might come in handy. When I returned to the truck with it, I noticed a burning smell – one of those acrid, electrical burning smells. Acknowledging that it was unwise to drive anywhere – let alone more than an hour on Rocky Mountain backroads – we agreed to stay home and figure out what to do about the truck. Rene parked and I popped the hood. She quickly confirmed the distinct smell, and I touched the alternator. My melted fingerprints have since grown back, thank you.
How To Identify the Serpentine Belt Tensioner Pulley
After a quick consult with el Jefe – Rene's dad and my mechanical guru – we confirmed the alternator was shot. We also confirmed it was a bad idea to drive the hour to town. If the alternator seized up we could have thrown the serpentine belt and risked much greater damage. Raul told me, "you don't need help, you just need a boost of confidence." And that's exactly what he gave me.
My biggest challenge was identifying the Cummins diesel engine serpentine belt tensioner pulley. Once I found that, I knew I could do the job. This pulley allows you to relieve the tension from the belt, allowing you to remove it from the alternator.
With that done, swapping out the alternator is just a matter of pulling a few bolts.
The serpentine belt tensioner pulley (7) is located directly below the alternator pulley (8) on the Cummins Diesel engine in our 2006 Dodge Ram 2500. It has a square hole in the front into which a half inch socket wrench handle will fit. I was looking for something to loosen, but the pulley is spring loaded – simply pulling down on it releases the tension off the belt.
Tips for How To Replace Dodge Ram 2500 Alternator by Yourself
If you have someone help you, replacing the alternator on a 2006 Dodge Ram 2500 with the Cummins diesel engine might even be easier. This job, however, really couldn't get much easier. Here's how I did it alone:
Disconnect both batteries to avoid any risk of electrical shock
Relieve tension from serpentine belt by inserting half inch socket wrench handle into the front of the tensioner pulley and pulling down.
Secure wrench handle to fan shroud using vise grips (zip ties might work for holding the handle in place,or have someone hold it).*
Remove belt from alternator pulley
Remove wires from back of alternator.
Remove the two long mounting bolts that hold the alternator in place.
Replace old alternator with new one and tighten mounting bolts.
Attach wires to alternator.
Place belt back onto alternator pulley
Reapply tension to belt and don't forget to remove the socket wrench (and vice grips if using them).
Reattach battery cables.
*Another option might be to just slip the belt off one of the bottom accessible pulleys to relieve tension, but i read about people having a hard time re-routing the belt correctly, since no handy diagram – like the one above – is to be found under the hood..
[youtube]http://www.youtube.com/watch?v=CiMslgGYFlQ[/youtube]
That's it! If the batteries are dead, jump start the vehicle and allow the batteries to charge for at least ten minutes. We didn't need  a jump. The truck fired right up when I was done, which is  surprising considering how things went for us when we needed to leave at the crack of dawn again the following weekend…
Troubleshooting Dead Batteries with New Alternator
Proud of the job I had done, I was determined to ensure I had done it right. After taking a long test drive, I started the truck periodically for a few days. Feeling confident all was well, we let it sit idle for a few more. Imagine our surprise when the truck wouldn't crank the following weekend.
We rarely see many cars on our dirt road, especially before dawn. But just as I began shaking my head, Rene flagged down some poor fisherman heading to the lake. I say "poor" because Rene insisted they try to push our four tons of truck back out to the road, uphill. As soon as I released the brake, I nearly ran them over.
Even more perplexing than how on earth she thought these guys could budge the truck, was why their running car would not start our engine when I had jumped it off our trailer battery a week before. Rene describes in detail how the Purcells saved us with their F350, but she neglected to mention one important tip. When jump starting a heavy duty truck, use another heavy duty truck, and connect both sets of batteries!
So what happened? After having the shop investigate further, we discovered the batteries had been cooked. I successfully replaced the alternator, but the batteries were clearly already shot. The bad alternator apparently over-charged them, most likely due to a faulty voltage regulator.
On the Road Again
So while I did save us a couple hundred bucks by replacing the alternator myself, we are still out a few more after replacing the batteries. But with two new batteries and a new alternator, we are now ready to hit the road. A good thing considering the snow is starting to fall here on Jerry's Acres.