I've Been Everywhere
may just be the full-time RVer's National Anthem. But have you ever heard
the Texas version
?
Some full-timers swear On The Road Again is the best RVing song.
But as your wheels start turning, would you rather hear Willie Nelson,
Canned Heat,
or The Lovin' Spoonful?
Are you a Speedball Tucker,
or do you just prefer Truckin'?
Or, like us, do you believe The Road Goes On Forever But The Party Never Ends?
The Ultimate RV Road Trip Playlist
We've been compiling our list of favorite trippin' tunes ever since hitting the road years ago. Every time we heard cool travelin' lyrics, trucker tunes, or just a good wheel jammin' song, we'd jot it down. Now we're sharing them here in this handy widget…
Browse some favorites at right to preview and download songs in the playlist. Or, scroll down for select recommendations of a few favorites and follow the links to download individual MP3s or full albums.
Reload this page to refresh the playlist and see new random lyrics below!
Select Traveling Tune Lyrics and MP3 Downloads

The following are just a few random lyrics from songs and artists that have made us laugh or sing along as we rolled down the road. Reload the page to see more and follow links to download MP3s at Amazon!
Call of the West – Wall of Voodoo
You've come a long way, I know
You've got a longer drive ahead
Through the bones of the buffalo
Through the claims of the western dead, and
Just like the spokes of a wheel
You'll spin 'round with the rest
You'll hear the drums and the brush of steel
You'll hear the call of the west, call of the west
You'll hear the call of the west, call of the west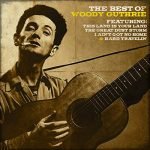 Hard Travelin' – Woody Guthrie
I've been hittin' some hard travelin', I thought you knowed
I've been hittin' some hard travelin', way down the road
I've been hittin' some hard travelin', hard ramblin', hard gamblin'
Been havin' some hard travelin', Lord
The Road Goes on Forever – Robert Earl Keen
They jumped into his pickup, Sonny jammed it down in gear.
Sonny looked at Sherry, said "Let's get on out of here".
The stars were high above them, the moon was in the east.
The sun was setting on them when they reached Miami Beach.
They got a hotel by the water, a quart of Bombay Gin.
The road goes on forever and the party never ends.
SiriusXM Satellite Radio
We love our XM SatelliteRadio!
Without it, we'd be stuck listening to classic rock, news talk and religious programming in many parts of the country. A few of our favorite stations are listed below—which may indicate our rather varied taste in music.
Outlaw Country | xm60
xL Backspin | xm46
1st Wave | xm33
80s on 8 | xm8
Ozzy's Boneyard | xm38
Underground Garage | xm21
Margaritaville | xm24
Grateful Dead | xm23
NPR Now | xm122
Chill | xm53
Local Stations
Below are links to some great radio stations we've found around the dial and on the web during our travels…
Internet Radio
Got Any Favorite Travelin' Tunes?
Have missed anything? What gets you hummin' when your wheels start spinnin'?
Leave a comment below with your favorite road trippin' songs, or provide links to cool local/internet radio stations and we'll consider adding them to our list.