What is an "awarepreneur" and who are the Awarepreneurs? Apparently, we are. Only after discovering the Awarepreneurs Podcast, did I realize there is a name for the type of work Rene and I have been doing since founding the Tripawds Community. It's all about operating a conscious business – one that has great social impact. But it also involves awareness practices. I'm not just referring to the physical and spiritual self-care we engage in on a daily basis. Being an Awarepreneur means that you pursue your personal and business practices for the better good of all – you, your customers, and the community.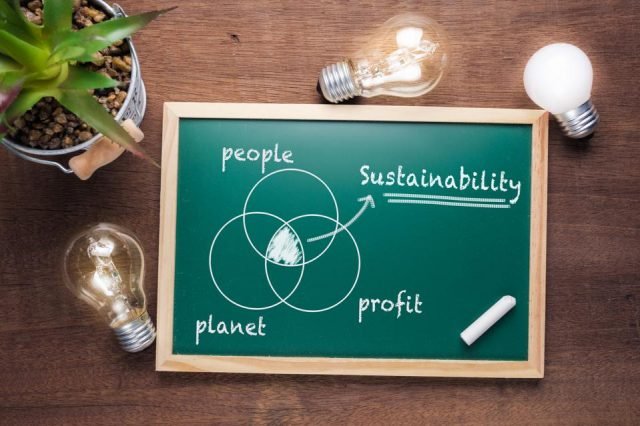 In our previous life, during our early days as entrepreneurs, Rene and I strove to fulfill what economists call the Triple Bottom Line. We worked to grow our graphics business while focusing on People, Profit, and the Planet. What Awarepreneurs do is take that a bit deeper. We focus on serving others. We strive to do good for ourselves, others, and the environment. Sustainability and living a fulfilled life go hand in hand. And a lot of it has to do with building community.
That was the primary focus of my discussion with host Paul Zelizer in episode #169 of his Awarepreneurs Podcast.
Awarepreneurs #169: Growing the Largest Amputee Pet Support Network with Jim Nelson
Hear full episode below, or listen here and on your favorite podcast app.
I first announced one of my recent podcast appearances, on Paul Zelizer's conscious business show, in our recent Be More Dog blog post titled Tripawds Founders are Awarepreneurs. Funny thing is though, this interview almost didn't happen. I'm a marketing guy at heart. And I'll admit it, sometimes I try a bit too hard. After reading the show description I knew we were a perfect fit for the Awarepreneurs podcast. When pitching Paul to have us on the podcast, however, I glossed over our real story, and focused too much on our book. What makes us Awarepreneurs, is how we've grown the largest pet amputation support community. And that we offer so many free services and resources for people facing amputation with their dogs and cats. It's not the fact that we wrote a book about how it all began with our Chief Fun Officer Jerry.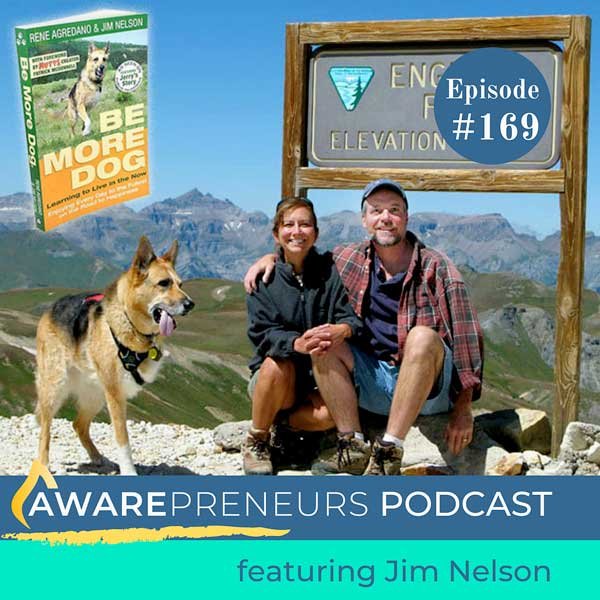 I can't thank Paul enough for following up with a phone call, to get the big picture. Many busy podcasts hosts might simply overlook potential guests if they're not a perfect fit. Paul took the time to dive deeper, and he's good at that, as you will hear in his leading edge conversations on conscious business, social impact & awareness practices.
Once I sent Paul to our Tripawds Media page, he understood how Rene and I are indeed Awarepreneurs. He realized we're not just a couple of authors who took our three legged dog on an epic road trip. And, he agreed his audience might enjoy hearing our story. Have a listen and hear for yourself:
x
x
Paul offers complete albeit "imperfect" show notes here. We started the show with a discussion about listening, after he quoted the Be More Dog Foreword by Patrick McDonnell:
"Some people talk to animals. Not many listen though. That's the problem."
~ A.A. Milne, Winnie-the-Pooh

Rene Agredano and Jim Nelson listened. They listened with all their
hearts.
—Patrick McDonnell
Paul went on to ask me about building community…
…you've literally been at the forefront of this conversation and building a community in this world of amputee pets and their humans…
—Paul Zelizer
The conversation continued, with me explaining the "Freemium" business model Rene and I have developed. This has enabled us to create a vast amount of free resources, by interviewing experts in their fields of veterinary medicine and rehab.
…isn't that a sacred thing Jim, when you can go to the best of the best. And you can say, "Tell us what you know about this thing." And then you can go back to your community and say, Hey, community, here's what the best of the best think about this. And by the way, it's free."
—PZ
I wrapped things up by discussing how being an Awarepreneur means serving others, while taking care of ourselves.
It is, and it feels awesome. And on the business side of it, it's a really fine line…it comes down to self and service.
—JN
I then discuss how our own awareness practices make a big difference in our professional lives. I describe the concept Jay Shetty talks about in his book, Think Like Monk. He speaks of the monks living in the ashram. They spend the early hours of the day practicing self-care. They then focus on serving others the rest of the day. Similar to how Rene and I exercise, do some Yoga, and meditate before getting to work serving others every day.
Check out all Awarepreneurs Podcast episodes here, and leave a comment to let us know what you thought of my discussion with Paul. Then check out the Awarepreneurs Community to learn more about the impact of Social Entrepreneurship, awareness and self care.