"You are the OGs of full-time RVing." – Jason, RV Miles Podcast Host
Rene and I both laughed out loud when Jason Epperson told us that in our recent interview for the RV Miles Podcast. During our discussion, he elaborated on the comment: "People have been full-timing for a long time, but you guys did this before there was all kinds of Youtubers doing this, before there was all kinds of bloggers doing this, and lots of people to learn from."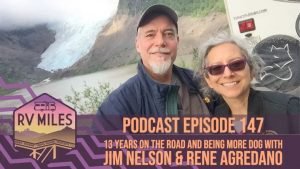 The OGs of Full-time RVing Tell Their Story
Sure, June 2, 2020 was was our 13-year nomadiversary of that day we left the default life behind in 2007, and never looked back. But as we said on the show, plenty of people have been doing this much longer than we have. We were honored, however, to share the insight we've learned over the years of being digital nomads – since long before that was a thing.
"We may not be making as much money as we were before, but we live so much more fulfilled." – Jim
Our conversation covered everything from how we became rootless, and why, to making a living on the road and workamping, to how the challenges of nomadic life have changed over the years.
"You've been traveling for all this time, and you obviously would be experts in traveling with pets." – Jason
Since our book – Be More Dog: Learning to Live in the Now – was ranked a #1 New Release in Travel with Pets on Amazon, we discussed plenty of tips for RVing with cats and dogs. Listen to the entire episode here:
Or, check out this video version of the show Jason produced, featuring our full interview and some photos from our travels with Jerry.
NOTE: Our interview segment begins at about 11:50 into this episode. RV Miles is a great podcast for anyone interested in RVing. Each episode covers various topics, ranging from national park visits to black and grey tank issues. Jason and Abby are currently running a full-timing series, in which they interview digital nomads and other full-time RVers. We are honored to be featured in episode #147, and be considered the OGs of full-time RVing.
"We learned early on that the best way to support our nomadic lifestyle was to develop multiple revenue streams…by putting all those different irons in the fire, when one gets hot you blow on that one. And for us, that happened to be a tiny little niche, for amputation in cats and dogs. There's a niche out therefor everyone. And everyone's an expert in something." – Jim
About this RV Miles Podcast Episode
In the show description, Jason writes:
This week we welcome Jim Nelson and Rene Agredano to the show, whose recent book "Be More Dog: Learning to Live in the Now" was a #1 New Release in Travel with Pets on Amazon.
After their dog Jerry lost a leg to cancer, Jim and Rene bought an RV and traveled the country together as a pack for two years. That bittersweet journey led them to create Tripawds, which has become the largest online support community for amputee pets and their people. Jim and Rene are full-time RV travelers, managing a growing community and 501c3 foundation from their mobile headquarters.
The story of their life on the road with Jerry was featured in Nature: Why We Love Cats and Dogs, which first aired on PBS in 2009.
The term "OG" is an abbreviation which once meant, "Original Gangster." It has since been accepted by many to mean simply "original." Rene is not quite as thrilled with the reference, since it can also mean, "Old Guy."