Did you hear our Nomadic Traveler Podcast Interview about how to pay for life on the road? That podcast appearance really focused on the RVing aspects of our new book, Be More Dog: Learning to Live in the Now. The book is about so much more than that. So we've been working hard pitching podcasts of all sorts to spread the word about Be More Dog, and share the many lessons we learned from Jerry those first couple years traveling the country full-time after his bone cancer amputation.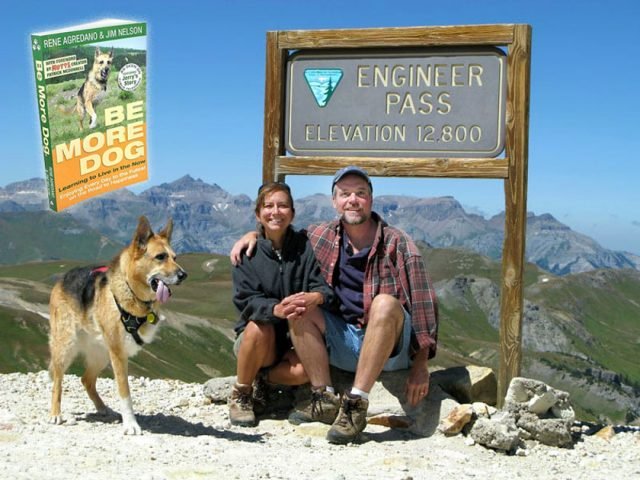 Be More Dog Author Podcast Appearances
Marketing a self-published book is turning out to be just as hard as the writing, editing and production. But podcasts are one of the best ways to reach any target audience directly. The road goes on forever, but we're making progress. Check out some of our recent appearances on veterinary and dog-related podcasts below.

Canine Conversations with Robert Cabral
On Canine Conversations podcast episode #40 Robert Cabral interviews Be More Dog author Jim Nelson to discuss canine cancer, the Tripawds community, & more.
LISTEN: Canine Conversations Podcast Interview (and Video) with Be More Dog Author Jim Nelson
ER Vet
In ER VET Episode #89, Dr. Justine Lee, DACVECC, DABT interviews Jim Nelson, co-founder of Tripawds on the story of their dog diagnosed with osteosarcoma and their struggle to decide on doing an amputation in their dog with cancer. GUEST BIO: Tripawds is the best help center for your three legged dog or cat. This is a user-supported community for sharing your story and learning about amputation and bone cancer care for pets.
LISTEN: How Do Dogs And Cats Do With An Amputation?
DogCast Radio
When Jim and Rene's dog Jerry was diagnosed with terminal cancer, they turned their lives upside down to make sure he got the most out of his last months. They have written about their experiences in their book, Be More Dog. Josie Baldwin entered her dog Jack into Scruffts (Crufts for non-pedigrees) anticipating nothing more than a fun day out, but he won!
LISTEN: DogCast Radio Episode 216 – Tripawds and Scruffts

Dog Works Radio
Please join host Robert Forto as he welcomes authors, Jim Nelson and Rene Agredano to talk about their new book. Be More Dog as well as Tripawd Dogs and living in the moment.
LISTEN: Dog Works Radio Interviews Be More Dog Authors Rene and Jim
Tripawd Talk Radio
Of course, there is our own Tripawd Talk Radio episode #89. In this short ten minute teaser episode we discuss the significance of living in the Now with long-time friend and Life and Laughter Coach Dave Berman. Check out the fun video snippet above.
LISTEN: Be More Dog – Learning to Live in the Now
We're recording more interviews with nomadic lifestyle and entrepreneurial podcast hosts next week, so stay tuned for those. We're always looking for more popular travel, self-employment, and pet-centric or veterinary podcasts to pitch. Please let us know about your favorite podcasts with a comment below. Thanks!