For the record, it was all her idea. When Rene first suggested we run a full marathon, we had both already 13+ miles in training what was to be our first half marathon. I said: "See, now we don't have to run the race." She promptly came home and signed us up for the Colorado Marathon, the full 26.2 miles. She has clearly been more excited about this whole thing from the beginning.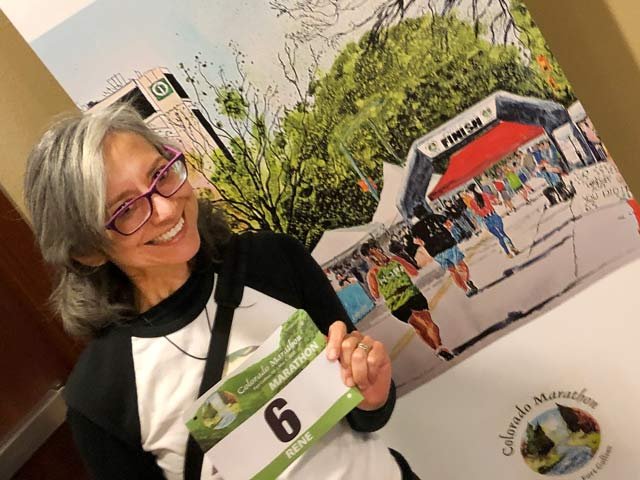 For the record, it was at least 26.37 miles. I have proof, thanks to the Nike Run Club app. The app came in handy during our training over the past too many months.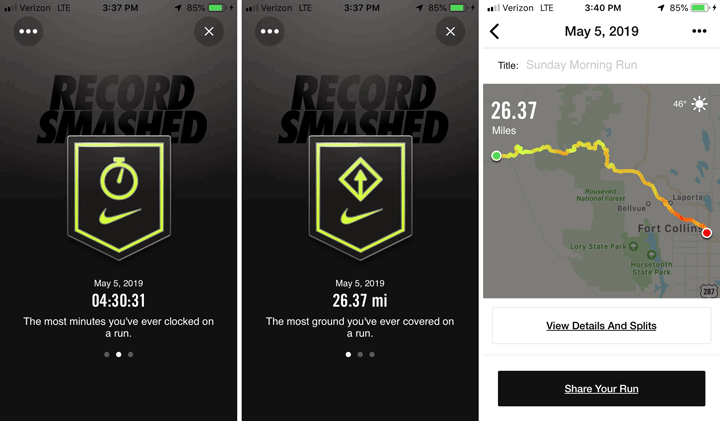 I am glad I had it on the run to tell me my time and pace, but honestly I may just forego all the preposterous gadgetry next time and just run.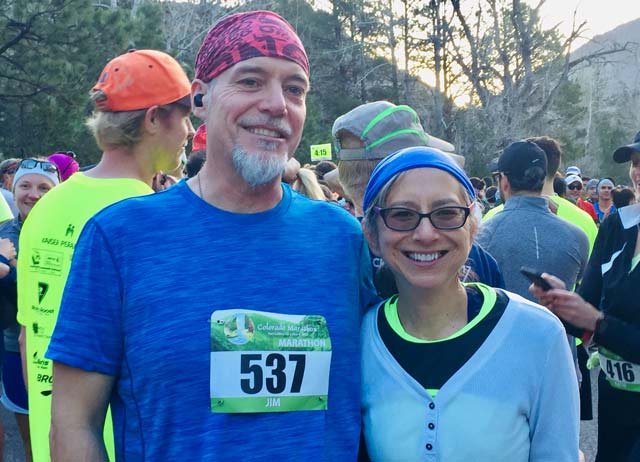 Did I say next time? Rene is the one already talking about "our" next marathon. I told her I don't want to hear about it for at least a few weeks. This was painful. Not so much during the run, but right after getting my medal I had to lie down immediately and nearly passed out, thanks to my low blood pressure.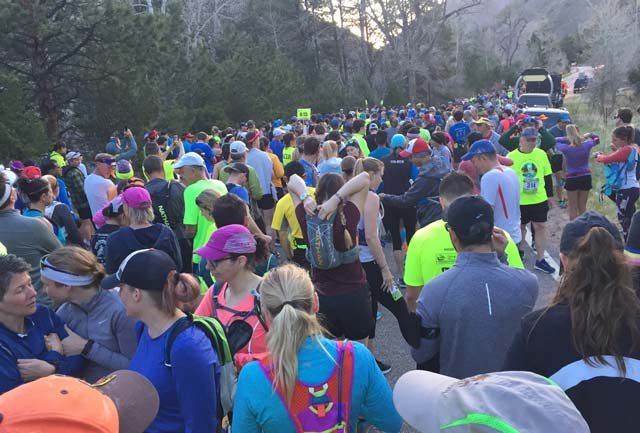 I debated for the longest time about whether or not I would take my phone on the run and listen to music. As we boarded the bus at the godforsaken hour of four something, I swore I forgot my phone. Rene insisted we go back home to get it. I knew that would make us miss the last bus. I never would have heard the end of that! Then I found my phone in my pocket after going through my bag once seated on the bus, but it was a sign I should have left it behind.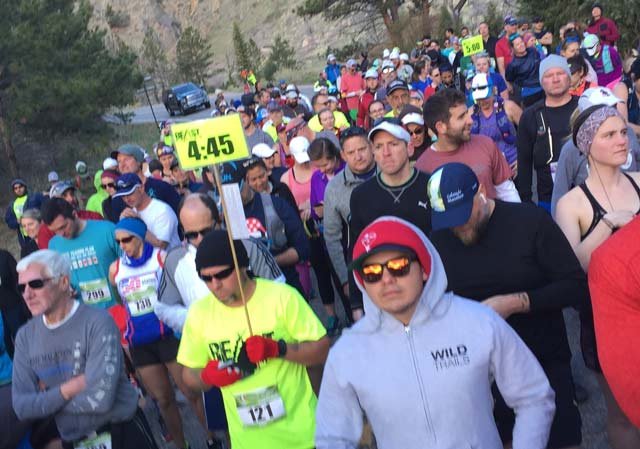 Yeah, I was that guy after all. With a couple miles to go, one of my brand new wireless earbuds fell out. Squatting to pick it up was the most painful part of the race. Not like the free beer ticket I stooped to pick up at about mile three.
At least I didn't have my phone out the whole time taking pictures.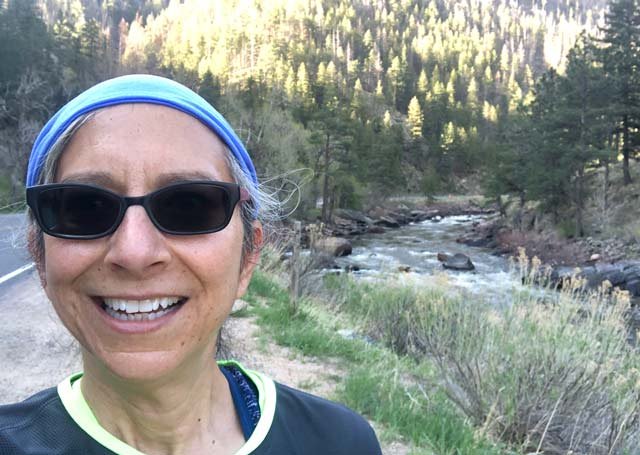 As much as I'll never forget the beautiful scenery, I am glad Rene snapped a couple pics along the way.
And then, yeah, that was me – the stupid looking guy running toward the finish line with his phone pointed forward. Hell, I had it out to turn off the NRC app as soon as I finished, so I figured I would document the event for posterity. That's likely when I lost one of the ear buds I stuffed in my Running Buddy pouch.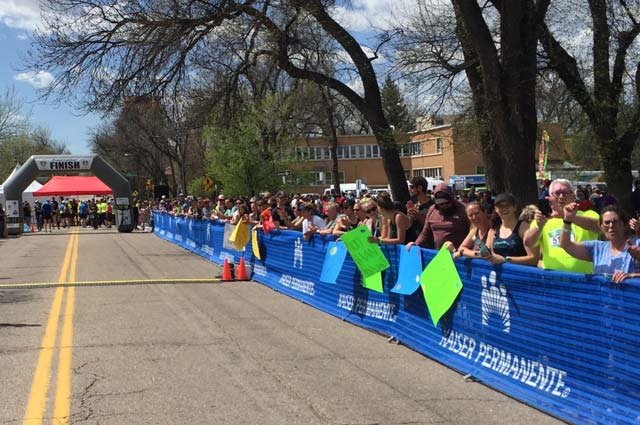 At that point, I was so focused on finishing that I didn't realize the cheers I was hearing were from our friends Mike and Marie who Rene talked into doing the 10K race. The look on the girls beside them proves my theory: the one is clearly saying, "Is that guy really filming his finish?" The other probably replied, "It must be his first marathon."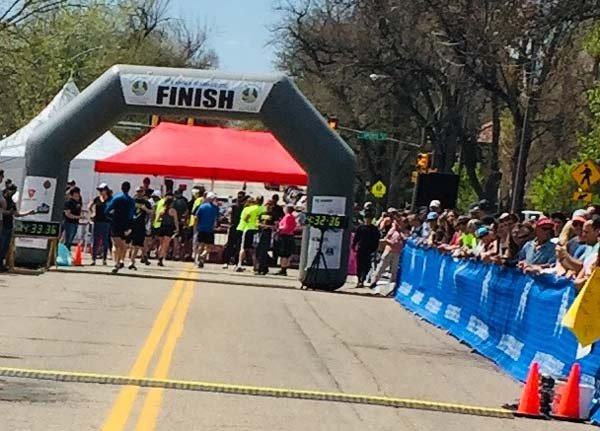 Yes, it was. And may be the last. For the record, this is probably the most pain I've ever put myself through. It is also one of my biggest personal accomplishments. You see, I don't actually like to run. But I do enjoy having run. I was always the slow kid who went out for sports to try and get in shape, while everyone else on the team would get in shape to go out for sports. But apparently, Rene says, I am now part of only three percent of the population who has ever completed a marathon. Yay.
So, how did we do? For starters, I started out way too fast. The Colorado Marathon is mostly downhill, especially the first fifteen miles or so that course down the Poudre canyon. During the first few miles the NRC app was clocking me at a rather impressive pace, for me at least. I kept telling myself I had to slow down, that I'd regret it later.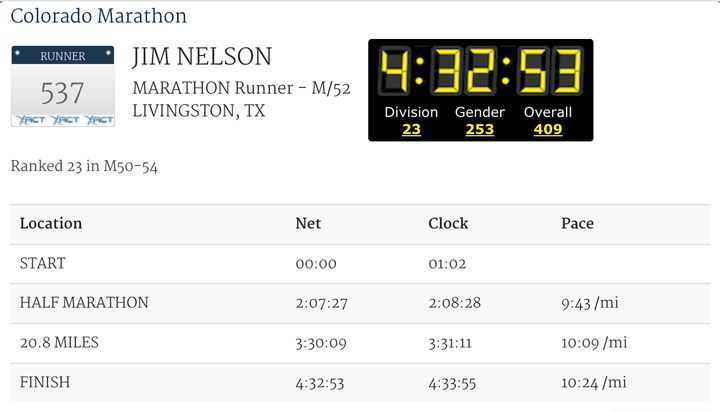 I did. My half marathon time was a new personal best – for me at least – at 2:03:03. After that, every mile I ran was slower than the previous, except for a couple where I picked up the pace. But overall, I ranged from a 9:01 pace at mile two, to clocking 12:42 for mile 26. Maybe that last mile would have been a bit quicker, if I left my phone in my pouch. And maybe I'd still have both my earbuds.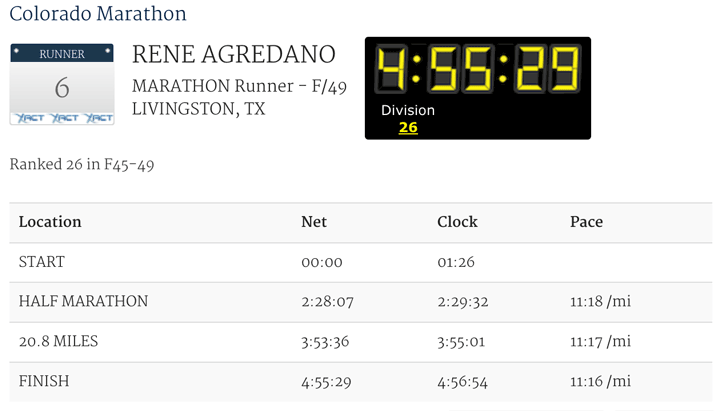 I never saw myself doing anything like this, but I am especially proud of Rene. She finished faster that her goal of five hours. And we both completed the race without serious injury. I almost beat the Oprah Time many novice marathoners strive to beat.
My chip time differed from the time my app reported by nearly two minutes, likely because I had to visit a tree along the way. Note to self, don't drink that cup of coffee before a marathon, even if it is 5:00 a.m. in the morning. There is plenty of caffeine in Gu gels and my new favorite: Honey Stinger energy chews.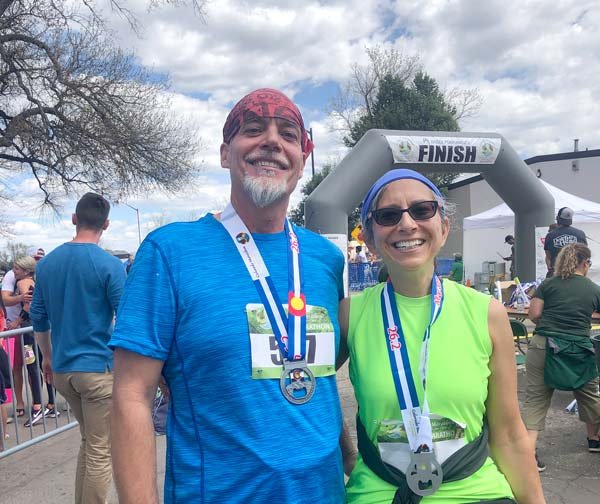 Was it worth it? Sure. Seven plus months of training with four months of sobriety, all for a medal and a one minute movie.
Will I do it again? Talk to me once I can do a squat again, or climb into the truck without whining.
Recommendation for First Time Marathoners
Of all the articles, podcasts, and videos we reviewed in preparing for our first marathon, there is one book I highly recommend to anyone considering the 26.2 mile run for the first time.
How to Lose A Marathon by Simpsons writer Joel Cohen is an inspiring, hilarious quick read filled with tips for anyone running their first marathon. I figured, if he could do it, I sure can. And if I can do it, anyone can.