Longtime readers of Live Work Dream know that we have practiced laughter yoga to help us get through more than one scary situation on the road. Over the years we have often dialed into daily laughter Skype calls to get a good group laugh in, but we have never connected with a local laughter yoga group, nor have we participated in a laughter session led by certified laughter yoga teachers – yes, there is such a thing – until now.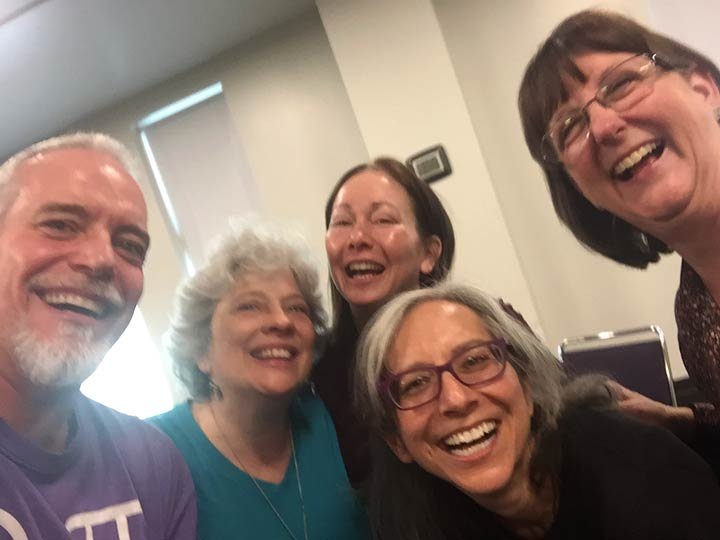 We finally had the chance to meet up with a local club, and enjoyed a joyful group session with the Laughter Wellness Club of Fort Collins. We learned some new techniques for laughing on purpose, discovered some basic differences between laughter yoga and laughter wellness, and left feeling happy, healthy and energized.
And for me, it couldn't have come at a better time.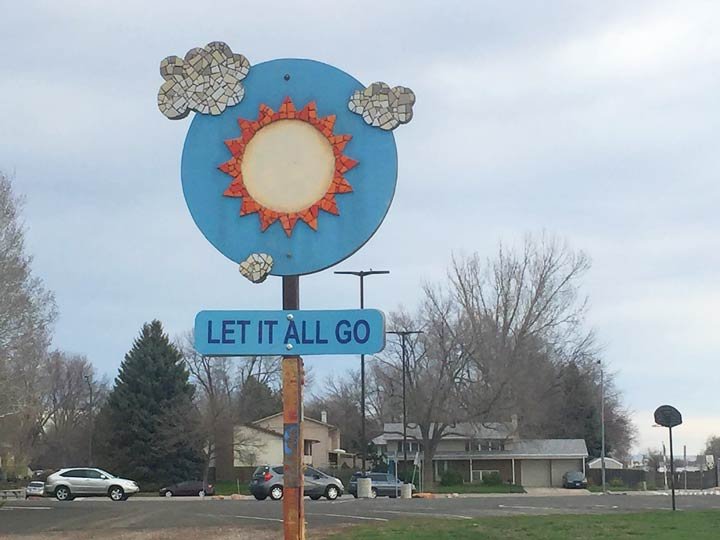 I've been working through some of the most stressful work challenges since we started the Tripawds community. Technical issues have been piling up on my shoulders, and I feel it. On the morning before our laughter session, during another long run in preparation for the upcoming Colorado Marathon, I did me best to let it all go. Whenever I tire I smile, and if I get really tired, I'll start to laugh. At about mile 16 of those 21 miles, I came across a sign that I was on the right track.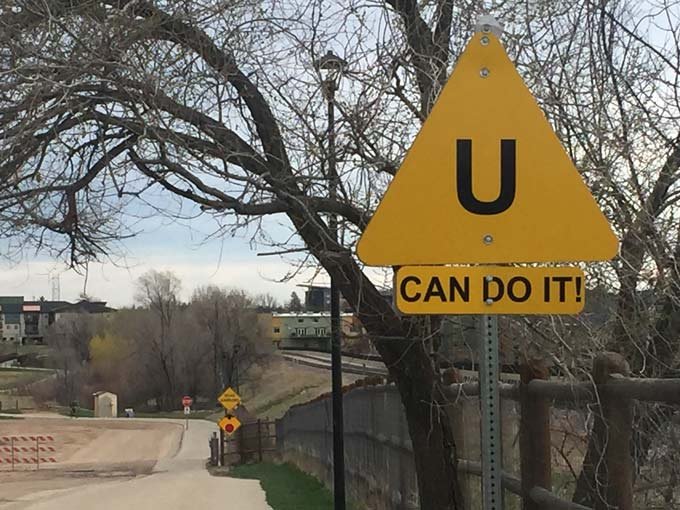 I always do my best not to let things get me down. But dealing with these recent technical challenges has been especially difficult. After smiling, laughing, and letting it all go for another mile or so, the universe gave me another sign to help me realize, yes I can do this!
Whatever the challenges may be, laughter helps. Whether it's running a marathon, fixing PHP errors, or sitting on the side of the Alcan Highway in the middle of nowhere with a broken leaf spring – laughter yoga is much more than mere silly quackery. There is scientific proof it works.
Intentional laughter stimulates the production dopamine in the brain. It dilates blood vessels to improve circulation and normalize blood pressure. Laughter reduces the production of the stress hormone cortisol, and it activates the parasympathetic nervous system to offset symptoms of anxiety. But don't just take my word for it, give it a try the next time you're feeling stressed. Better yet, laugh more often and you may feel less stressed in the first place!
Find a local laughter yoga club and find out for yourself. If more people laughed more often, this world could be a much better place.