What's a scary Halloween without another epic trip to Sin City? For Jim's birthday on the 1st, we're enjoying cheap Vegas camping for the second time this year. Which is odd because we don't like crowds and rarely throw a dollar in a slot machine, but somehow find ourselves drawn to the glitz and grime of this wild place.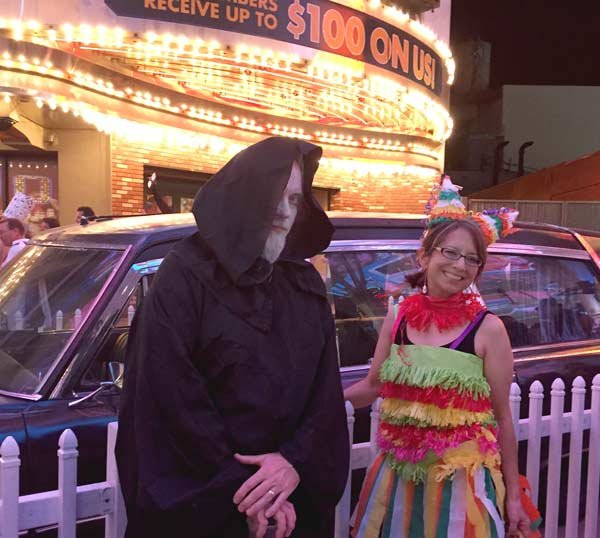 This town has really grown on us. Each walk down Fremont Street or stroll through a casino is a wild carnival ride starring the best and worst of humanity. You'll see things that make you want to stab your eyes out, laugh so hard you pee your pants or cry for the depths to which a human being can sink. It's all in this place like nowhere else we've been.
Another reason we keep coming back is that for a big city, Las Vegas camping is easy on our wallet. If you know how to do the town right, it doesn't need to cost much.
Our Best Tips for Cheap Las Vegas Camping and Entertainment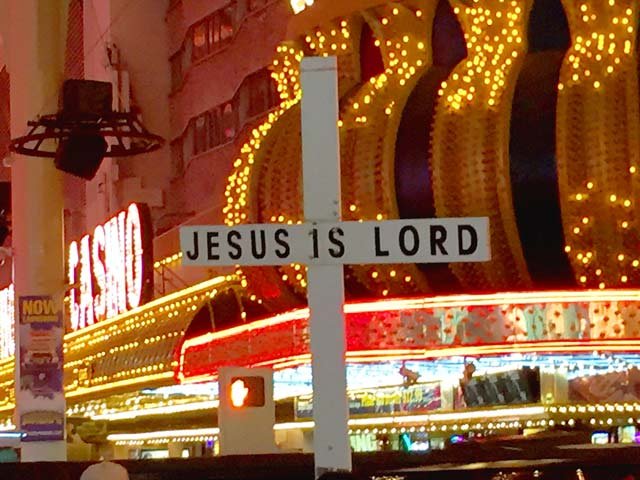 Vegas has changed so much over the years. For example, the days of really great Vegas buffet deals are fading. Breakfast buffets at better casinos are usually no less than $25 a head, and dinner buffets will set you back at least $40. It's easy to spend a lot of money here even if you don't gamble, but if you show up in your house on wheels, you'll get away cheaper than most tourists. Here's a few ways we save money when we stay here.
Where to Find Cheap RV Parking in Vegas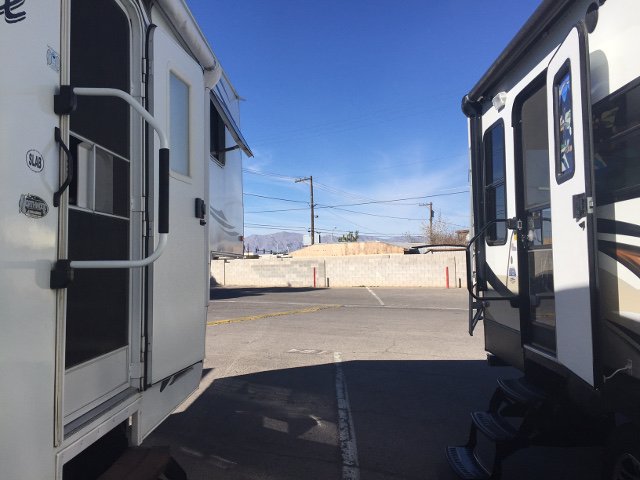 It's no secret that casino camping is easy and free all over the country. Here in Vegas, it's a little harder to come by, at least in the safer parts of town, but some of the better casinos like Bally's allow RVers to stay free overnight on their property. Navigating your RV to get there is maddening, but you can park free, enjoy the view, and reach the strip on foot within five minutes.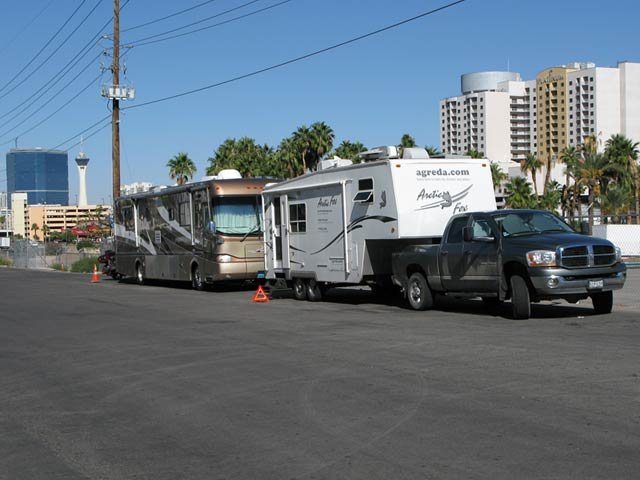 Truthfully, however, we haven't gone boondocking near the Vegas strip ever since we discovered Main Street Station and Casino RV Park. This place is nothing more than a gritty asphalt parking lot with hookups, but it's downtown and has cheap sites (under $30 a night for full-hookups!), a decent laundromat, 24-hour security and the Fremont Street madness is just a five minute walk from our doorstep.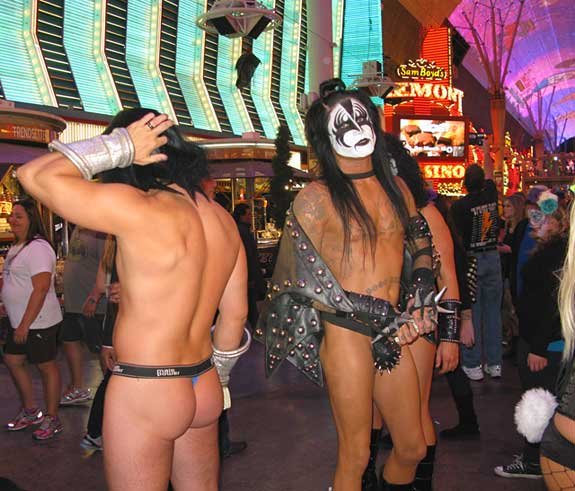 Don't expect much privacy either. The sites put you door-to-door with neighbors. But for the price, who cares? Take advantage of the cheap Vegas rent before it's too late! Gentrification is changing downtown Vegas, which means it's only a matter of time until Main Street Station sells out the RV park to some developer.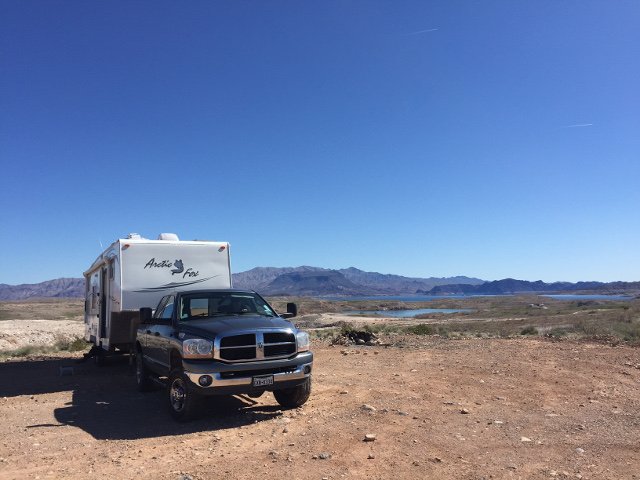 And if you're really cheap and paying for a campsite isn't something you want to do, you can always head out to Lake Mead National Recreation Area. Located about 30 minutes from Vegas, the free Lake Mead boondocking areas are filled with ultra-frugal RVers who drop their rigs in places like Government Wash, then spend their days in town.
Save on Vegas Food and Drinks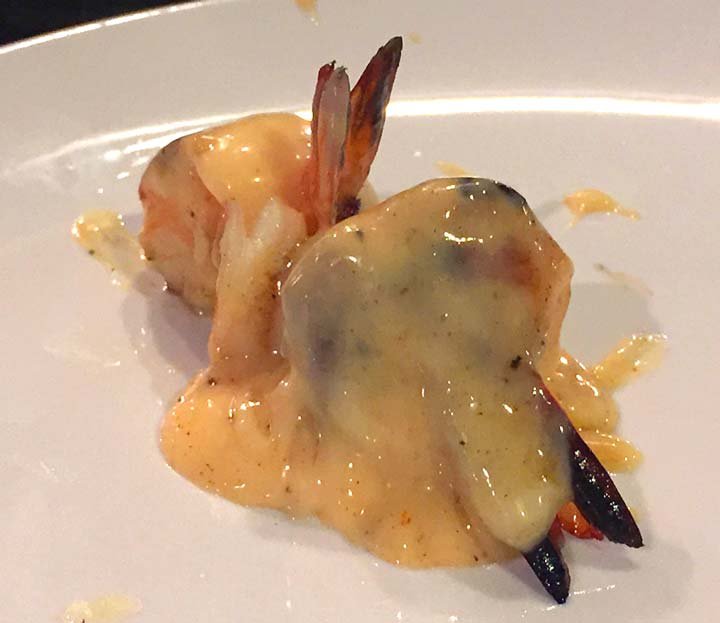 The internet is packed with websites like Vegas4Locals which is just a link farm compilation of promotions for Vegas food, bevvies and entertainment found elsewhere on the web. But I don't have time for surfing through the link garbage and I definitely don't want to make reservations that many "deals" require, so I just turn to Groupon Las Vegas coupons, which usually don't have too many restrictions.
I buy the coupons the day we want to use them. Doing otherwise is just too much commitment for my comfort zone. But I've always found steals on drinks and food through Groupon and have never been disappointed.
Where to Find the Most Fun and Affordable Las Vegas Shows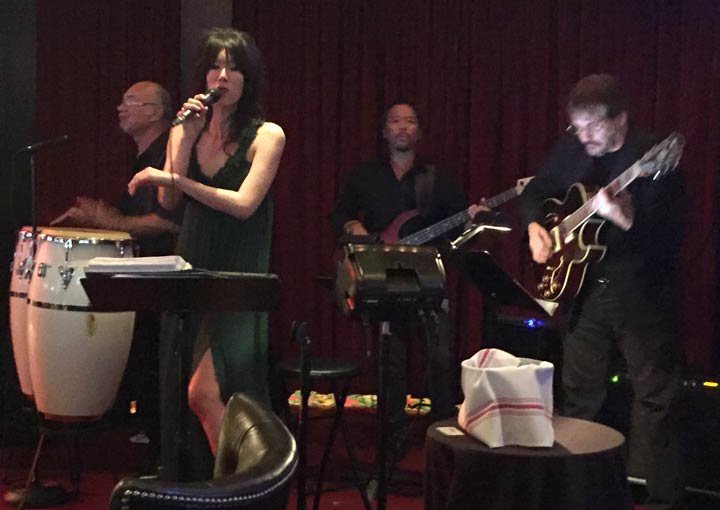 I'm not much help finding deals on Las Vegas shows, so I'll defer to Groupon again. The reason why I know little about scoring tickets for the big shows like Cirque, is because Jim and I get much more satisfaction from people watching the human circus on Fremont Street and catching downtown lounge acts in places like the El Cortez featuring Joey Ugarte and the Jazz Vibrations with the fabulous Rita Lim.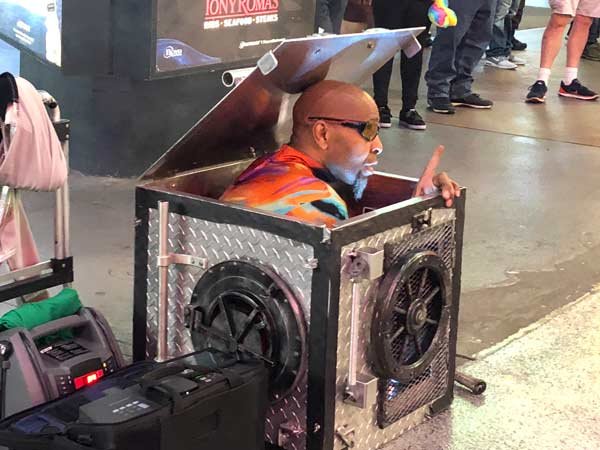 Way off-strip, we've been known to catch a ride to The Golden Tiki for music, which is one place where you'll find us this week, partying through another epic saga of Jim's Halloween Birthdays in Las Vegas!
Walking through the throngs of humanity in this town is good for us. It's a reminder that even though we're often in remote places far from other people, we can still have a good time in crowds and appreciate the odd, sleazy, freaky fun known as Las Vegas.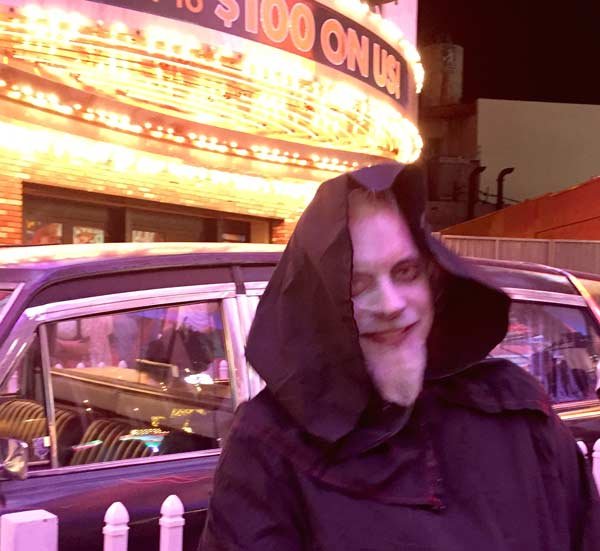 From our spooky house to yours, happy Halloween and Happy Birthday to the love of my life. Here's to many more!