If Minnesota is the land of 10,000 lakes, Alaska is the land of 100,000 little oceans. From the BC border to the Arctic Circle, water is everywhere – and as a consequence, so are mosquitoes! On this journey, our must have gear for Alaska RVing included the Thermacell Mosquito Repeller.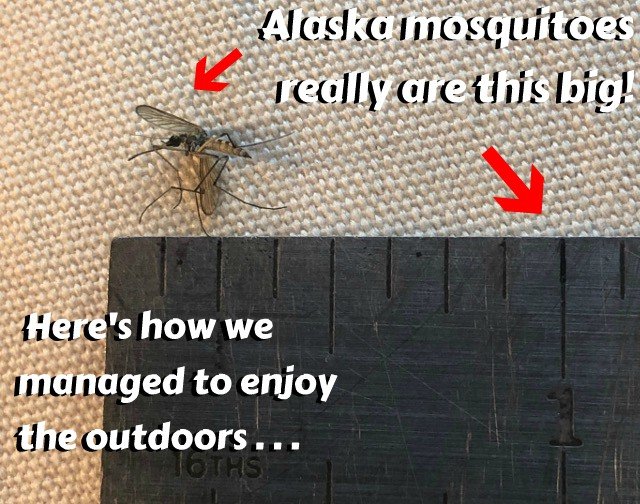 Yep, you're seeing Amazon affiliate links. Click and buy anything from them, and you help put fuel in our tank. Thanks!
We've been lucky. Mosquitoes have never been a huge issue for us because we're usually camping in the arid west. But this summer, we knew we weren't going to get off that easy. North Country mosquitoes are legendary bloodsuckers, so we budgeted for the Thermacell Mosquito Repeller.
Your Gear For RVing to Alaska: DEET-Free Mosquito Repeller is a Must-Have
At first we were skeptical about Thermacells, hemming and hawing all the way to the Canada border. But the longer we waited, the more we saw rivers cutting wide swaths through the countryside, giving refuge to the biggest, most indestructible pests we've ever seen!
Luckily we picked one up at a great sporting goods shop called Backcountry, in Fort Saint James. Best. Buy. EVER. Within 15 minutes of turning it on, the zone of protection kicked in so we could enjoy happy hour cocktails and then dinner.
The nice thing about this unit is there is no flame, it's totally safe to use in fire-prone areas. It uses a butane cartridge with an electric igniter like your RV stove.
When you see a faint puff of smoke intermittently rise from the unit, you'll know it's working. The unit operates on a single butane fuel cartridge, which heats a repellent mat releasing allethrin, a synthetic copy of the natural repellent found in chrysanthemum flowers.
After about 15 minutes an adequate zone is created. In some places with heavy mosquito populations you can literally see the invisible wall where the Thermacell protection begins.
Some people say the mosquitoes weren't all that bad this year, but any mosquitoes are too many for us. Thankfully the Thermacell keeps the bloodsuckers away, allowing us to have a great time outside in the zone of protection.
15-foot mosquito protection zone

No messy sprays or lotions

Scent-free and DEET-free

Portable and lightweight

No open flame, no smoky candles, no mess

Turn it on… Mosquitoes Gone!

100% Satisfaction Guarantee on all Thermacell products

Package contains: 1 repeller and 12 hours of refills – 3 repellent mats and 1 fuel cartridge
Pros
It works!
Faint, pleasant smell
No chemicals on your skin
Safe for Pets: put a second one next to your pet's bed
Cons
Doesn't keep flies, bees or or hornets away
Wish the refills would last a bit longer
Refills are easy to find but the best price for Thermacell units is on Amazon (of course!). After using the unit a few times, we noticed that our dog Wyatt wasn't always in the zone, so when we get back to the states and can use our Amazon Prime account again, we will get a Thermacell Patio Shield just for his outdoor lounging area.
Some RVers are total gadget geeks, but in our world, most gadgets aren't worth the space they hog. We used to think the Thermacell was one of those products, but not any more. You won't find us spending time outside without one.