I owe Pat Flynn (and his team) an apology. This book review is long over due.
A while ago now, I commented on a post from the Smart Passive Income Facebook page and won a free gift. I encouraged them to send me a copy of Pat's recent book, and promised to write a review. Well…anyone following along here at home knows that mail forwarding for full-time RVers can make it take a while to get your mail. And then life got in in the way.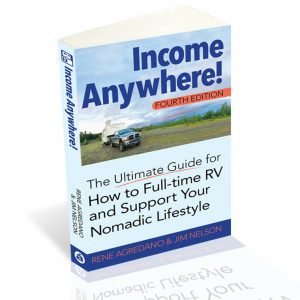 Anyway…we couldn't live the lifestyle we do–working from anywhere the way we do–if we didn't run our own location independent business. And more importantly, we wouldn't enjoy life to the fullest the way we do, if we didn't focus on passive income–smart passive income, that is.
In fact, it was Pat's e-book, Ebooks the Smart Way that first encouraged and taught us to launch both our Tripawds e-books and Income Anywhere! Seriously, if you want to get started in e-publishing, download Pat's e-book. It's free. Then listen to his podcast, and if you have your own business idea, read his recent book: Will It Fly?
Got a business idea? Read this book!
Seriously, I wish we had this book back when we started our first business. When we first launched Agreda Communications in 1998, we did our homework. We did extensive research, performed market analysis, and we wrote a comprehensive business plan. This book would have saved us a lot of time. I am not telling anyone not to have a business plan–you definitely must plan out your business goals and tactics, if you plan to succeed. I am suggesting, however, that Pat Flynn has rewritten the rules for developing a business plan.
Will It Fly? Is much more than just another how to start your own business book. Pat provides specific steps, with easy to follow instructions, for testing your business idea so you don't waste your time, money and hard effort finding out on your own that your big idea will never get off the ground. He also offers perfect plans for folding a paper airplane, and a pretty awesome backstory about why that matters.
Will It Fly? More than just a how to get started in business book!
Pat Flynn knows small home based business. He practices what he preaches. He has launched numerous business endeavors, while enjoying the quality of life one only gets working from home. He has become incredibly successful by developing Smart Passive Income streams, sharing his knowledge, and focusing on an overall business strategy to Serve First. More importantly, he has failed. Big time. And, he is not ashamed to share how he has learned from his failures.
Why Read Will It Fly?
This book is not the typical hype and cheerleading about starting your own business. Pat asks relative, thought provoking questions and provides important exercises–starting with how to identify the three Ps imperative to success in your market: Places, People, and Products.
Throughout this book, Pat provides the tools to help you define–and refine–your Market Map and develop the Customer P.L.A.N. Don't worry, Pat provides details in plain English about how to organize and address these ideas and draw conclusions about whether or not your idea will fly.
With the Will It Fly Companion Course, Pat helps you reshape your idea. Step by step, he walks you through how to identify your target customer's problems and needs. This free online companion includes bonus downloads, videos, and exclusive interviews to help get your next business idea off the ground.
Pat goes deep in Will It Fly? With real world examples of his own, and many high profile case studies, he offers the nuts and bolts needed to building a business idea before it can take flight. This book also provides a serious reality check by teaching the principles of validation to determine whether your passion is worth pursuing as a business model.
No. I was not paid to say any of this. I did get a free book, and a couple cool pins. And if we ever plan to kick off another crazy idea, I'll be reading it again!
Thank you Pat. Keep up the good work!