Returning to Borrego Springs was a breath of fresh air. Make that sandy air.
Our annual homecoming at Anza Borrego State Park was tranquil and idyllic — until a warm air windstorm rolled across the desert and plowed into us non-stop for three solid days and nights.
As you can see in this sandstorm pic, the powerful winds on this side of the San Diego mountains are relentless when they get going.
Whether it's hot or cold outside, they can blast into your rig so hard that even with the windows closed up tight you'll spend the day wiping up layers of grit from the floors and countertops while trying to keep it out of your food.
When the wind is blowing, there's not a thing you can do about it. With rain, you can put gear on and go outside, but with wind, you can't escape it, especially when sand is constantly swirling all around you the moment you head outdoors.
Temperatures were in the high 90s but the winds didn't do much to cool things off. When the wind blows this hard we can't even put up the satellite dish, but at least we had our portable Verizon MiFi card to help us get some work done.
Wyatt, meanwhile, was stuck inside all day long and so bored he almost chewed one of his last three legs off.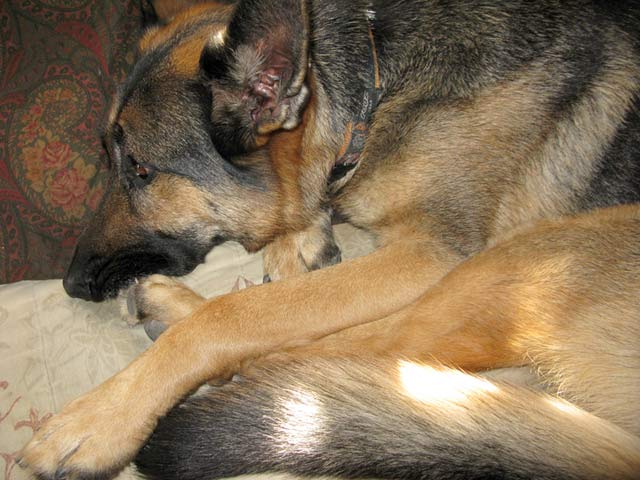 After the third night of winds that were so loud even earplugs couldn't muffle the roar, we decided we'd had enough and packed it in before the next cyclone came in.
This isn't unusual at Borrego Springs, we've been through that kind of wind before and overall it's a small price to pay for the freedom of free camping in the west.  Weather conditions like this are of the few times that not having a stick house can be annoying, but at least with a RV you have the option to move, which we always do our best to take advantage of.
Today we're less than 1 hour east of Borrego and couldn't ask for better weather. The hot sun, the calm winds and the quirky character of the Slabs makes for a grand sendoff into our eastward journey back to Colorado.