Whenever we talk to strangers about our lifestyle, the inevitable question always arises: "So, what do you do for a living?" People size us up, wondering if we're Trustafarians or lotto winners and draw their own conclusions unless we take the time to share how to make a living on the road.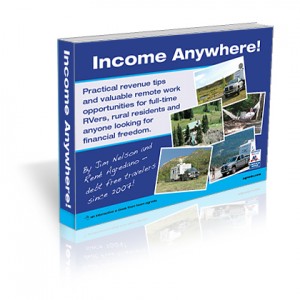 It takes a day to explain how we earn money while traveling, living remotely at Jerry's Acres or workamping at Vickers Dude Ranch, so for those of you who are short on time, we've created a home-based business e-book: "Income, Anywhere!"
Download "Income, Anywhere!" for the promotional price of just $4.95 (normally $9.95)
Use coupon code LWDBOOK1 when you order our new home-based business e-book.
Learn How to Work From Home, Wherever That May Be!
In this 58-page resource we coach anyone with a laptop and an Internet connection how to make money from anywhere. Download our home-based business book to learn practical revenue tips and valuable remote work opportunities available to full-time RVers, rural residents and anyone looking for total financial freedom.
For less than the price of one Starbuck's latte, you'll learn:
Tips for getting (and staying) out of debt
Information about making money blogging
Affiliate marketing training resources
How to monetize a business or personal blog
Developing "multi-site" web-based membership communities
E-commerce solutions and drop-ship arrangements
Finding remote employment opportunities online
Revenue-generating advice for creatives and crafters
Making money with dBay, Amazon, Etsy and ClickBank
Warning signs of MLM schemes and pyramid scams
How to identify a legitimate revenue sharing business
Workamping and caretaking job resources
And much more!
This e-book is a comprehensive summary of how we've made a living as RV travelers since 2007. Even if you just want to earn a little extra income from where you are now, you will find dozens of methods to make money from home in the pages of this e-book.
Live the Mobile Entrepreneur Lifestyle
"Income, Anywhere!" is five years in the making. When we think about how far we've come since those first months on the road with Jerry, we're amazed.
What was supposed to be a one year road trip for our best friend is now a way of life, thanks to the interesting people we've encountered along the way, and the remote income opportunities we've discovered.
Now we are sharing the proven methods we use to support our dream lifestyle with others in our new e-book, Income Anywhere! LiveWorkDream readers get $5.00 off with COUPON CODE: LWDBOOK1
From the debt-free family who introduced us to Dave Ramsey, to the first workampers we met who explained the concept of trading work for rent, our location-independent lifestyle is the result of keeping our hearts and minds open to the possibilities of living life a little differently than the average RVer. We hope that "Income, Anywhere!" can do the same for you.