When you're younger than the typical full-time RVer or snowbird, people always ask "How can you afford to travel like that?"
Our short answer is: "Oh, we run a few websites." But if someone wants to hear the long answer, we have finished writing an e-book that explains everything.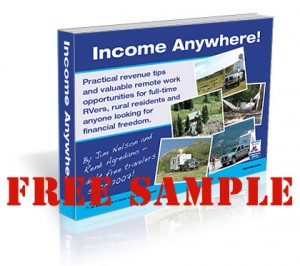 "Income Anywhere!" is our brand new ebook about how we make money on the road. This full-timer's toolkit is filled with tips and resources for earning a living from anywhere. In it, we share practical income generating ideas we have learned since becoming self-employed in 1998. We'll show you how we've stayed debt-free while working from the road since 2007, and you'll learn:
How to get (and stay) out of debt
Information about making money from blogs
How to find remote work jobs online
Revenue-generating advice for creatives and crafters
Warning signs of MLM scams and pyramid schemes
Workamping and caretaking job tips and resources
And much more!
"Income Anywhere!" will be out soon. Until then, you can review a free sample chapter if you "like" the Agreda Home Business Coaching Facebook page. If you have already liked it, you'll find the link to download your free sample on the Income Anywhere! Tab.
Not on Facebook? Not a problem!
Use coupon code IAEBFREE to download the free chapter here!
Free Sample Chapter Synopsis


You've undoubtedly seen business opportunities in newspapers' classified ads, but how do you know which ones are legitimate and which ones will rob you blind? Like our Facebook page to download your free 12-page sample that addresses how to distinguish between legitimate revenue sharing businesses and questionable MLM schemes and pyramid scams.
Stay tuned for the full release, coming soon!