So…just how are we publishing our new book, Be More Dog: Learning to Live in the Now? Self publishing on the road may be a no-brainer for some, but we don't exactly have the room – or the weight to spare – for stocking a big inventory of books. Those get heavy pretty quickly when you order the quantities required to significantly improve your profit margin.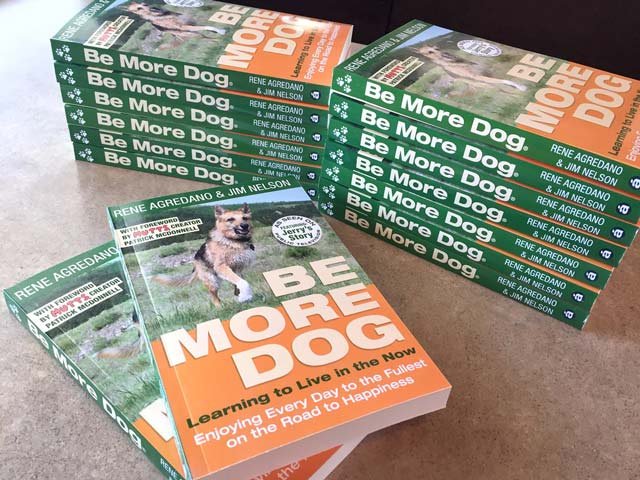 I did convince Rene, however, that we do always need to keep a supply on hand. After all, we offer autographed copies of the paperback with our Be More Dog Gift Package. Which, by the way, makes a great gift for veterinarians, RVers, anyone with a three legged dog, and all animal lovers. </hint-hint>
So, what exactly did we decide upon after all that research I did about the best way to self-publish our book?
How to Self-Publish on Amazon and IngramSpark
Sure, all new authors probably know about Kindle Direct Publishing by Amazon. If not, they should. But in doing my homework, I kept hearing about IngramSpark. So I researched that option further. Why? IngramSpark is the Print On Demand (POD) self-publishing arm of Ingram Content Group – publishers of the catalog where all bookstores and libraries purchase their books. Since I have every intention of seeing our book at retail someday, that was a no-brainer for me.
So I decided we should use both platforms. We are using KDP to automatically fulfill all our POD books and e-books sold on Amazon. And we turn to IngramSpark when fulfilling our own paperback sales from the Be More Dog Bookstore, or when purchasing author copies to stock the small inventory we keep on hand.
Yes, we could have just gone with IngramSpark. They do offer distribution on Amazon. And yes, we could have just gone with KDP. Amazon does offer expanded distribution. But, among other things, bookstores don't buy their books on Amazon.
Plenty has been written about that already, so I'll just put this here for anyone interested:
Then I started reading about complications with self-publishing on both Amazon and IngramSpark. It really wasn't that complicated. Setting up an IngramSpark account was much easier that I had heard. They must have improved their on-boarding process, because I had read various negative reviews about how complicated and buggy the process was. I had our account set up in minutes. Creating a KDP account was even easier.
Another important reason I decided we should self-publish on both platforms, is that Amazon offers better commissions for e-book sales. And, based on our early reports, that is clearly where everybody buys e-books. One thing we did not do, however, is opt in to Amazon's KDP Select program. Sure, they say it offers even higher royalties (on e-book sales), and it does offer various marketing opportunities. But Kindle Select requires you to have an exclusive arrangement.
"When you choose to enroll your book in KDP Select, you're committing to make the digital format of that book available exclusively through KDP…you cannot distribute your book digitally anywhere else, including on your website, blogs, etc." — Kindle Direct Publishing

Meaning, we could not sell the various formats of Be More Dog e-books in our own store at BeMoreDog.net. And why would we do that? Because we earn the full sale price of $4.99 when selling direct. On Amazon, we earn 70%, and e-books sold via Ingram Spark at other online retailers earn us about $2.50 each. Going exclusive with KDP Select would also mean we couldn't even include the immediate e-book download with our Gift Package, that includes an autographed copy, Be More Dog sticker, button and commemorative bookmark.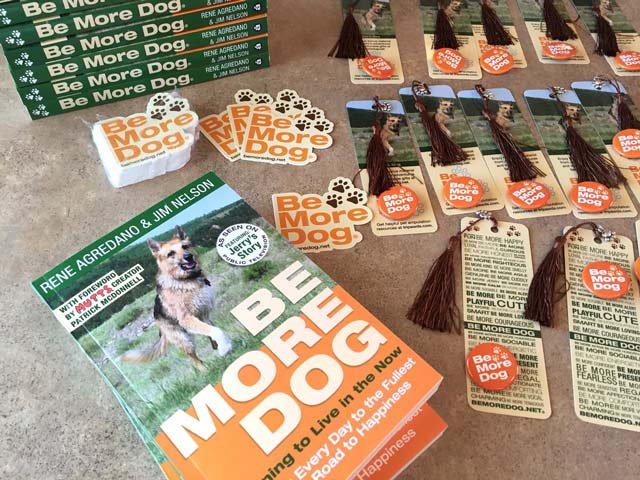 But enough about the numbers. Long before we launched, I understood we didn't do this for huge profits. At least not yet, that is a long-term game. Our goal right now is to share our story and get the book out there. So back to exactly how we're doing that.
By publishing on IngramSpark first, we were able to offer pre-sales. Once we published the same book and e-book via KDP using the same ISBN numbers, KDP automatically updated our books to be fulfilled by Amazon instead of IngramSpark. I'm not so sure what those complications I read were all about. The important part to remember there, is to use the same ISBN for any book you publish on IngramSpark that you also intend to list on Amazon via KDP. And oh, if you do go with Amazon only and get your ISBN from them, you don't own it. We bought our ISBNS from Bowker.
Self-Publishing Print On Demand Fulfillment Review
Print On Demand (POD) is the way to go for any nomad who wishes to self-publish a book, or anyone for that matter – in my opinion – until some major publishing house presents a major money deal. And, to put it bluntly, my experience with IngramSpark has been much better than working with Amazon. We've purchased all our inventory, and have fulfilled various paperback copies directly from IngramSpark. With a previous life in the printing industry, I'm a stickler for product quality and processes. And IngramSpark delivers – their quality and consistency is superior to our books we've bought from KDP. The pre-press production was much better too.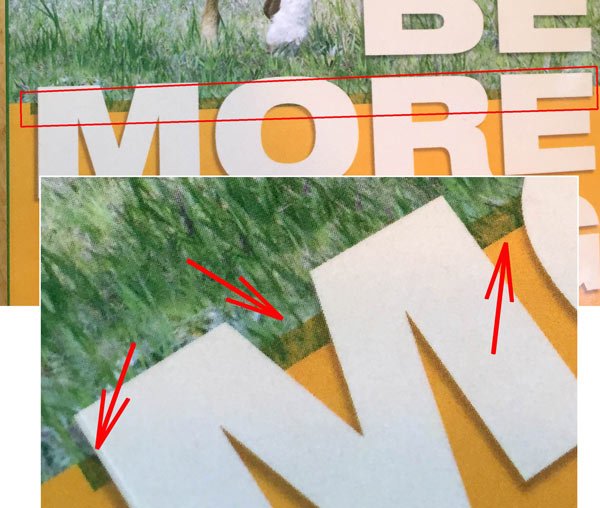 I went through three proofs with KDP, trying to resolve a production problem I knew was their fault. I know all about flattening transparency and preparing proper prepress files. I spent my entire previous life doing that. It became quickly clear though, that the KDP preflight process was totally automated. Oh, and after ordering the first proof for Be More Dog, we received someone else's book.
With IngramSpark, it was clear human experts reviewed my file and sent me a proper pre-production proof. The quality of the printed books has been great. I have also been very impressed by their very fast production and delivery. See for yourself by getting your copy of Be More Dog today!