The first time we found a new favorite fine restaurant in Las Vegas – loved by locals, way off the strip – it was gone by the next time we visited Vegas. I don't fear that happening with our new favorite dinner club.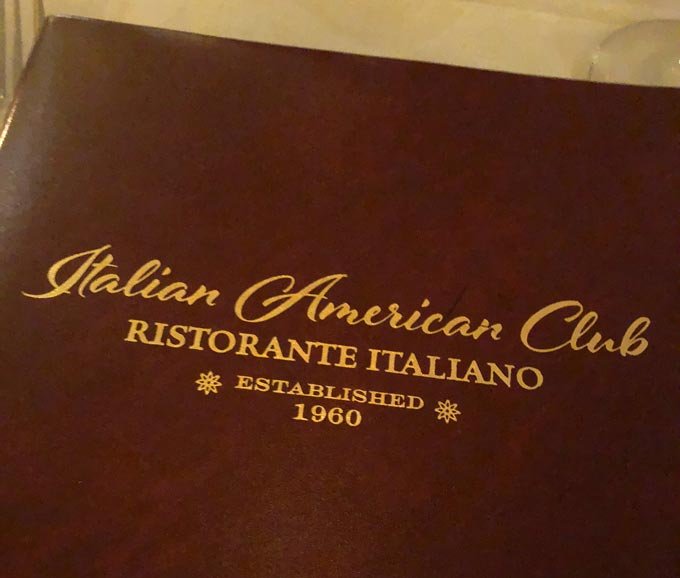 Best Italian Restaurant in Las Vegas
The Italian American Club has been in continuous operation since 1960. I don't think it's going anywhere, not based on how much we enjoyed our first visit.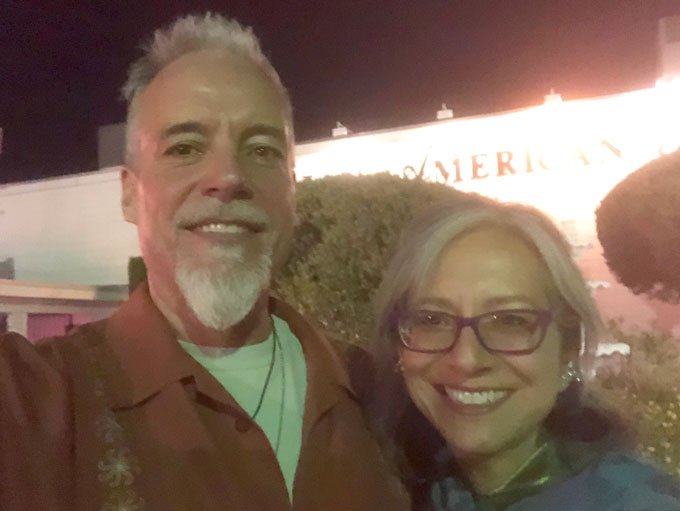 For starters, the food was fantastic. One of my favorite meals is fried calamari with a Caesar Salad and garlic bread – and of course a nice bottle of red wine.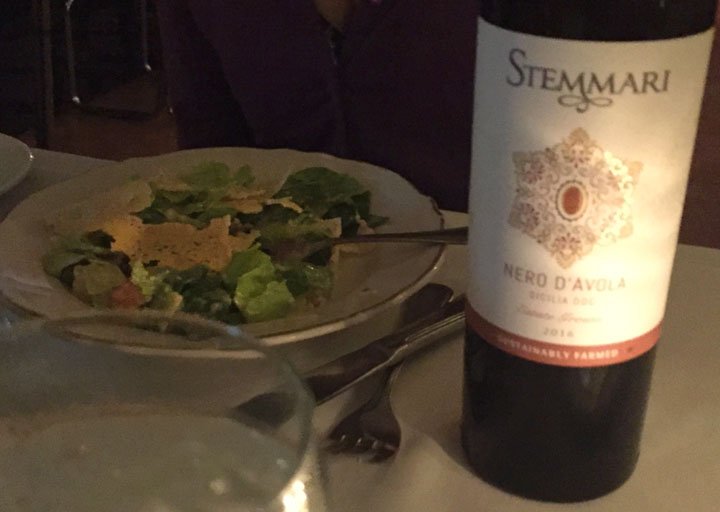 Our server accommodated my request without question, even though Rene was concerned since she was told when making the reservation that we must order dinner plates off the menu if we wanted to sit at a table in the lounge.
I added a serving of Shrimp Scampi anyway – another favorite since childhood – just in case. It was my birthday after all, and the menu has numerous small plate delicacies to choose from.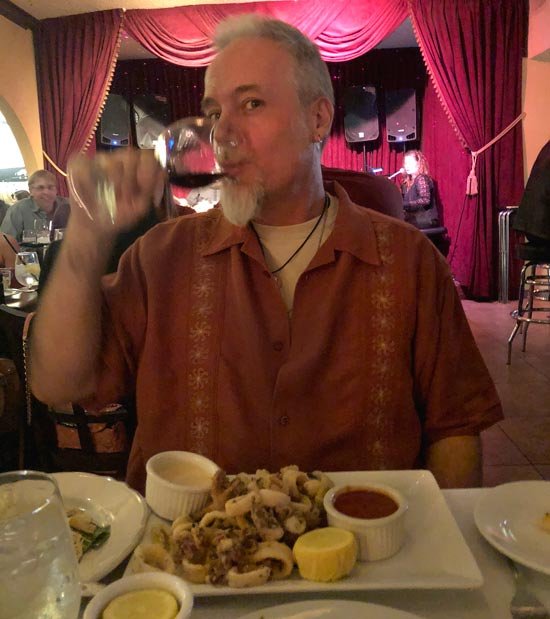 The calamari was prepared to perfection in classic Italian style – no thick batter, just a dusting of flour and light seasoning, nowhere near overdone with plenty of tentacles. The Caesar was just right, topped with crumbled Parmesan crisps. The garlic bread was delicious, much like I make, and served with a heaping helping.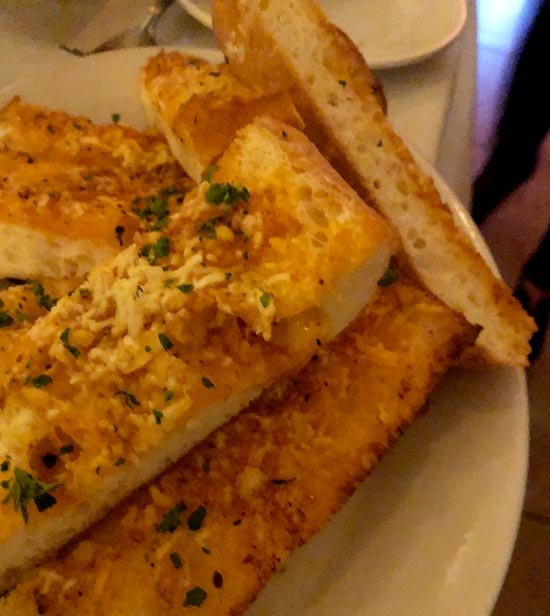 Rene was happy to find her long time favorite Aglio E Oglio, an authentic pasta dish with toasted garlic and anchovies we've only discovered at one other restaurant long ago. She was just as happy with its preparation.
The service was impressive, and professional. From the host who greeted us as soon as we walked in to our server and the support staff, everyone treated us with respect. There were no young disinterested hourly workers who hate their jobs here, as you find so often at so many restaurants these days.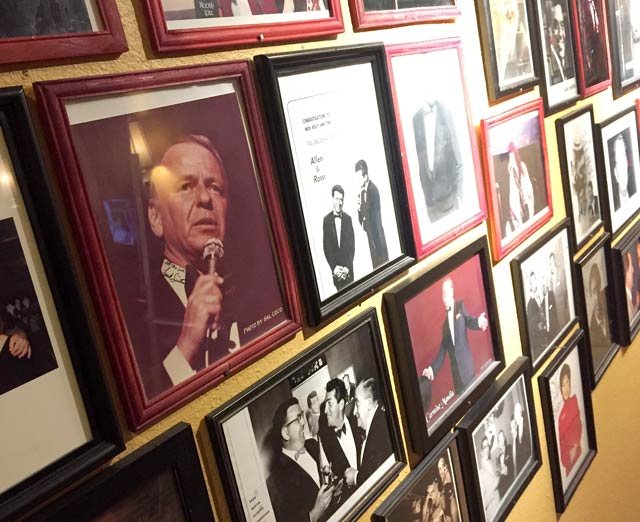 The IAC is The Real Vegas Baby.
The Italian American club is one classy joint. The people watching was half the fun. The candlelit atmosphere was comfortable and while we were clearly neither members, nor Italian, we were made to feel welcome. The walls in the entry are lined with autographed photographs from famous Italians and celebrities who have visited over the years – including mister Sinatra himself, who reportedly was a regular customer, and many others from the Vegas heyday of yesteryear.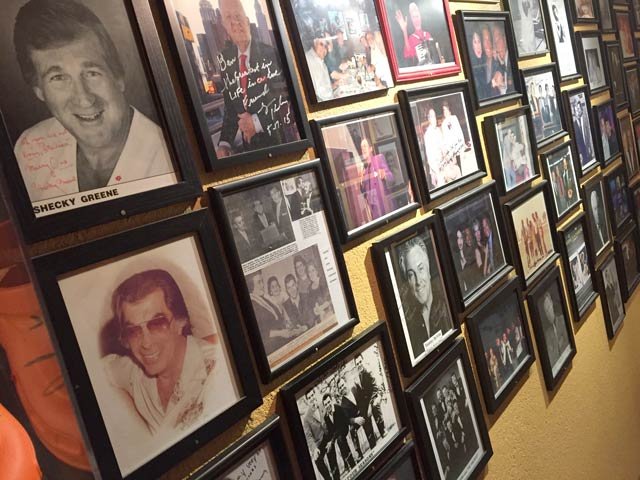 Best Lounge Entertainment in Las Vegas?
I hope we return to the IAC again in the future, for food and the entertainment. But only if Rita Lim is singing in the lounge. That is the reason were were there in the first place. And that is the only reason I was disappointed with our visit.
We called to confirm Rita was singing the Thursday we made our reservation. Upon our arrival, we discovered a different act performing. That singer was fun, but no comparison to the incomparable Rita Lim Music.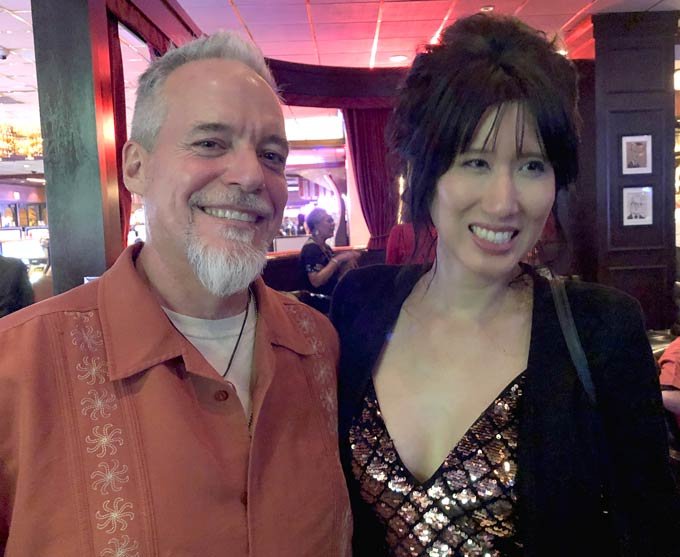 Of course, there was no Joey Ugarte either – another Vegas Icon. So we had to catch them both with the Jazz Vibrations back at El Cortez in the the Parlour Bar as we always do for Friday night fun on our pilgrimage to Vegas.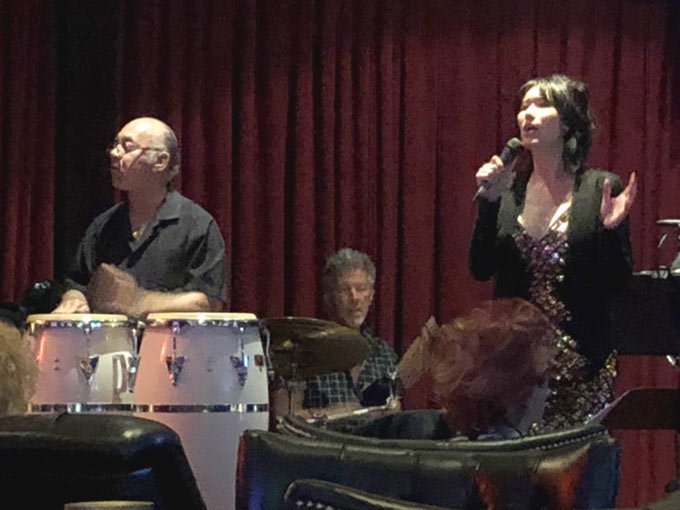 On our way out of the IAC, we spotted a man who was clearly the man in charge. Many patrons – and members I'm sure – greeted "Mr. G" to pay respect, so I did the same…
"You look like you have something to do with all this," I said as I shook his hand and thanked him for the wonderful evening. "This was our first time here, and we'll be back!" I told him. "But only if Rita Lim is singing."
He grinned, and laughed. "Okay," he said with a firm grip. "Look me up next time, I'm Jimmy."
"We'll do that thanks, I'm Jim too."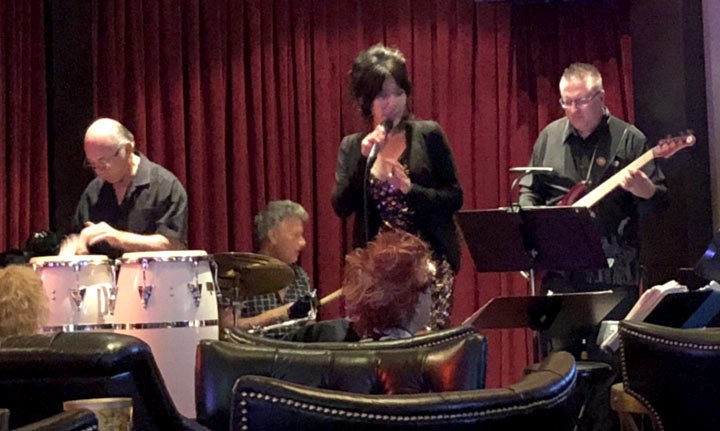 If it were not for Rita Lim, we would likely never have known about our new favorite local Vegas fine dining experience at the Italian American Club. Hopefully she'll be back next time, so there will be a next time for us.