If enjoying a simpler lifestyle and RVing is your goal, it pays off to rethink "Pay" versus "Benefits" when you look for work. After nine years of living on the road, I've learned a few nomadic living income tips that can make or break this lifestyle.
Nomadic Living Income Tip: Rethink "Pay" and "Benefits" for Workamping

In the real world, workers are traditionally compensated for their time and labor with pay and benefits. The two are similar but different in very important ways. Let's begin with Dictionary.com's definition of "Pay."
"Pay" is defined as:
"to transfer money as compensation or recompense for work done or services rendered; to satisfy the claims of (a person, organization, etc.), as by giving money due."
"Benefits" are defined as"
"any of various benefits, as free life or health insurance, paid holidays, a pension, etc., received by an employee in addition to regular pay."
In the typical 9-to-5 working world, most of us zero in on a job's salary before we ever consider benefits. Choosing to live the nomadic lifestyle requires you flip this concept on its head. If your goal is balancing personal happiness with income generation, rethinking how you rank pay and benefits will get you there.
In Workamping, there's often more than meets the eye.
Let's look at the typical nomadic gig: workamping. This arrangement is filled with oddball seasonal jobs like camp hosting, fish hatchery tagging, farm work, Christmas tree sales and other itinerant work. The technical descriptions of these jobs would make your momma embarrassed that she sent you to college.
This workamping job will not pay the bills.
Obviously, workamping isn't a career move and it won't add a whole lot of cash to your bank account. Notice how you don't see any mention about pay in this description? A fair amount of workamping jobs only compensate you with a full-hookup campsite and minimum wages beyond the labor hours required to get the free spot. Many workampers gripe that even with pay, it's still not enough to compensate for the labor required.
But if you look past the typical workamping job description, you'll often discover that the benefits are more valuable than you thought. Take a look at this description:
This workamping job also won't get you rich, but it sure sounds fun.
If you're a carnivore, this job is paradise! Wild game meat at a Texas hunting camp? Yeehaw! The salary is probably crap but you'll get an experience that these customers are paying thousands to enjoy.
This job closely resembles our annual summer gig at Vickers Ranch. We don't do it for the money and we probably make less than a minimum wage worker in California. But we return because the benefits far outshine the paycheck. Things that weren't in the job description but add tons of value to our lifestyle include:
Wearing denim jeans and tees every day.
Working with my best friend and spouse.
Taking our dog to work.
Doing laundry in the back office while I work the front.
Whooping it up at free Friday night dinners with guests and staff.
Exploring with free ranch jeeps.
Fishing, hiking and camping on a 2,000-acre private "upper ranch" property.
We work three days on then get three days off. And although our off days are often consumed with our own business endeavors, we also get to do fun stuff like this: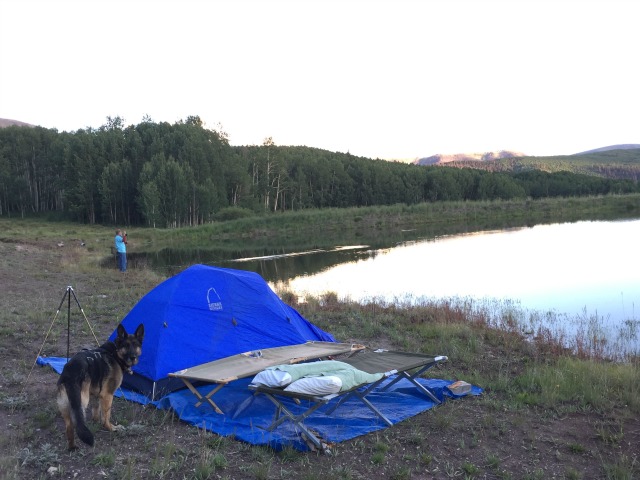 Many jobs for RVers are unique and fun opportunities in disguise. If a workamping job description piques your interest but you're turned off by the hard numbers, don't get hung up. Do some research by talking to the business owner, ask to speak with other workampers and investigate the location and the benefits before you ever say "No." The benefits overall worth just might be more valuable than you imagine.
In my next post, I'll examine pay and benefits for nomadic entrepreneurs, since workamping alone will not put you on the fast track to a fat retirement account. Setting up multiple income streams will.
More Reading
E-book Offers More Tips to Earn an Income Anywhere!
Save
Save
Save
Save