We never thought vandwelling would be in our future. But when weighing the pros and cons of taking the RV from our current location in Colorado to the East Coast, one prevailing thought dominated the conversation:
We don't enjoy RVing in the Eastern U.S.

Jim and I grew up in the wide open country of the West. Whenever we cross the Mississippi with the rig, we get overwhelmed with a claustrophobic feeling that hit us like an F5 tornado. As soon as rubber meets road in Pennsylvania, the entire world seems to shrink to half of what it was, while kamikaze hilljacks drive crazily on two lane roads never meant for modern vehicles – especially RVs.
Neither one of enjoys getting from place to place in the East, which is why we rarely venture out that way. When presented with the opportunity to attend Tripawds events in Virginia and Tennessee, we decided that the stress, wear and tear on the rig and the expense just wasn't worth the hassle. So instead, we rented a soccer mom minivan and hit the road last week.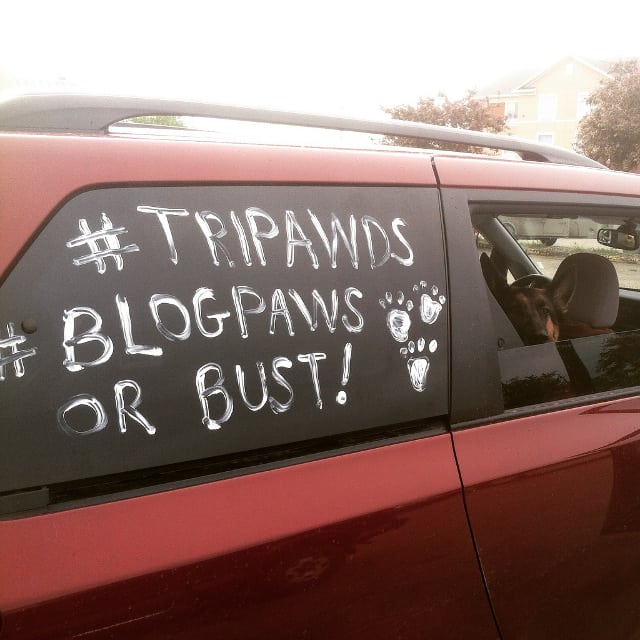 Since last Friday we've meandered around, dodging tornadoes in Nebraska, visiting a Tripawds friend, checking out cool, progressive places like Fairfield Iowa, and using our Roadside America app to catch tourist attractions. Today we're in Pennsylvania and by Monday we'll be in Tennessee. Vandwelling has become intriguing.
Advantages of Vandwelling Over RVing
Fuel. Filling a van's tank is incredibly cheap – just $38 in Iowa, and a little more out here on the East Coast.
Size. The van is far easier to maneuver, especially through rough weather and quirky roads.
Comfort. I'll admit, the seats and overall comfort of this 2015 vehicle are superior over our dear old 2006 Dodge.
Sharing the driving. We've split the driving out here, which is nice. Since long ago we agreed to stick to our respective roles of pilot and navigator when RVing, life has been good for our relationship but Jim bears the burden of hauling the rig, which I always feel badly about.
No or low maintenance. There's nothing to worry about when someone else has to pay for repairs. And when you own your van, it's way cheaper to repair than a rig.
Technically, we're not really vandwelling — yet. Crappy weather prevented us from using our tent camping gear that we packed. Now that we're on the East Coast, where tent sites and motels cost about the same, we're sticking to motels until we cross the Mississippi, where nature is free or cheap and there's elbow room for everybody.
At this point we still don't know if our expenses for the next few weeks will be lower than taking the rig. I suspect that when it's over, it'll be a wash. But when you factor in the uber low-stress factor of driving in a place that we're not particularly crazy about RVing in, that makes vandwelling priceless!
Sure, there's a lot I don't like about the van, but that's another conversation. For now, I'm thinking that some day when we've reached about age 70, I can see us having two RVs; a fifth wheel for snowbirding, when we don't want to drive around a whole lot, and a second RV, a Class B van conversion for more hopping around to places like the East Coast. I could get used to the vandwelling lifestyle, at least on a temporary basis.