Dare I say it? I miss my Spirulina. Wait, let me clarify… I miss my breakfast smoothies, even the green ones.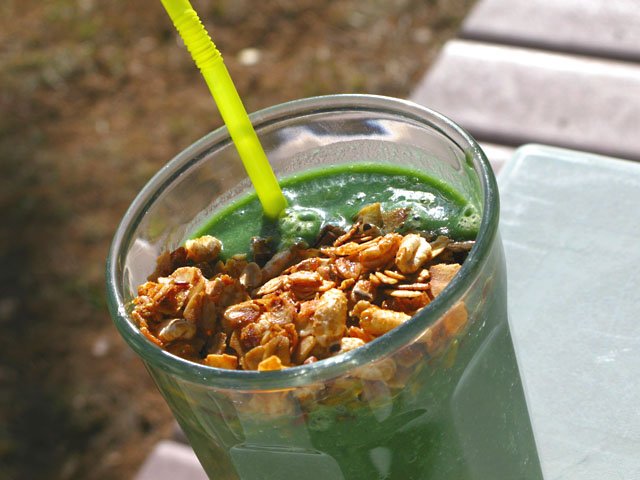 Back at the stick house, we made fruit smoothies for breakfast just about every morning. But we don't bring a blender with us on the road.
While I prefer my smoothies more berry in color, I got to liking the green variety we started making. I didn't need a green smoothie challenge to acquire the taste either. All it took was one batch we made with spinach to discover there had to be a better way – better tasting at least.
Leave it to the wannabe vegan wife to come up with the Spirulina idea. But now that we are blenderless, I sure miss the smoothies – taking the stuff in a shot is like taking medicine. But I digress once again.
When looking up my Nü Hawaiin drink recipe in the NüRVers forums, I realized it was Sarah to whom I owe for turning us on to the green smoothie idea. But I will pass on the spinach and celery.  Spirulina Powder does the trick, with just a couple teaspoons.
Having operated a print shop or two, I can tell you the stuff is identical to cyan ink toner. Don't get it wet! But when handled with care, it delivers a potent mix of vitamins, minerals and nutrients. Spirulina has been found to strengthen the body's defense mechanism. After all, it is the richest source of vegetable protein available (over 60%). Rich in beta carotene, iron, vitamin B-12 and the rare essential fatty acid GLA, it really is the super green food health nuts will lead you to believe it is.
Did I mention it tastes much better hidden in a fruit smoothie than taken in a shot glass of apple juice!? Both methods deliver the same healthy benefits, the former is just actually enjoyable.
And for the record, I prefer to add Spirulina to light colored smoothies. It tends to turn dark berry smoothies black. Here's a suggestion for a vibrant bright green smoothie that will help you start your day feeling good about what you had for breakfast. (Shown above topped with Rene's scrumptious homemade granola.)
Super Healthy Green Muck Smoothie
Serves two. (Not vegan, modify at will!) Blend together in blender until smooth:
Two Ripe Bananas
1 Orange
1/4 Honeydew Melon
1/2 Cup Vanilla Yogurt
1 Cup Soy Milk
2 Tablespoons Agave Nectar
2 Teaspoons Spirulina
Please note that I don't "do" recipes, preferring much rather to wing it – to taste – by trial and error. Results may vary.