How fitting it is that I've put this post off long enough to coincide with Earth Hour – when everyone is supposed to turn off their lights for one hour at 8:30 tonight in a showing of global showing of solidarity for energy conservation. But let me tell you, Earth Hour happens every night around the LiveWorkDream rig!
Shortly after we returned to Slab City, we got fed up with killing our batteries every evening. And coincidentally, I had just completed a design project that enabled us to afford an upgrade to our RV solar power system. But what to upgrade with the budget we had? That was the big question, so we went and saw Solar Mike.
Our original system included one Evergreen 120w solar panel rated up to 7.6 amps. Considering we draw about 10 amps when using our satellite internet connection and charging our laptops, it's really no wonder our batteries would often be drained at the end of the day – even if the sun was shining bright. Simply put, we were just using more juice than we were making even on the best of days.
So back to the question at hand … what to upgrade? We had the opportunity to rebuild an Outback MX60 MPPT charge controller – and still do – which would give us the boost available from Maximum Power Point Tracking for about half the price of a new controller. But that would still only buy us another amp or so.
So, we took Mike's advice and added another panel. While we were at it, we modified our existing mounting hardware to let us tilt both panels for maximum solar exposure, all day long. And now we're making too much power!
Our new Kyocera 135w panel is rated up to 8.3 amps. During our entire stay over at Anza Borrego, I don't recall running the generator once. But that changed yesterday. It was a beautiful day for making power. The sun was shining bright, a steady breeze kept our panels cool, and we drained our batteries by the afternoon. Huh? That's what I said!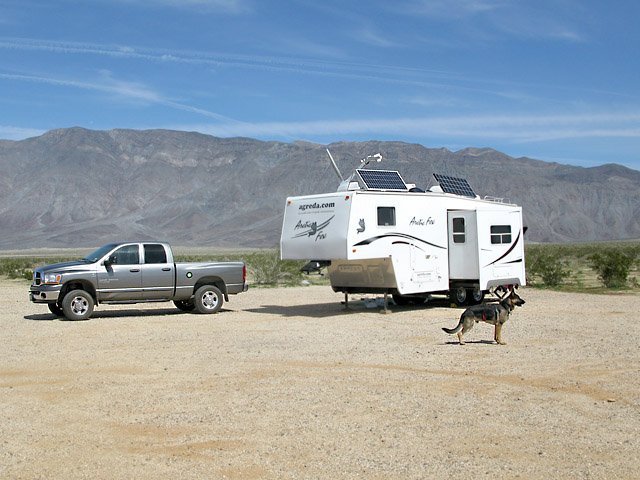 Upon investigation, I discovered the batteries were not only dead, but there was no status LED blinking on our C40 charge controller. Great, I thought, now we'd have to stay until next week and take the rig over to the Sun Works to find out what was happening. Then I discovered we had just blown a fuse!
The 15 amp Buss fuses we had protecting the controller were more than sufficient for the single Evergreen panel we originally installed. But with the recent upgrade, we had apparently peaked at more than 15 amps of power being generated at some point! Not bad, not bad at all. Now if only we had the battery bank capacity to hold the extra power allowing us to work a few more hours into the night. That upgrade will just have to wait until we return to the Slabs and go see Solar Mike again next year.
My only regret was not asking Mike about a trade-in of our first panel before we started remounting it. But with the price of panels coming down, he assured me we wouldn't have gotten much for it.
Yes, solar panel mismatch is something to consider – it's not just aesthetic – but in an RV system like ours, where squeezing out every bit of possible power in a limited space on a limited budget, it is as they say … what it is.
Besides, the two tilted panels still look pretty cool! And yes, we did consider the swing of the arm on our F2 Dish when re-installing the panel. To my surprise and delight, it clears the elevated panel with room to spare. Now whether or not it does so next time we are way up north is another story. Let's hope by the time we get back to Maine, we remember to check the panel before stowing the dish.