Two years after publishing our book about how to make money from home or on the road, we're happy to announce that "Income, Anywhere!" is now available in a new and improved second edition.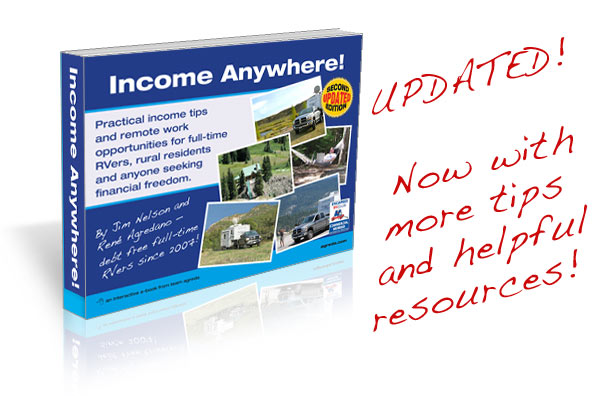 Since strangers often assume that we're either rich or retired, Jim and I first published Income, Anywhere! to set the record straight. We wanted to show others that living the full-time RVing lifestyle while you're still young and non-retired doesn't require a lot of money: all you need is the ability to think differently about how you can make money and keep it.
By keeping all of your options open and embracing new ways of generating revenue from multiple income streams, you can break the chains of traditional employment and live your dreams now, instead of waiting for a retirement that may never come.
More Resources, More Ways to Earn Money Anywhere
This new edition contains all new and updated resources for living from anywhere, including:
How to get out of debt, and stay on budget
Details about affiliate blogging and Pay Per Click advertising
Popular blogging platform options and how to choose
More ways to open an online store
The benefits of developing drop-ship relationships
How to find remote employment online
Etsy and other creative or craft marketplaces
Warning signs of network marketing schemes and pyramid scams
How to identify legitimate revenue sharing companies
Even more Workamping and caretaking job resources!
Live Your Dream Life
This book is better than ever so if you haven't already done so, we hope you'll pick up a copy today. Income, Anywhere! is still available for just $9.95, or $4.95 if you utilize this $5 off coupon. For less than the price of a coffee and bagel, you can learn how to make money and live the life you've always dreamed of. If we can do it, so can you!