If you've been following along with our RV office space remodel, you read my post about how to remove the RV sofa and saw the custom RV office desk I built from lumber we milled up while workamping at Vickers Ranch. As a bonus I shared steps for how to install a USB charging socket in the RV wall. I'm now officially calling the project done. And as promised, here are a few of the finishing touches…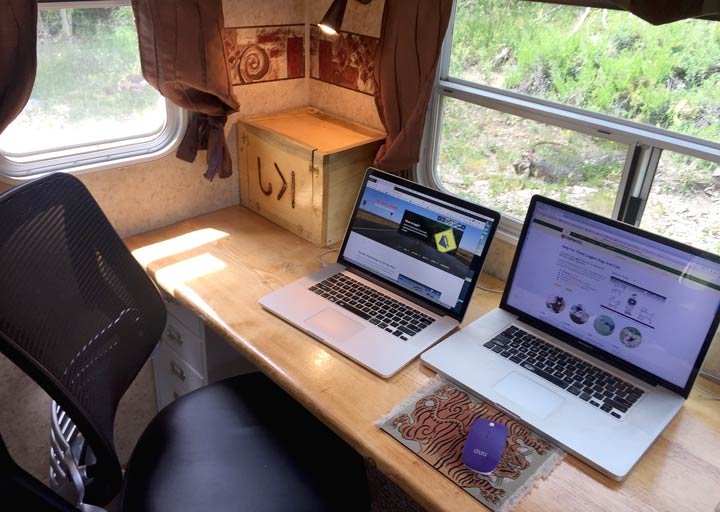 After 12+ years on the road, I finally have a proper workstation, with an ergonomic office chair. After searching for the perfect chair within our price range, to fit our small space, I discovered there is no perfect chair. But I came very close by selecting this Mesh Back and Vinyl Seat Office Chair with flip-up arms. It is much more comfortable than the dinette cushions I've been sitting on for years, and flipping up the arms allow me to stow it out of the way under the desk.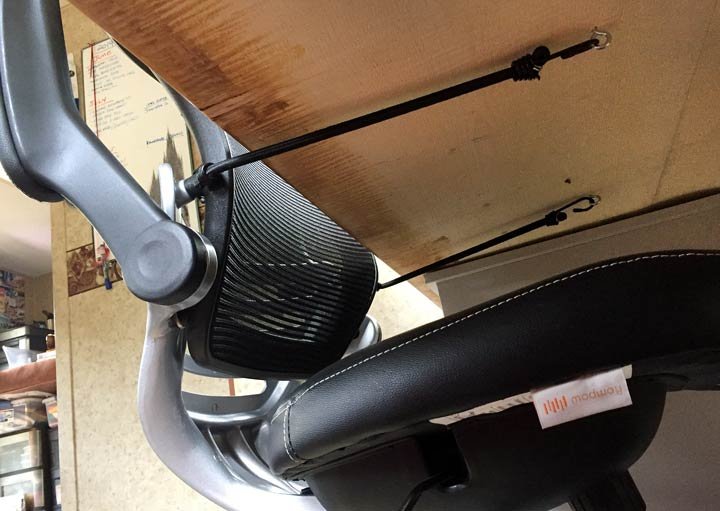 I installed two small eye-bolts under the desk to use a couple of 12″ bungee cords for securing the chair while in transit. I anchored the bolts just far enough apart to stow the cords out of the way while working at the desk.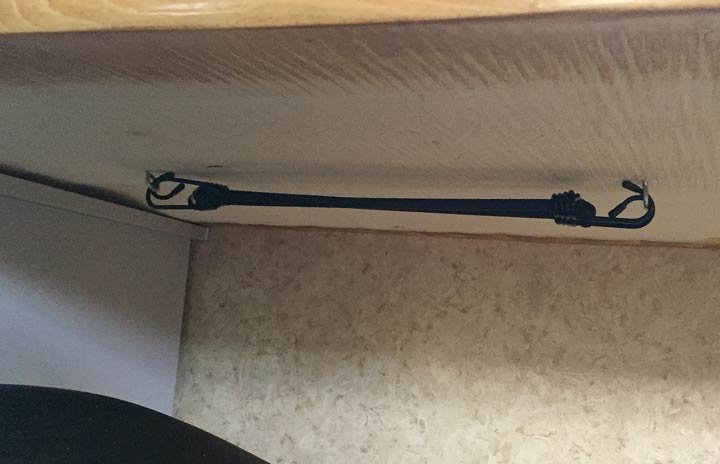 After installing the new AC outlet, power cord management was still an issue. While searching for some sort of hooks to tidy up the cords running my laptop, I discovered 3M makes an ideal solution with their Command Cord Clips.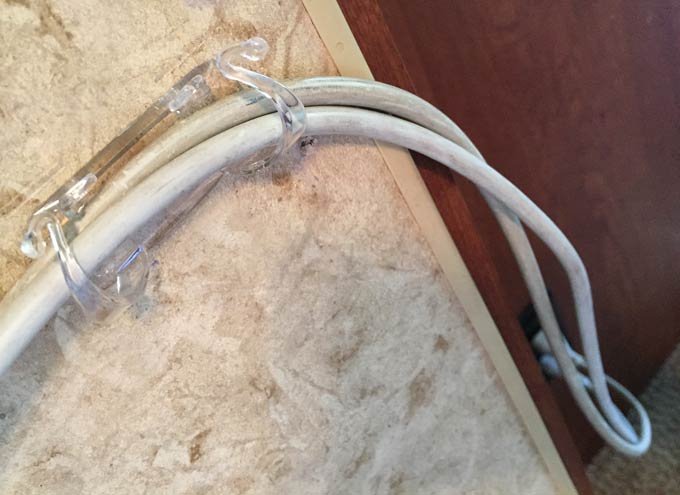 Finally, I added some extra self adhesive weatherstripping around the storage bay door I concealed to prevent drafts since there was a noticeable gap even with the door locked.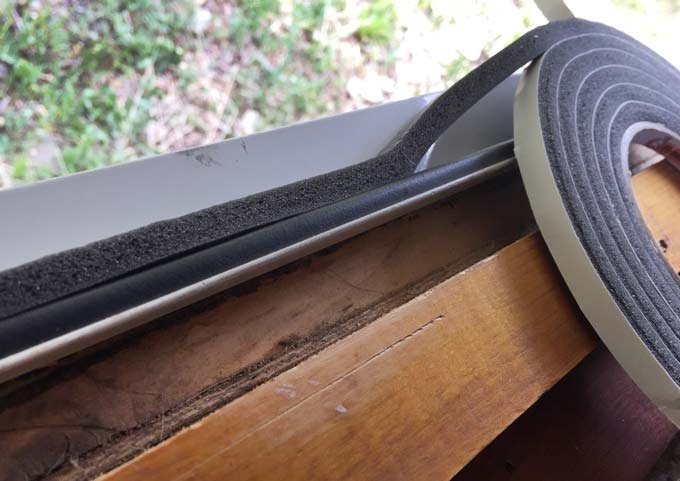 Then came the fun part. I enjoy woodworking, and there's no better place than a working ranch to do it – where you have access to a big shop, all the right tools, and an unlimited supply of natural wood.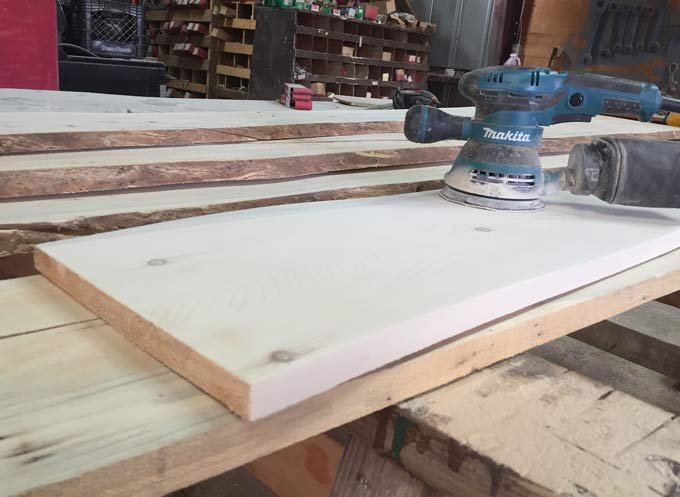 That USB wall outlet I installed sits right above this custom wood shelf I built to create a convenient and tidy charging station.
The size turned out just right to fit a few mobile devices, with a hidden shelf to stow accessories and office supplies out of sight to reduce clutter.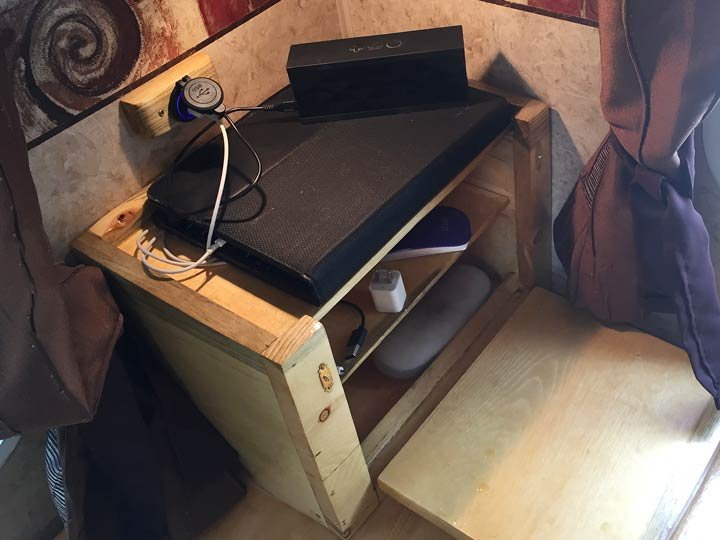 I must admit, it is a bit more attractive than any Chinese plastic bin we we could have found at crapmart. And while I have the pride and fond memory of making it at the ranch, I also admit my design would have earned a better grade than my production. To my credit, working with uneven, checked wood milled on a Woodmizer can present its challenges. Of course, I had to adorn the finished project with the Vickers brand – like that custom log fireplace mantle I created for one of their cabins a few years ago.
We did do another one of those this year, but you'll have to wait for my round-up of random ranch workamping photos when our stay comes to an end. Subscribe here to be notified of new posts, or check out all our workamping articles here.
Don't Miss:
RV Office Workstation Remodel – Part 1: Couch Removal
RV Workstation Remodel – Part 2: Custom Office Desk