Last week we packed up a rental car and headed out on the Great American Road Trip. From the snowy mountains of Colorado to the muggy green hills of Virginia, the three of us are living out of suitcases and sleeping in cheap motels for about 14 days.We left Colorado in snowy conditions and today we're sweltering it out in Memphis.
On the spur of the moment, we decided to head to Virginia for a major Tripawds gathering. It was totally worth the effort. The event attracted great people from as far away as Germany! Along the way we are seeing friends and family in Atlanta and Memphis.
Road-tripping without the RV is an entirely different experience and one that makes us miss the comforts of our fifth wheel.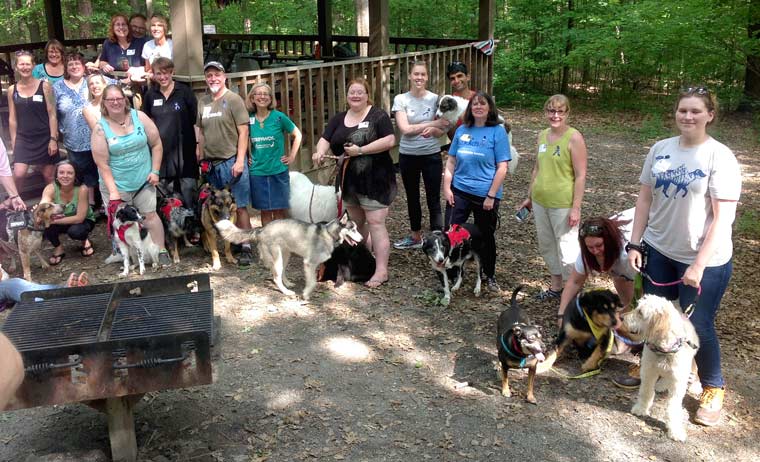 We brought our pillows with us, but that only goes so far. Since our meager motel budget only allows us to stay in low-end, pet-friendly places, I brought along a supply of anti-bacterial wipes. The moment we walk into a room everything gets a swipe, from the TV remote to the door knobs. That's after I check behind the bed for bugs. So far, so good.
Our budget is so tight that the other day we checked into a Days End and were pleasantly surprised to see this. An old-school paper toilet-seat wrap proclaiming it's been sanitized.
And you know you're moving up in the world when your motel provides you with soap, shampoo and lotion. What a thrill!
Why Did We Leave the RV in Colorado?
Why didn't we take the RV, you ask? Because driving tons of miles on East Coast highways isn't our idea of fun. Yesterday's hellish traffic to get out of Atlanta was proof. We've done East Coast RVing before and prefer the wider, calmer roads of the west. The only way we'll travel east in the RV again is if we go somewhere and stay in one place for a season. A short two week road trip in the RV to the East Coast just isn't fun for us.
Driving a rental car and staying in motels costs about the same. And since we don't mind roughing it in budget accommodations, we're paying about the same as bringing the rig. We also don't eat out too often. For example, most of our dinners have consisted of bagged salads from grocery stores. We also save on fuel and go farther in one day, since I can help with the driving (I don't drive the RV). Plus it's much easier to swing by quirky roadside attractions, like James Reid's severed foot grave marker in Salisbury, North Carolina.
After leaving Memphis tomorrow, we'll book it back to Colorado, ditch the rental car and settle into a long, cool summer at Jerry's Acres. See you there!